The latest positive coal guidance from Canadian miner Teck Resources Ltd. (TCK) means the company continues to be an attractive buy for investors, a UBS analyst said Monday.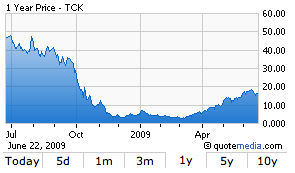 Brian MacArthur, analyst at UBS, raised his 2009 earnings per share estimates to C$1.32 from C$1.02 while upping the share target price to C$22 from C$20.50 and maintaining a "Buy" rating on Teck in a note to clients on Monday morning.
The resource company last Friday announced it was expecting to reach the "upper end" of its previously announced 2009 coal sales estimates of between 18 and 20 million tonnes. Teck said sales in China had increased to such an extent that planned temporary production shutdowns at several mines have been cancelled.
As well, Teck has completed negotiations with more than 80% of its customers, with prices around the $128 per tonne range. Some customers have also agreed to buy 2.3 million tonnes of carryover coal at 2008 prices, about $300 per tonne, Mr. MacArthur noted.
Production costs, including transportation, will also decline through the course of 2009, he said.
Photo: Teck Cominco handout