I will admit it, when I first came across ITT Education's (NYSE:ESI) stock, I thought there was an error in the data I was looking at. It was a few months ago and the company's P/E ratio was as low as 2 and its price to revenue ratio was around 0.2. I thought there must have been a typo or glitch in Google Finance; therefore, I didn't follow the stock very closely. After all, it is very difficult for a company to trade for a value where it can buy itself using profits of 2 years.
Later on, I came across the company again. This time I knew why it was trading for such a low valuation. Analysts were claiming that student loans would become less and less accessible for students, and it will make for-profit education institutions very difficult to stay profitable. After all, American college education is very expensive and not many people in the country could actually afford a college if it wasn't for student loans. As time passed on, it became evident that politicians in the congress and the house will not shoot themselves in the foot by putting restrictions on student loans. While I agree that the current student loan practices are bad for the overall economy (because the banks currently allow 18 year-olds to pretty much take out as much money as they want regardless of what major they study), these practices are pretty bullish for institutions that "sell" education.
Since last March, investors realized that the student loan practices will not really change by much anytime soon, so they started to buy back the fallen angels in the industry. In the last 2 months, ITT Educational Services has appreciated by 120% and there is still a lot of room to go because the company's valuation still looks very attractive.
If we look at the company's earnings in the last 4 years, we see that it earned $7.91 per share in 2009, followed by $11.17 per share in 2010, $11.13 per share in 2011 and $5.85 per share in 2012. Surely there was a decline in 2012 compared to the previous two years; however, things can turn around. Besides, even if things don't turn around, the company is still very cheap.
The company knows that it's cheap, and it is buying back shares at a nice rate. In 2009, there were 35.45 million outstanding shares; whereas, there are only 23.32 million outstanding shares today. We are looking at a decline of 35% in the number of shares in the market. Of those shares, nearly 9 million are shorted at the moment. Also, keep in mind that ITT Educational Services currently has $210 million in cash, which can be used to purchase a third of the company. Currently, the company's market value is $630 million whereas it generated $1.2 billion in revenues, $185 million in operating income and $111 million in net earnings in the last 12 months.
For this year, the company expects to earn between $3.50 and $4.00. It also expects a 5% growth in student volume with revenue-per-student declining by 5% to offset this growth. Unfortunately, the company's guidance demonstrates further shrinkage for the earnings. It also looks like ITT Educational Services is seeing margin declines. The company will have to cut costs at some point. In the chart below, the blue line represents the gross margins; whereas the red line represents the operating margins for the company.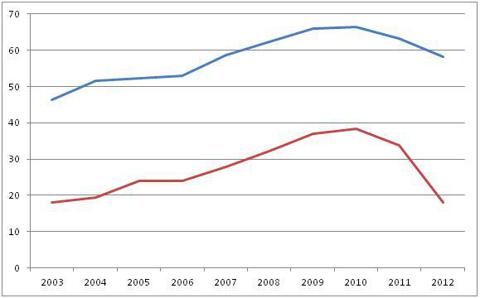 At this point it is too early to tell whether the margins have bottomed at the company. In the latest earnings call, the management talked about how a lot of Americans are cautious about getting higher education due to high costs despite the ever-growing skills gap in the job market. High paying jobs are getting increasingly demanding and companies don't want to spend their resources to train new employees anymore. Nowadays, many companies seem to expect their new employees to come with all the needed knowledge and skills. Unlike the historical meaning of higher education, today's higher education is seen as an investment for a future job. Of course, this investment also includes taking out student loans, which are guaranteed by the US government and many banks are happy to issue these loans that come with high interest rates and government warranty at the same time. Banks can take Fed's money at interest rates nearing 0% and loan it to the students at interest rates nearing double-digits. Many people see student loans as a bubble that will burst sooner or later. When and if this bubble bursts, the damage might be as large as the recession in 2008. If the population and government take a more cautious approach towards student loans and for-profit higher education, this may hurt ITT's profits further.
Some of ITT's majors are seeing much stronger demand than others. For example, School of Nursing and School of Business both saw an increase of nearly 30% in terms of student volume in the last quarter. The company is attempting to offer the "hot majors" in more schools whereas it will cut down on majors that don't see much growth. Given the current trends in unemployment, it is safe to say that more people will move towards studying majors that are transferable to job skills and less people will study majors like art history. The US has an insatiable need for people with technical skills and scientific understanding and this is not likely to change anytime soon.
Where does this take ITT? The company is getting smaller and its value is decreasing. If the company continues its share buybacks at the current rate, we are likely to see it turning private by the end of the decade. On the other hand, things can always turn around for the company. If ITT can stick to majors that are high in demand and market these majors sufficiently, the company can go back to growth levels; however, we may see a bottom before we see growth again. In the short term, ITT's rally may continue but the company needs to do a lot of work in order to become a long term value to investors.
Disclosure: I have no positions in any stocks mentioned, and no plans to initiate any positions within the next 72 hours. I wrote this article myself, and it expresses my own opinions. I am not receiving compensation for it (other than from Seeking Alpha). I have no business relationship with any company whose stock is mentioned in this article.