Investing in quality dividend equities is a time-tested strategy to mitigate losses, dampen volatility, and generate income in most market environments. The Dow Jones Industrial Average and S&P 500 are both at record highs but there are concerns that too many stocks are overvalued. The rally may have room left to run but it would be wise to position yourself for downside protection. Most companies with high yields have strong financial positions that make them attractive to investors. Additionally, these companies usually have high cash flows from operations, one of the most important factors in a prospective investment. The yields on junk bonds are near record lows and some are now yielding less than five percent: would you rather buy low quality bonds or high quality equities with comparable, or higher, yields?
This week there are eight ex-dividend candidates that have been analyzed below based upon SA readership criteria. Half of the candidates this week are financial companies and energy-related stocks accounting for the balance. Yields are overwhelmingly clustered in the four-to-five percent bracket but there is one opportunity with a staggering 18% yield. The market capitalizations are low again this week but there is one very large opportunity for you to consider I prefer that my ex-dividend candidates have market caps greater than five billion dollars but that is not a requirement, especially with smaller financial service firms and Master Limited Partnerships ("MLPs"). The equities are trading ex-dividend throughout the week with two trading ex-dividend today.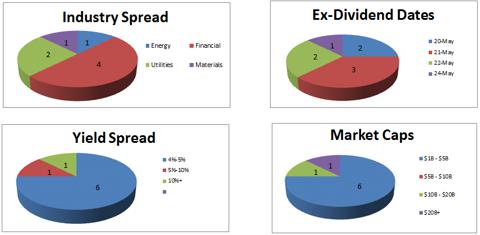 For details of the strategy and my screener details, please consult my methodology on the topic (last modified 4/7/2013). In brief, the screen focuses on relative stable equities with a concentration on liquid companies at affordable valuations. This is summarized below:
Dividend Yield ≥ 4.0%
Ex-Dividend Date = Next Week
Market Capitalization ≥ $1B
P/E Ratio: 0-20 (Relaxed for MLPs and REITs)
Institutional Ownership ≥ 15%
Ideally Modest YTD S&P 500 Underperformance
Minimal European Exposure
After applying this screen, I arrived at the equities discussed below. Depending on your belief in the investment hypothesis, you may decide to hold long enough for the dividend or to hold for the long-term. The information presented below should simply be a starting point for further equity research in consultation with your professional financial advisor before making an investment decision. My goal is to present new companies to you and provide a brief overview of their recent developments; this should not be considered a substitute for your own due diligence.
Northern Tier Energy LP (NYSE:NTI): 18.29% Yield; Ex-Dividend 5/21
Northern Tier Energy is an independent downstream energy partnership with refining, retail, and pipeline operations that serve the PADD II (Midwest) region of the United States. NTI focuses primarily on refining in St. Paul, Minnesota but also has 239 retail operations in Minnesota and Wisconsin under the SuperAmerica brand. The Wall Street Journal published an article on high yielding partnerships specializing in refining rather than more traditional pipeline operations. The article specifically mentioned NTI as one of the highest yielding equities in the sector, although the yield has declined since the date of publication.
IPODesktop performed an excellent analysis of the partnership this summer when it filed for its IPO. Since its IPO, the stock has climbed from $14 to $33 but has dipped seven percent the past quarter and is now trading around $27. The partnership just reported solid first quarter earnings; however, comparisons with the prior period are difficult. The prior period included nearly $200M of contingent losses and derivatives-related losses which skews year-over-year analytics. Hedging has been a weak area for NTI and management announced that it would reduce the amount of hedging at the time of production. Overall, adjusted EBITDA increased 92% over the comparable quarter due to higher volume.
(Source: Finviz.com)
I first covered Northern Tier in November 2012 and asked my readers whether the forty percent yielding stock was the real deal. I concluded that the yield was an illusion for a variety of reasons but that the stock was worth considering further because the yield was still one of the highest in the universe of stocks I cover. If the yield is able to stay above fifteen percent, you essentially have bought an asset with fifteen percent downside protection against any declines in value.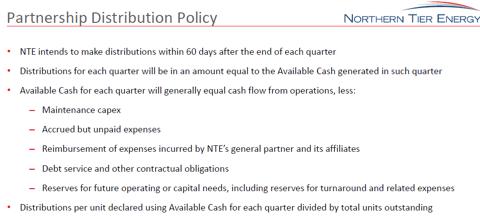 (Source: Morgan Stanley Refining Corporate Access Day Presentation 5/16/2013)
This quarter's dividend is for $1.23 per share, or $4.92 annualized. This payout may slip in the future because it is a variable paying partnership but is much closer to the "real" dividend than the 40% reported in late 2012. For comparison, the payment in the previous quarter was $1.27, so this quarter held up remarkably well. This quarter's yield alone is 4.57%, which is higher than the vast majority of high yielding equities in the S&P 500.
I believe that Northern Tier is worth considering based upon investors' thirst for high yield opportunities. Even if the yield slips, you could have a very attractive opportunity in the short-term. Insiders have been selling recently but insider ownership is still at 53% (down from 68%), which is always a good sign that management is incentivized. Despite the appreciation, NTI still looks decently valued and it is a solid ex-dividend candidate.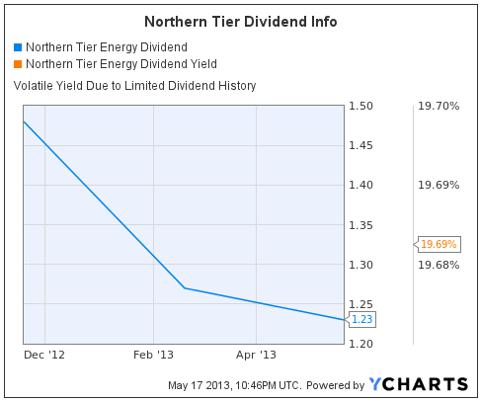 Sun Life Financial Inc. (SLF): 4.85% Yield; Ex-Dividend 5/20
Sun Life Financial is a Canadian financial firm that offers financial management solutions, including financial planning, insurance, and asset management. The company had a very tumultuous 2011 but 2012 earnings were able to reverse the negative trend. First quarter 2013 continued to exceed expectations with wealth sales logging an impressive 16% increase. The stock has jumped over 35% in the past year, as the market believes that the worst is in the past for SLF. Much of those gains have come in the last month due to recently reported earnings. The stock is now trading less than three percent below from its 52-week high and the forward P/E surpassed 10.0 again.
The dividend is a little on the low side for what I expect out of a financial company but in this market a five percent yield is still attractive. The payment has held steady at thirty-six Canadian cents per share paid quarterly and has exhibited no real growth since 2011. Overall, I consider Sun Life fairly priced, if not slightly overvalued, and I would look towards one of the other ex-dividend opportunities presented this week. Remember there are special tax considerations to be aware of if you are a US investor purchasing SLF.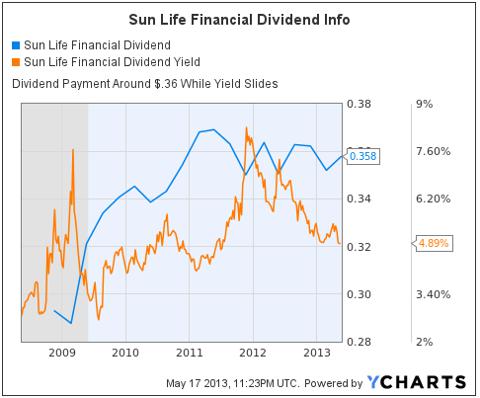 Tortoise Energy Corporation (TYG): 4.85% Yield; Ex-Dividend 5/21
Tortoise Energy Infrastructure is a closed-end management company that invests in public traded MLPs. As mentioned above with NTI, MLPs are typically energy companies that engage in the gathering, transportation, processing, and related activities for natural gas, crude, or other refined products. As of April 30, the fund had a clear preference towards natural gas and crude, which comprised nearly 85% of the underlying portfolio. Current top holdings include Magellan Midstream Partners, L.P. (NYSE:MMP) and Plains All American Pipeline, L.P. (NYSE:PAA). The dividend rate has inched forward over the years but do not expect growth greater than inflation. Selecting TYG may be a less volatile alternative to selecting individual MLP stocks; however, you will be paying an approximately one percent management fee for the diversification benefits. If you do not want to pay the management fee, you can always use the underlying portfolio as a starting point for further research.
Hawaiian Electric Industries, Inc. (HE): 4.43% Yield; Ex-Dividend 5/20
Hawaiian Electric Industries is a unique utility company in many ways. In terms of electrical operations, HEI completely monopolizes the state of Hawaii: the company and its subsidiaries service 95% of the state's population (all islands except Kauai). Further distinguishing HEI is that the company operates a five billion dollar bank (American Savings Bank) which was responsible for nearly half of the company's income in 2011 and 2012. 49% of the company's loans are for residential one-to-four family homes and the total residential loan balance has been declining steadily since 2007. 2012 saw a surprise rebound in the total lending activity balance due to the sharp increase in home equity lines of credit. Electrical revenues have been increasing since 2009 despite declining KWH sales due to a sharp increase in average revenue per KWH. For example, the average revenue per KWH for 2012 was 33.6 cents versus 20.83 cents in 2009.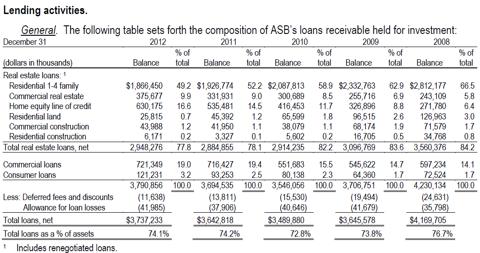 (Source: Hawaiian Electric 2012 Annual Report)
If you are looking to invest in a traditional utility, I would avoid Hawaiian Electric due to its significant financial operations - this is not a utility pure play. I tend to avoid companies that lack an identity (i.e. I would rather own a true utility or a true bank). The yield is somewhat low for a financial institution and the forward P/E is on the high side; therefore, I would pass on Hawaiian Electric.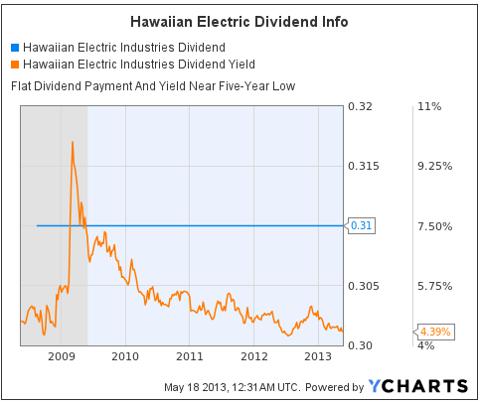 ConocoPhillips (NYSE:COP): 4.23% Yield; Ex-Dividend 5/22
ConocoPhillips is one of the largest independent exploration and production companies with a focus on natural gas. ConocoPhillips' production is concentrated in North America with the remaining approximately forty percent in Europe, Asia, and the Middle East. ConocoPhillips is unique due to its global scale and ability to continue generating growth given its size. Not only is Conoco forecasted to increase its production capacity by a CAGR of three-to-five percent over the next five years but is pursuing higher margin growth that will expand cash flows, and eventually the dividend payment.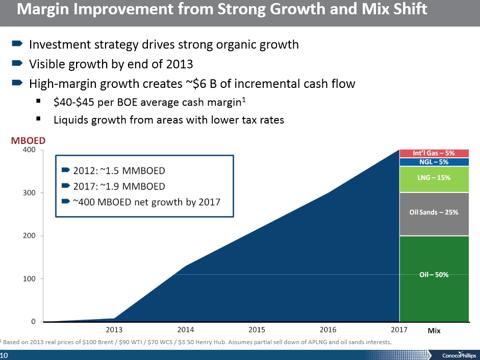 (Source: Spring 2013 Investor Update Presentation - 5/5/2013)
ConocoPhillips completed the spinoff of Philips 66 (PSX) in the summer of 2012 to separate the downstream operations. Warren Buffett famously announced that Berkshire [(NYSE:BRK.A) (BRK.B] was buying PSX at the expense of COP and even apologized to investors for his poor original choice of COP. Michael Fitzsimmons has a nice article 'The ConocoPhillips Spin-Off Of Phillips 66: 1 Year Later' that is a good read for prospective investors.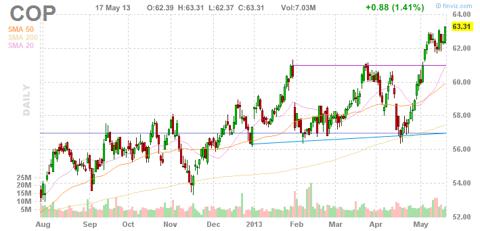 (Source: Finviz.com)
ConocoPhillips has been in a positive channel since June 2012 and recently had a strong breakout from $57 to $63. With a forward P/E of 10.6 and a yield of 4.2%, I believe COP is still attractively valued despite the 10.5% gain this month. ConocoPhillips still lags the market by over four percent in 2013, so further gains are still a possibility.
Avista Corp (AVA): 4.22% Yield; Ex-Dividend 5/21
Avista is a utility company that produces energy for fewer than one million customers in the Western United States. I wrote a critical article of Avista in August when the stock was at its 52-week high but the company has improved its fundamentals since then. Fast-forward today and Avista is one of the better performing utilities in 2013 with 22% year-to-date gains.
The company admits that 2012 was a challenging year but 2013 has started well for the firm. TTM earnings per share were $1.38 and 2013 earnings per share guidance is $1.70 on the low-end. The company has no significant debt maturing until 2018 and plans to raise $150M of capital ($100M debt/$50M equity) in 2013 to finance capital expenditures. The forward P/E has declined to a more reasonable 15.6 although the payout ratio is still high at 85%. Avista increased its dividend payment by 5.2% in February of this year, so further increases in 2013 are somewhat unlikely given the targeted payout ratio of 60%-70%.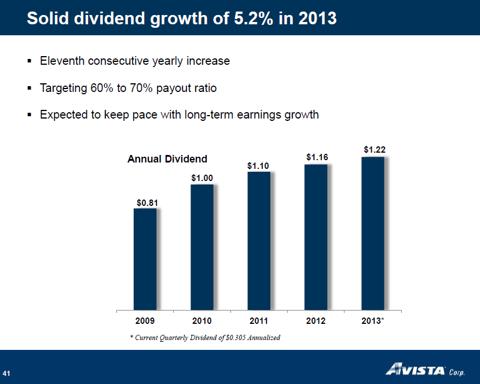 (Source: Avista Annual Shareholders Meeting Presentation May 9, 2013)
I remain critical of Avista because it has a small customer base and unfavorable geographic region but it is clear that the company is improving. The yield is average for the industry but is the sixth cheapest diversified utility on a forward P/E basis with a market capitalization over one billion dollars. In contrast, the forward P/E would be approximately the fifteenth lowest in the electrical utility industry.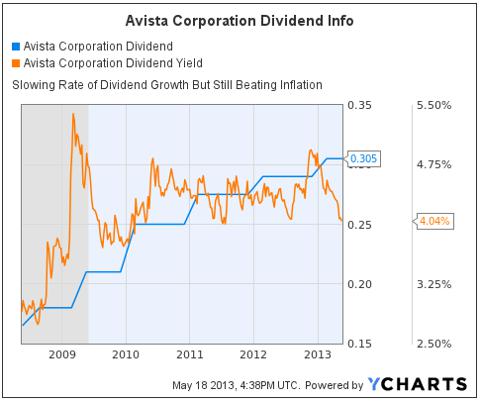 Pan American Silver Corp. (NASDAQ:PAAS): 4.14% Dividend; Ex-Dividend 5/22
Pan American Silver Corporation is the second largest silver producing company in the world and produced 25.1M ounces of silver in 2012. Additionally, Pan American produced 112,300 ounces of gold but that amount pales in comparison to the silver production. The majority of production is located in Mexico and Peru.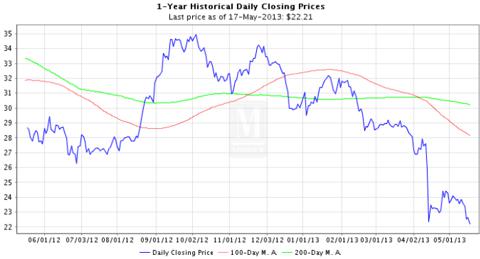 (Source: Monex.com Silver Bullion)
The first quarter of 2013 included strong operational improvement as silver and gold production is up 15% and 65%, respectively. Despite higher revenue in the quarter, mine operating earnings were sharply lower as cost of sales increased dramatically. Gross margins plummeted from 45% in the first quarter of 2012 to 31% in the first quarter of 2013 due to lower realized prices. As you can see from the chart above, the price of silver has plummeted over the past year and the slide has accelerated recently. As you can see from the breakdown below, the $46M increase in sales volume was not large enough to compensate for the $63M decline in earnings due to decreased metal prices and increased cost of sales. Pan American was still able to generate positive cash flows from operations but total cash decreased by $101M during the quarter due to negative cash flows from investing and financing.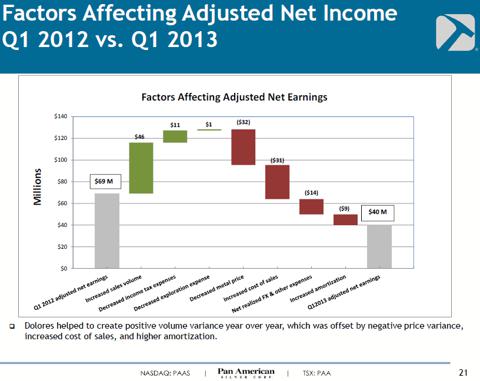 (Source: Q1 2013 Earnings Conference Call Presentation)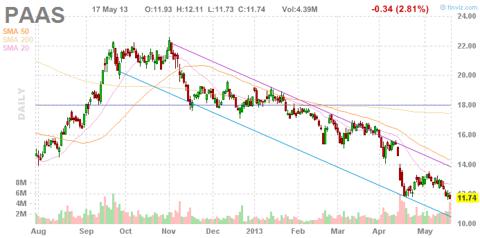 Pan American has been in a strong negative channel since November 2012 and the stock has shed nearly fifty percent of its value over that period of time. Management has acknowledged the decline and is "responding to 'change'" by reducing expenses and some discretionary capital programs to improve its balance sheet. If you are bullish on silver, then PAAS may be a good pick for you but I would not recommend it for pure dividend investors.
Note that the yield chart below is inaccurate as the current yield is 4.26% based on a quarterly payment of $0.125.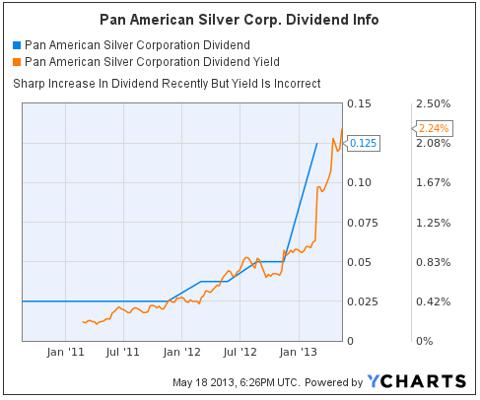 Honorable Mention Thomson Reuters Corporation (TRI): 3.77% Yield; Ex-Dividend 5/21
It is difficult to classify Thomson Reuters into a precise industry but their business model hinges on information delivery. Major business segments include financial & risk and legal information service offerings. Recently the company announced that it was firing four percent of its workforce as part of its turnaround efforts. This led to Barclays lowering its price target from $31 to $29 while maintaining its 'equal weight' rating. The associated severance costs had an immediate impact on first quarter 2013 earnings, which declined seven percent, largely due to employment costs.
(Source: Thomson Reuters Q4 2012 Earnings Presentation)
2012 was solid but unremarkable for Thomson Reuters as revenues inched up three percent while adjusted EBITDA rose five percent. The company is guiding for "low-single digit growth" in 2013 and slightly lower adjusted EBITDA margin than previous year's guidance. The company seems dedicated to the turnaround effort but I wonder if the ultimate capabilities of the company will be great enough to meet investors' expectations. This slow growth was reaffirmed for 2013 recently and Claudio Aspesi, a senior analyst at Sanford Bernstein & Co. stated "…revenue is fundamentally showing little progress. You need good revenue growth to justify a premium to the market." There is the possibility that the Bloomberg scandal will benefit Thomson but I do not believe the impact will be material.
I believe Thomson Reuters' stock is expensive with a forward P/E of 17 given the slow growth it is experiencing. The poor liquidity is troubling but the company does not rely on debt so the risk is mitigated. Insiders own 55% of the company, which helps to align managements' interests with those of shareholders. The dividend is growing roughly at the rate of inflation in the past few years, so you should have realistic expectations. In fact, the outlook for 2013 is only a two cent increase (less than two percent). Overall, I consider Thomson Reuters to be an average investment, but I am slightly negative given its recent appreciation. The yield has plummeted from 4.3% to 3.8% in the past quarter due to a 14% increase in the stock - this temporarily knocked Thomson Reuters out of my screener requirement.
The information presented has been summarized below. I make no guarantees regarding the information in the chart as industry classifications and yield calculations are frequently imperfect. Orange and green represent "avoid" and "consider" classifications, respectively.

Please refer to profile page for disclaimers.
Disclosure: None
Disclosure: I have no positions in any stocks mentioned, and no plans to initiate any positions within the next 72 hours. I wrote this article myself, and it expresses my own opinions. I am not receiving compensation for it (other than from Seeking Alpha). I have no business relationship with any company whose stock is mentioned in this article.