Last week I wrote an article Picking An All-Star REIT Team To Defend Against Interest Rate Risk that included many of my SWAN (sleep well at night) picks. Although I didn't include all of the REITs that are in my Intelligent REIT Investor newsletter, I did include many. As I explained in that article, it's important to build out a team and it's even more essential to designate each REIT for its unique value proposition.
I like using the team analogy because that's exactly how an investor should think when he or she is modeling a REIT portfolio. You are the coach, and you should look at each REIT as a prospective player in hopes of determining whether the individual prospect can be optimized and integrated into your overall playbook.
Better yet, you (the coach remember) should look at each REIT in an effort to filter out the disadvantageously positioned ones first in hopes of minimizing your risk. It's critical that you spend adequate time researching each prospect as it takes only a few large losses to decimate overall investment performance, even if many others prove successful.
If Benjamin Graham were a coach, I am certain that he would've had a winning record and I'm also confident that he would've had some of the strongest players around. His scouting report would've included considerations such as competitive positioning and each player would have demonstrated an "economic moat"; that is, a sustainable competitive advantage that helps preserve long-term (pricing) power and scoring success (profitability).
I am huge proponent of diversification, but that doesn't mean that you should fall asleep with any of your prospective prospects. Each of your potential REIT investments deserves necessary due diligence and consideration as to how the REITs integrate into your overall portfolio. Vince Lombardi (won 5 NFL championships, including Super Bowls 1, and II, during his tenure with the Green Bay Packers) said it best:
The achievements of an organization are the results of the combined effort of each individual.
It's Time for the Retail Super Bowl
Last week I wrote an article (Retail REITs Look Awfully Sweet) outlining various Retail REITs for consideration. As I mentioned (in that article), I am in Las Vegas this week and I'm attending the 2013 ReCon Las Vegas conference. This event should have over 30,000 people and it will likely be the best attended ReCon conference since the Great Recession.
As the economy has improved, rents are continuing to rise and the strength of the recovery can be illustrated by the success of the Retail REITs. This momentum for the Retail sector has produced some extraordinary returns as evidenced by "all Retail" sector total return performance of 26.74% in 2012 (source: NAREIT). The entire Retail REIT sector (as per NAREIT) includes 31 REITs with a combined market capitalization of $164.6 billion (as of April 30, 2012). The entire equity REIT sector has a market capitalization of around $634 billion, so the Retail REITs represent around 25% of the overall equity REIT capitalization.

Last week someone asked me why I was overweighting the Retail REIT sector by including more players on my team (portfolio). Specifically I like the Retail REITs that invest in primary trade areas and the REITs that have a "circle of competence" in specific densely populated trade areas. As part of my underwriting, I also research the balance sheets of the REITs and I look hard at the tenants of the REITs making sure that they will be able to manage interest rate risk in the future.
I also look for diversification as I examine the "margin of safety" relating to geographic, industry, and tenant composition. For the same reasons that I want diversification in my REIT portfolio, I also want the individual REITs to have the same diversification fundamentals and integration within the specific retail brand portfolios.
Another reason I like the Retail sector, and specifically the Shopping Center sector, is because I think there is more room to grow. There is still strong demand for well-located high-quality shopping center properties, and I believe that cap rates will continue to compress and Shopping Center REITs will continue to increase in value.
I look forward to interviewing many of the Retail REIT CEOs this week, and I will post interviews on The Street as well as my Website (click here). Here is a list (below) of all of the Shopping Center REITs based on Total Capitalization:
Here is a list of Shopping Center REITs listed in order of one year Total Return performance:

The average dividend yield for the Shopping Center REIT sector is 3.27%. Here is a snapshot of the REITs based on the current dividend yields.

The average P/FFO multiple for the list of Shopping Center REITs is 18.0x. Here is a snapshot of the REITs in order of largest to smallest P/FFO multiples.
The scouting report looks solid this year and I'm looking forward to interviewing management this week. Retail is definitely recovering, and there are some excellent REITs that deserve a position in my Sleep Well at Night (or SWAN) portfolio. My list below (and my picks highlighted in yellow) should provide you with a road map. Tomorrow I will provide you with my scouting report on the Regional Mall REITs, and later in the week I will provide more insight into the Triple Net REITs,
To sum up my week at ReCon and quote the legendary coach Paul "Bear" Bryant:
If you are going to be a successful duck hunter, you must go where the ducks are.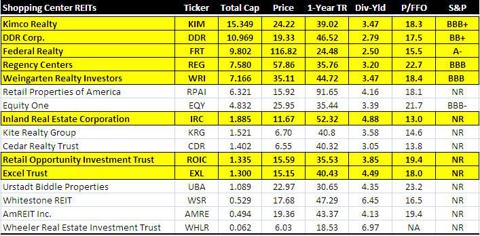 REITs mentioned: (KIM), (DDR), (FRT), (REG), (WRI), (RPAI), (EQY), (IRC), (KRG), (CDR), (ROIC), (EXL), (UBA), (WSR), (AMRE), and (WHLR).
Source: NAREIT and SNL Financial
Disclosure: I have no positions in any stocks mentioned, and no plans to initiate any positions within the next 72 hours. I wrote this article myself, and it expresses my own opinions. I am not receiving compensation for it (other than from Seeking Alpha). I have no business relationship with any company whose stock is mentioned in this article.