McDonald's (NYSE:MCD) is the world's largest food-chain, it has more than 34,000 restaurants in a total of 119 countries and serves approximately 69 million customers a day. The company operates mainly through a franchise system, with more than 80 percent of McDonald's worldwide restaurants owned and operated by its local franchisees. In 2012, the company generated more than $27 billion in revenues, excluding franchised revenues. Its major market is Europe, which in 2012 represented about 39 percent of revenues. The U.S. was responsible for around 32 percent of the company's revenue in the last year.
The company has a very successful business model, enabling it to increase its revenues at high rates over the years. Over the past five years, despite the sluggish macroeconomic environment across the world, the company's compounded revenues annual growth rate was 4 percent. Given that McDonald's is a mature company with a global footprint, this growth rate can be considered relatively good.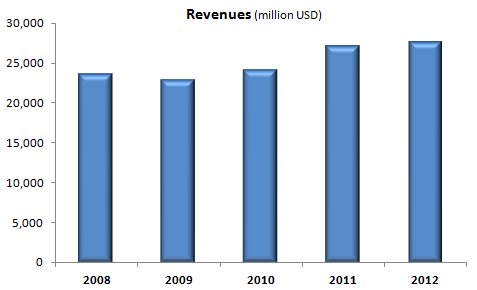 However, over the most recent quarters, McDonald's revenue growth has declined considerably. This was justified by Don Thompson, president and CEO of McDonald's, as reflecting the current challenges of the global markets. This is especially true in Europe, where the weak economic growth is hurting the McDonald's revenues. In 2012, its revenues decreased 4 percent in Europe, compared to the previous year. Likewise, in the United States which is the main single market for McDonald's, although revenues increased it was at a slower rate than in the previous year, and were not enough to compensate weakness elsewhere.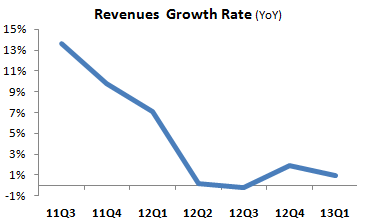 This weak operating trend was also reflected in the company's stock price. Over the last year, McDonald's has gained around 10%, during a period in which the S&P 500 index (NYSEARCA:SPY) rose by around 25%. Moreover, McDonald's stock performance is also weaker compared to its closest peers Burger King (BKW) and Wendy's (NYSE:WEN) over the same time period.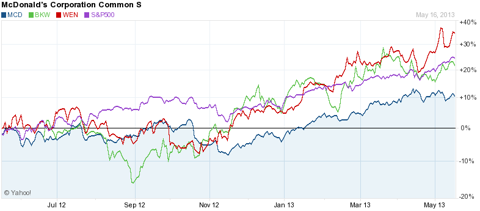 The company's weak revenue trend is not only the result of the macroeconomic environment, but also due to increased competition from other fast-food chains. Its main competitors, which include Burger King, Wendy's, and Yum! Brands' (NYSE:YUM) Taco Bell, have sought to diversify their offering in order to gain market share. Still, McDonald's remains as the largest fast-food chain in the world, but going forward this hegemony may be threatened. Moreover, the battle for second place in the U.S. hamburger market is heating up. Burger King has left an opening for Wendy overtake it as the main rival of McDonald's, and this increased competition can lead McDonald's to post to low revenue growth going forward in its domestic market.
Nevertheless, McDonald's has proven over the years to have a superior business model than its competitors. Despite the fast-food segment being relatively ease to replicate McDonald's and Burger King's gross margins are higher than Wendy's, showing that size gives the companies more negotiating power with suppliers. Its operating margins are also higher than Wendy's, demonstrating that both companies are more efficient. McDonald's appears to have a cost advantage compared to its closest peers because its costs are only about 8 percent of revenues, compared to 15 percent ratio at Burger King and Wendy's 18 percent. This cost advantage should protect McDonald's profitability over the medium to long-term, even if revenue growth remains sluggish.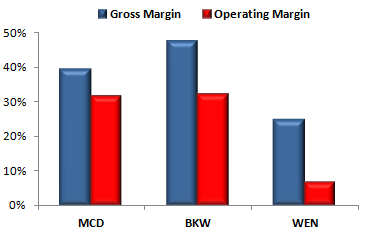 Product Offering and Competition
McDonald's is all around the world, wherever you go, big cities or not, "the yellow arches" can be seen somewhere. They have a Foundation, who provides comfort and care to children who needs to receive medical treatment, and their families, which is always a sign of success and human betterment. However, after years ahead of rivals, McDonald's has come to resent the attacks of competition, such as Burger King. Its competitor has been investing in advertising campaigns, the re-launch of brands and products.
Both fast-food restaurant chains have similar offers, from signature sandwiches to globally known menus - such as the McDonald's Big Mac or Burger King's the Whopper - which are the most well-known products for each chain. However, there are two major factors to look at to distinguish the product offering: taste and health. With consumers increasingly demanding more with regard to quality and taste of hamburgers, it is not surprising that McDonald's and Burger King's menus aren't exactly "part of a healthy balanced diet." However, the Big Mac weighs 540 calories, 29 grams of fat and 45 grams of carbohydrates, being a better alternative than the Whopper which has 670 calories, 39 grams of fat and 51 grams of carbohydrates.
As for the rest of the menu, most of it is comparable -- chicken sandwiches, fish sandwiches, burgers, fries, and a value menu. The only other differentiation (other than which brand makes tastier fries, a debate for which both sides have rabid supporters) is the kid's menu. McDonald's has the Happy Meal, a term that is usually part of a child's vocabulary before "Dada." Burger King also has a Kids Meal with similar goods - a burger or chicken nuggets, fries and a drink -- but it doesn't have the same appeal.
McDonald's is supposedly seen overhauling its U.S. menu, according to Bloomberg News. The company is trying to streamline its menu, which has expanded by 70 percent since 2007 to about 145 items. This has led to a lower quality of service, leaving customers unhappy. This may help explain why U.S. same-store sales declined by 1.2 percent in the first quarter of 2013. The company is aware that it must improve its service to revive revenue growth, and is trying out a new ordering system and adding double-lane drive-troughs to speed its service. However, these efforts may not be enough as some of the new items take a long time to make.
Additionally, in my opinion, there are other important factors at play beyond food health or quality of service to choose between restaurants. Other factors that play an important role are: how much time do we have to eat; how close is the restaurant; or, much more important, the cost of the meal. These are usually major factors that affect people's choice between restaurants, and usually McDonald's has the best offer as a whole. This is why the company is so successful and its probably the reason of its leadership within the fast-food industry.
Valuation
Regarding valuation, McDonald's appears to be undervalued compared to its two closest peers. The company is trading at a lower price-to-earnings ratio than its peers, at only 16.3x its forward earnings. It is trading at an EV/EBITDA multiple of 11.3x, which is also below Burger King. Although Wendy's is trading at a lower multiple, this is justified by its much lower profitability. Thus, given McDonald's profitability and cost advantage, these ratios appear to be quite undemanding. Moreover, the company has a dividend yield of 3.1 percent which is higher than the market's average, and should be very attractive to income investors in the current market environment of near zero interest rates.

Conclusion
Although competition is fierce and McDonald's is struggling to revive its revenue growth, I hope that McDonald's can sustain its competitor pressure and adapt to customer's demands, and the industry's evolution. McDonald's can offer "quality at a lower price", but also lead to an improvement in the population's diet making its business evolves from "fast-food" to "fast-but-good-food". This should be another competitive advantage to add to its current cost advantage, protecting its business model over the long-term.
Despite the recent declines in sales compared to competitors, McDonald's remains a viable bet due to its proved business and a cheap valuation. At least, its pioneer brand that throughout all times remained intact and always in the leadership, should let McDonald's place at the top within the fast-food industry undisputed for the next few years.
Disclosure: I have no positions in any stocks mentioned, and no plans to initiate any positions within the next 72 hours. I wrote this article myself, and it expresses my own opinions. I am not receiving compensation for it (other than from Seeking Alpha). I have no business relationship with any company whose stock is mentioned in this article.