Teva Pharmaceutical (NYSE:TEVA) is a widely followed Israel-based global pharmaceutical company; however, besides its popular Copaxone drug, I did not find a lot of studies about the other drug candidates in its pipeline. The company is primarily involved in development, manufacturing and marketing of a wide range of products in specialty medicines, generic and OTC products, active pharmaceutical ingredients (API) and novel new therapeutic entities. In this article I am going to look at some of the drugs in their pipeline, and do what is generally called a pipeline analysis.
In 2013, Teva has 62 clinical development programs which included pre-clinical (10), phase I (16), phase II (13), phase III (15) and submission/registration (8) respectively. For their 2013 development program, the company's R&D primarily focuses on Central Nervous System (27%), Respiratory (19%) and New Therapeutic Entities (7%).
Table 1: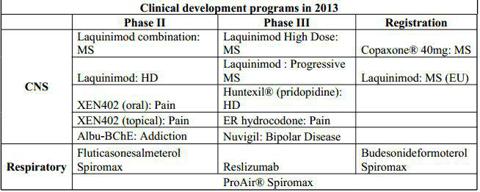 Source: Pipeline Review
Central Nervous System (CNS):
Teva aims at combined therapy to enhance its CNS therapy portfolio, mostly in neurodegenerative disorders such as Multiple Sclerosis (MD), Alzheimer's disease (AD), Parkinson's disease (PD), Huntington Disease (HD) and Amyotropic lateral sclerosis (ALS). This is due to increasing prevalence rate, huge disease burden and common pathways of treatment.
Table 2:
Increasing prevalence in Millions except HD

MS

AD

PD

HD

2005

2.5

24

5

60000

2015

2.8

31

6

70000

2030

3.3

44

7

90000
Source: Prevalence
Copaxone: Teva is one of the key players in multiple sclerosis (MS) treatment globally. Copaxone, a branded drug, has established a safety profile with unique differentiation in decreasing inflammation in MS patients. It is estimated that approximately 1.3 million patients are already treated with Copaxone since 1996. The branded drug contributes 20% of Teva's sales and 50% of its profit. Copaxone reported $1.1 billion, or a 17% rise in global sales in 1Q'13. The drug will witness sales pressure in coming years because of intense competition from oral treatments that are already available or expected to hit the market and patent expiry by 2015.
In the advent of the upcoming threat, Teva filed for an FDA approval for a three times a week injectable dose of Copaxone, which is currently administered daily. This will upside Teva's sales prior to Copaxone's patent expiry. Also, Teva submitted the application for higher dose of 40mg thrice a week instead of 20mg daily.
Furthermore, Teva will provide a combined therapy with additional endpoints such as Laquinimod, an immunomodulator, for the treatment of relapsing-remitting multiple sclerosis (RRMS) with progressive mechanism of action. I believe that it will provide a sustainable growth and leverage strength in CNS therapy.
Laquinimod: Laquinimod is an oral, once daily CNS-active immunomodulator with unique mechanism of action, being developed for the treatment of RRMS. The recent studies prove two vital pieces of information in MS treatment.
The phase III ALLEGRO study compares effectiveness and safety of oral Laquinimod in patients who received 36 months (early start) versus 24 months (delayed start) treatment. The trial results prove to decrease disability progression while impacting the central pathway of neurodegeneration processes.

In animal models, it prevents neurological damage with a direct effect on the CNS with its potential restorative and anti-inflammatory properties.
The above result clearly signifies that Teva is likely to compete in MS oral treatment with its strong drug candidate Laquinimod. In addition, the same drug is in phase II studies for the treatment of Crohn's disease and Lupus.
Huntexil: Huntexil (Pridopidine), an investigational drug from NeuroSearch A/S, is now under the supervision of Teva. Teva will initiate the clinical development (phase II or III) of this drug candidate for the treatment of Huntington disease. The drug candidate is mostly responsible for treatment of impaired motor function associated with HD. We believe that the addition of another profitable molecule will enhance Teva's portfolio in the neurodegenerative disorder segment in the coming years.
Respiratory:
Resilzumab: A phase III trial drug candidate, with novel mechanism of action, is mainly used for the treatment of moderate to severe allergic asthma.
New therapeutic entities (NTES): Teva plans to focus on NTEs to address specific patient needs. It could be different indication, change in formulations, delivery methods or a combined therapy of existing products. The products have had a high value with proven efficacy, shorter timelines, lower costs, low development and regulatory risk. Teva already had 10-15 NTEs approved for development and expects them to be launched in the coming years. We believe that this will be a growth engine for Teva to strengthen its specialty portfolio.
Competitive landscape:
In March 2013, both the U.S. Food and Drug Administration and the European Medical Agency (EMA) approved Tecfidera of Biogen Idec (NASDAQ:BIIB) for oral treatment of MS. This is likely to affect the sales of Teva's most profitable brand Copaxone. According to analysts, it is believed that Biogen's drug will take a 20% market share worth $3.25 billion annually and become the third oral MS treatment on the market after Novartis' (NYSE:NVS) Gilenya and Sanofi-aventis' (NYSE:SNY) Aubagio.
However, Tecfidera is likely to decrease a patient's white blood cell counts which may raise the risk of infection. Currently, no significant increase in infection was seen in patients with Tecfidera in clinical trials. In case of Sanofi's Aubagio, EMA recommended approval in MS treatment; but, the key composition, known as teriflunomide could not be considered as a new active substance. Moreover, Sanofi may enter the U.S. market through its subsidiary Genzyme's Lemtrada, used for nerve damaging illness. It is believed that a combination of Aubagio (early phase) and Lemtrada (late phase) may be used for MS treatment.
Market overview:
EvaluatePharma estimated that the global MS therapy market is around $10 billion and Teva's Copaxone comprises 40% of total sales; competes with Bayer's Betaseron/Betaferon, Biogen's Avonex and Merck's (NYSE:MRK) Rebif in the injectable segment. There is an upward trend of Copaxone sales: in 1Q13, Copaxone reported a sale of $1.1 billion, a 17% rise compared to 1Q12; resulted from increasing sales volume in the U.S. and from the successful withdrawal of marketing and distribution rights in Europe.
The advent of oral medicines, highly effective pipeline products, patent expiry of top branded drugs and generic competitions are likely to bring significant changes in the MS therapeutics market. Furthermore, the increasing prevalence rate and death burden; rising treatment costs, lower efficacy and possible side effect will provide opportunities for new approaches in treatment going forward.
It is expected that oral medicine alone will capture 29% of total sales of MS drugs by 2020. Currently, Novartis' Gilenya and Sanofi's Aubagio are the two medicines in oral therapy; and the expected launch of Biogen's BG-12 is likely to hit the market in coming years. As per Jefferies' estimates, Teva's Laquinimod is expected to have sales potential of $900 million worldwide once approved in the U.S. by 2016. We believe that Laquinimod will enter the competitive space with significantly higher efficacy and positive development results in forecasted periods.
Conclusion:
Teva continues its growth expansion and invests selectively by focusing on three key areas: complex generic technologies through formulations or delivery systems; strengthen specialty products pipeline with better efficacy and minimal side effect especially in CNS and respiratory segment, and integration of generic products with specialty through novel way to address patient needs. In this study, I have tried to identify other areas of interest in the company besides its soon-to expire Copaxone.
Disclosure: I have no positions in any stocks mentioned, and no plans to initiate any positions within the next 72 hours.
Business relationship disclosure: StockRiters is a team of analysts. This article was written by Chiranjeeb Baral, B. Pharm, MBA, 10 years work-ex associated with U.S./European biosector MNCs - one of our analysts, and edited by Shas, StockRiters' Editor-in-Chief. We did not receive compensation for this article (other than from Seeking Alpha), and we have no business relationship with any company whose stock is mentioned in this article.