Both Asian and European markets are higher this morning and precious metals are once again under fire. Silver is getting crushed and in very serious trouble of possibly breaking $20/ounce in the near future unless something can change this negative narrative. Technology, manufacturing, consumer goods and blue chip names in general are where one wants to be right now. Sticking to that playbook should keep investors out of trouble and in the green through the summer barring any change in the economic data.
Chart of the Day:
Looking at a one year chart of the banks one might be inclined to say that the best run banks have underperformed, however that is not the whole picture. Take a look at a two year chart and it becomes obvious that the reverse could be true. In the long-run we would rather own the best run banks rather than the not so well run names, regardless of one year returns.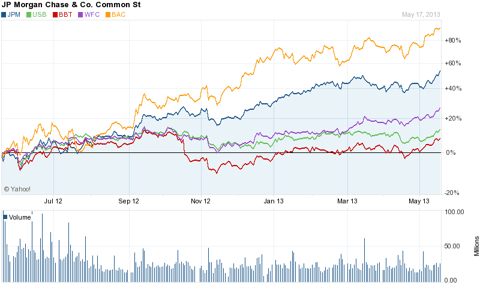 Chart courtesy of Yahoo Finance.
We have no economic news due out today, and will have to wait until Wednesday until it kicks off.
Asian markets finished higher today:
All Ordinaries -- up 0.50%
Shanghai Composite -- up 0.75%
Nikkei 225 -- up 1.47%
NZSE 50 -- up 0.02%
Seoul Composite -- down 0.22%
In Europe, markets are higher this morning:
CAC 40 -- up 0.26%
DAX -- up 0.55%
FTSE 100 -- up 0.56%
OSE -- CLOSED
Technology
The big news this morning is that The Wall Street Journal is reporting that Yahoo's (YHOO) board has approved the purchase of Tumblr for $1.1 billion in cash. Reuters has an article we ran across located here which does a pretty good wrap up of the deal. CEO Mayer's deals have been growing in size and this one gives her another cool tool to play with and integrate into the Yahoo family. The price tag is pretty steep when one looks at the revenue associated with the assets being purchased, but we have full faith that Mayer & Company will be able to figure out a way to monetize the asset and create value here. These types of acquisitions are what will move the needle at Yahoo and force investors to once again look at it as a growth company and thus apply a higher valuation to it. Still bullish here.
Friday was a nasty day for Aruba Networks (NASDAQ:ARUN) which saw shares tumble $4.51 (25.61%) to close at $13.10/share on volume of 55.5 million shares after reporting earnings which disappointed investors. The conference call shed light on the issues and showed that one company's gain is another's loss and as such it must be noted that Aruba's loss was created by Cisco's (NASDAQ:CSCO) gains. Increased competition is always tough, but increased competition from a name such as Cisco is never a good thing. It is tough to be bullish here, especially with analysts forced to adjust their outlooks and numbers moving forward.
One would hope shares found support, but with Cisco on the prowl that may not be the case.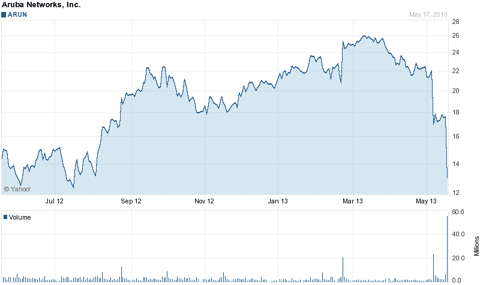 Chart courtesy of Yahoo Finance.
Retail
J.C. Penney (NYSE:JCP) held their annual shareholder meeting on Friday with little fireworks or fanfare. The shares did finish the day lower by $0.78 (4.15%) to close at $18.01/share on volume of 25.3 million shares after it was acknowledged that sales still were disappointing. It also appears that CNBC caught on to our thinking that the company was premature in declaring victory and thanking customers for returning. That seems to be an idea which is permeating the Street at this time and until sales tick up we would expect to continue to hear more and more people latch on to that as a talking point. We suspect that there has been some short covering here, but other than the exit of shorts we see very few reasons to be bullish at this time and at these prices. Let us see an uptick in sales and margins and our opinion will quickly change.
We noticed that Rite-Aid (NYSE:RAD) caught a bid on Friday and rode the momentum to new 52-week highs with the shares rising into the close and finishing a penny off of the highs. The shares closed at $2.79/share after rising $0.19 (7.31%) and volume registering at 39.8 million shares. Readers will remember that we have been watching this name for further sales improvements in order to then turn bullish on the story which is not just a turnaround story but also a deleveraging story. We continue to watch but like what we see thus far.
We have been waiting to get further confirmation on this move out of fear it is another head fake. The last one ended badly for shareholders and we do not want to get trapped in another. So although we like what we see, we continue to wait.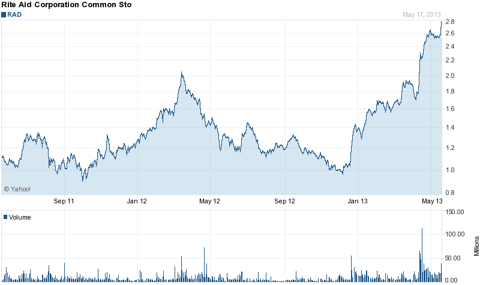 Chart courtesy of Yahoo Finance.
Manufacturing
One of our picks that we gave readers some time ago, Boeing (NYSE:BA), has performed well throughout the turbulence created by the battery issues on their Dreamliner and has been hitting new highs for some time now. Boeing traded as high as $99/share on Friday and United has announced that they will restart their 787 Dreamliner flights starting today. We are watching the stock now closely as it runs up to $100/share as the level is a psychologically important level and could produce either resistance to further upwards movement or become a springboard for future gains. Generally it is our inclination to watch the stock in $5 increments after breaking through a psychologically important level such as $100/share.
After two years of essentially treading water, Boeing shares have broken out.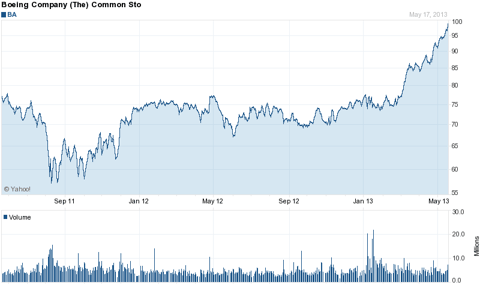 Chart courtesy of Yahoo Finance.
Disclosure: I have no positions in any stocks mentioned, and no plans to initiate any positions within the next 72 hours. I wrote this article myself, and it expresses my own opinions. I am not receiving compensation for it (other than from Seeking Alpha). I have no business relationship with any company whose stock is mentioned in this article.