The share price of AT&T (NYSE:T) has risen by 11% over the past 6 months. At $37.44, the stock is currently trading near its 52-week high of $39.00 and offers a 4.8% dividend yield. For margin of safety reason, I believe potential buyers should wait for a lower entry point due to the following 5 reasons:
1. AT&T's forward P/E multiple has expanded by 8% from 13.5x to 14.6x over the past 6 months (see chart below).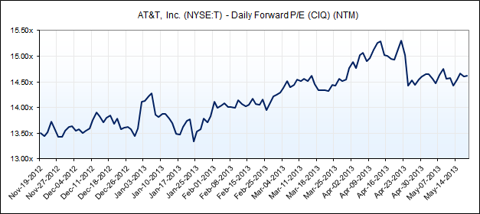 However, the company's consensus revenue, EBITDA, and EPS estimates for 2013 and 2014 have all experienced multiple downward revisions over the period, and their current levels are mostly below the historical figures in 6 months ago (see charts below).



2. The stock's trailing EBITDA multiple has just reached its 5-year high and is currently trading 51% above its 5-year historical average at 6.1x (see chart below).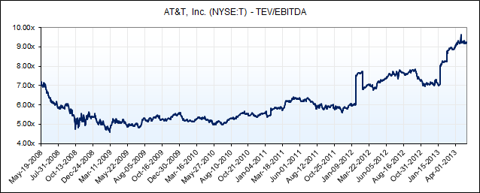 Over the same period, however, AT&T's capital returns have trended down modestly and the company has also seen its profitability margins shrink slightly (see charts below).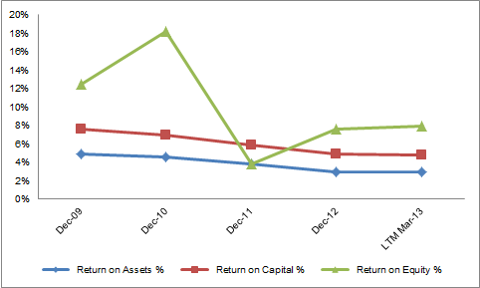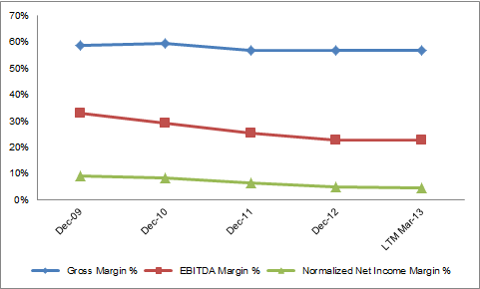 3. AT&T's dividend yield is now close to its 3-year low (see chart below). Although the 4.8% yield still looks quite tempting, there appears to have been a technical floor at the 4.6% level since late 2010, which may limit a further yield downside.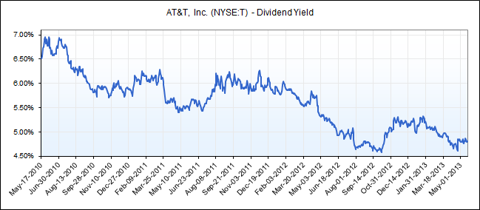 4. Sell-side analysts are generally neutral on the stock. Of the total 34 stock ratings compiled by Thomson One, there are 23 hold and 3 underperform ratings. The average 1-year price target at $37.92 is just marginally above the current share price. Given that AT&T should command a cost of equity of at least 5% based on the capital asset pricing model (see chart below), the average price target actually implies the stock is somewhat overvalued.

5. AT&T delivered a mixed Q1 2013 results. While the company's wireless business continued to perform well, its wireline segment was under margin pressure as the segment EBITDA margin came out below market's expectation primarily driven by the underperforming business sub-segment.
Despite the above concerns, there are still reasons for existing shareholders to continue holding the stock:
1) AT&T's forward P/E valuation is in line with S&P 500 Index (see chart below). The relative valuation level appears to be supported by the company's consensus 5-year earnings growth estimate and lofty dividend yield (6.2% and 4.8%, respectively) relative to the S&P 500 averages (8.2% and 2.5%, respectively).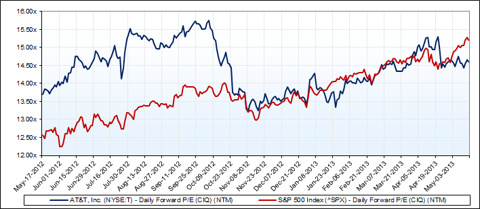 2) AT&T's forward P/E multiple is also 24% below that of Verizon Communications (NYSE:VZ), though much of the discount is likely attributable to Verizon's slightly better growth potential and profitability (see chart below) as well as the rumor of the firm's potential Verizon Wireless transaction.

3) Although the dividend yield has declined considerably over the past few years, it would still provide a decent support to the share price as institutional income investors would still find the yield attractive amid the low-interest market environment. Further, there is also a share buyback program in place.
As such, I would not recommend selling if you are holding the shares now. In terms of buying, I would consider pulling the trigger if the price drops by 5%, everything else being equal.
All charts are created by the author except for the consensus estimate tables, which are sourced from S&P Capital IQ, and all financial data used in the article and the charts is sourced from S&P Capital IQ unless otherwise specified.
Disclosure: I am long T. I wrote this article myself, and it expresses my own opinions. I am not receiving compensation for it (other than from Seeking Alpha). I have no business relationship with any company whose stock is mentioned in this article.