Commodity prices have tumbled as investors have become aware that the inflationary framework that has been the status quo for decades is weakening. With inflation currently running at only 1% (half of the Fed's target), even as the Fed pumps $85 billion per month of new money into the financial system, it is clear that deflation is a much larger concern than inflation.
Commodities have seen a huge run-up over the last few years, in large part due to inflation expectations. Grain prices have soared along with the general commodities super-cycle.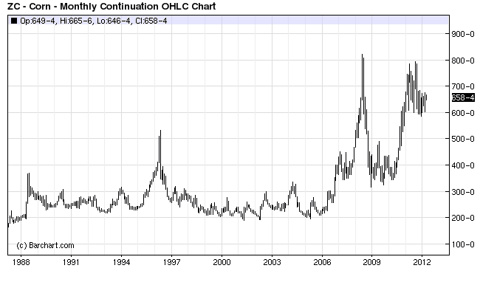 Farmers, especially in the U.S. corn belt, have greatly benefited from the higher grain prices. Along with the higher grain prices have come skyrocketing farmland prices.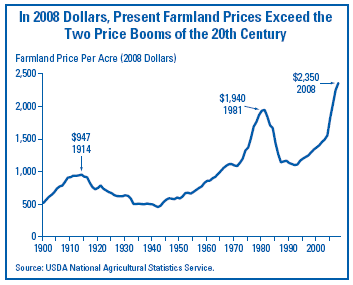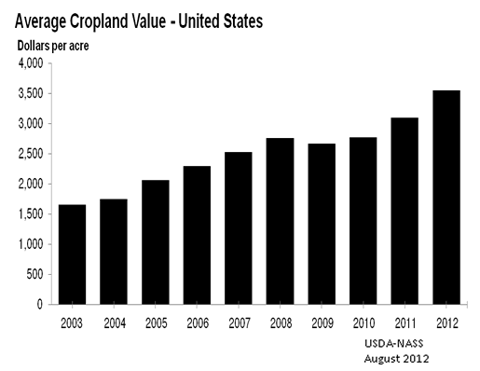 The Kansas City Federal Reserve Bank recently released a report that details previous farmland bubbles and points to concerns over farmers currently taking advantage of super-low interest rates to take on more debt, in an attempt to expand their acreage sizes and structures.
Current debt loads may appear manageable to farmers in the light of relatively high grain prices seen over the last several years, but should grain prices continue their recent downward trend and return to more normal levels those debts could look much bigger as farm revenue shrinks. This could start a deleveraging cycle in farmland and farm related activity.
Stocks that could be affected include:
Deere (NYSE:DE) is a primary supplier of farm equipment around the world. Deere has experienced record sales for the last 3-4 years, coinciding with the general farm boom. The price of DE stock generally has a significant correlation to the price of corn.
In February, Deere cut its sales growth projection from 6% to 5%. Sales of tractors and combines in the United States and Canada rose about 11% in the first four months of 2013 alone.
Deere's current market cap is about $28.7 billion. Short interest is only about 2.8% of float. Deere could be a profitable short position should the price of corn continue its downward trend and farm spending slows.
AGCO Inc. (NYSE:AGCO) is a major manufacturer of farm implements and machinery including tractors and combines. They are located in Duluth, Georgia with over 17,000 employees. AGCO has its roots in such notable farm equipment companies as Allis-Chalmers and Case International.
AGCO has experienced huge growth along with the farming boom. They have been expanding their manufacturing facilities over the last few years and have recently begun work on a $42 million production facility.
AGCO's market cap is about $5.3 billion. The short interest is 3.8% of float. A slowdown in farming expansion would likely have very negative effects on AGCO's stock price. This stock has the potential for profits on the short side should grain prices continue to fall.
Tractor Supply Company (NASDAQ:TSCO) is a retailer of agricultural supplies in the U.S. and Canada. They have undergone rapid expansion over the last few years that correlates with the farm boom.
Tractor Supply's market cap is about $7.9 billion. The stock is trading at a price/earnings multiple of 29x, which is almost twice the P/E of the S&P 500. Short interest is about 3.2% of float.
TSCO's rapid rise in share price combined with the high valuation may make TSCO a good short position in the event that farm related spending slows.
Grain and agricultural related ETFs and ETNs include (NYSEARCA:CORN), (NYSEARCA:JJG), (NYSEARCA:DBA), (NYSEARCA:WEAT), (NYSEARCA:JJA), (NYSEARCA:MOO), (NYSEARCA:SOYB), (NYSEARCA:TAGS), (NASDAQ:CRBA), (NYSEARCA:DAG), (BARN), (EATX), (NYSEARCA:CROP), (NASDAQ:PAGG), (NYSEARCA:SOIL), (CRBA), (NYSEARCA:VEGI), (NYSEARCA:FUD), (NYSE:MON), and (POT).

Disclosure: I am short TSCO. I wrote this article myself, and it expresses my own opinions. I am not receiving compensation for it (other than from Seeking Alpha). I have no business relationship with any company whose stock is mentioned in this article.
Disclaimer: Nothing in this article is to be taken as professional financial advice, nor is it a solicitation to buy or sell any type of securities. All financial decisions are your own, seek professional advice before taking action. Please do thorough research on all ETFs and ETNs before choosing and entering them as many of them carry significant risks.