In case you haven't heard, pain medication abuse is getting pretty bad. In the U.S., deaths from prescription painkillers are outpacing those from heroin and cocaine combined. The FDA has noticed and is inadvertently creating new opportunities for pharmaceutical companies in a couple of ways. First, the FDA is enthusiastically approving new abuse-resistant versions of popular drugs with expiring patents, and in effect protecting them from generics. Also, it appears to me that the FDA is especially bent toward abuse resistant pain relief NDAs.
The precedent
On April 16, the FDA issued a decision approving a reformulated version of OxyContin that is more difficult to abuse. Basically it's harder to crush into a fine powder to be snorted or injected. The approval was followed with a refusal to accept or approve any generic forms of OxyContin that rely on the approval of the original form.
The FDA decision was announced on the day that privately held Purdue Pharma's patent on the original OxyContin expired. What amazing luck. Cheap generic versions of the original are no longer a threat to Purdue's prized painkiller until the new formula's patent expires in 2025. Last year, an estimated $2.8 billion of OxyContin was sold in the U.S. alone.
Ten days after the FDA decision, generic drug giant Actavis, Inc. (NASDAQ:ACT) settled a patent dispute with Purdue concerning the abuse-deterrent technology. According to Purdue's statement, Actavis admitted infringement, and will be granted a license to sell defined quantities of a generic version of reformulated OxyContin.
In effect, the FDA gave the pharmaceutical industry a way to extend patents on their most widely abused drugs, painkillers, by simply making them more difficult to abuse. Sales of painkillers in the U.S. alone reached $7.3 billion and are expected to continue rising. The anti-abuse regulation trend is an opportunity for majors to hold, or steal, market share. Let's take a look at who has a lot to gain from this regulatory loophole.
Not so fast
In the first quarter of 2012, Endo Health Solutions (NASDAQ:ENDP) began production of a crush resistant version of its widely abused painkiller Opana ER. Unfortunately for Endo, the FDA didn't think the new version would be any better at thwarting abuse, and in effect refused to give the company protection from generics.
In 2011, Endo generated about $384 million in sales from Opana ER, about 14% of its total revenues. By the end of 2012, generic competition reduced Endo's sales of Opana ER to only $299.3 million.
The abuse resistance game isn't over yet
According to the FDA's statement regarding the original Opana ER relisting, the FDA "continues to encourage the development of abuse-deterrent formulations of opioids to help reduce prescription drug abuse." Endo's petition was shot down because the regulator concluded the new abuse resistant version wasn't actually crush-proof or syringe-proof.
The important takeaway here is that the FDA is still prepared to effectively protect companies from generic versions of painkillers. However, pharmaceutical companies will need to do more than add the words "abuse resistant" to the label. The game's still on, but the referees are taking their jobs seriously.
A chemical approach to abuse resistance
In 2011, Pfizer (NYSE:PFE) completed its acquisition of King Pharmaceuticals in order to expand its relatively weak presence in the pain relief market. Weeks after completing the roughly $3.6 billion deal, Pfizer recalled Embeda, one of the acquired drugs. Embeda had already won FDA approval, but Pfizer claimed that the extended release painkiller didn't meet the company's stability requirements. During the latest earnings call, Pfizer's President and General Manager of Primary Care, John Young, noted that Embeda should be commercially available in the first half of 2014.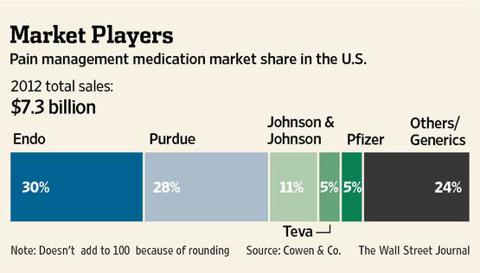 Rather than rely on a crushproof pill form, Embeda is a combination of morphine sulfate and a sequestered opioid antagonist -- naltrexone hydrochloride -- to prevent abusive behavior. Naltrexone, which is more often used to treat alcoholism, blocks the euphoric effects of the morphine. Many addicts will eventually find a way around crushproof pills, but I doubt any will find a way to remove the naltrexone from Embeda.
Given the increasing consciousness of the opioid abuse pandemic in the U.S., a painkiller that is abuse resistant because of its chemical, versus physical properties ought to get the attention of concerned physicians. If approved, 2014 could be the year that Pfizer finally steals painkiller market share from Endo, Purdue, and generics.
Remoxy dead in the water
It might be coincidence, but it appears that Pfizer needs to double down on its abuse resistant Embeda. Its long-lasting oxycodone capsule, Remoxy, isn't going anywhere until at least 2015. Unlike other forms of oxycodone, Remoxy was intended to thwart abuse with its gel-like consistency. The FDA is concerned about the manufacturing process for the drug, not the clinical data.
On a side note, Remoxy has been passed around like a hot potato over the past few years. The drug was first developed by Durect Corporation (NASDAQ:DRRX) who later partnered with Pain Therapeutics (NASDAQ:PTIE). King Pharmaceuticals later obtained commercial rights for the drug from Pain Therapeutics. Finally, Pfizer obtained rights to Remoxy when it acquired King in early 2011.
Putting Pfizer's pain pill problems in perspective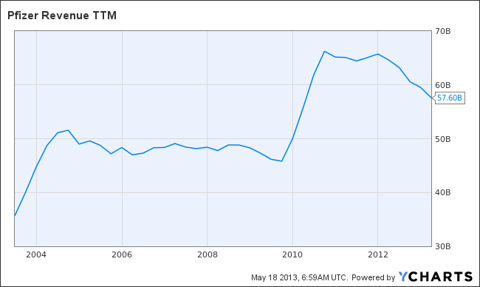 Even if Pfizer managed to lock down 50% of this year's estimated $8 billion market for prescription pain relief, the gain would equal approximately 6% of the company's current trailing 12 months revenues. That's nothing to sneeze at, but even outrageous luck in the pain department cannot entirely fix this giant's problems. But it sure wouldn't hurt.
Disclosure: I have no positions in any stocks mentioned, and no plans to initiate any positions within the next 72 hours. I wrote this article myself, and it expresses my own opinions. I am not receiving compensation for it (other than from Seeking Alpha). I have no business relationship with any company whose stock is mentioned in this article.