Leading on from an article on country risk exposure of silver mining companies, which was based on 2011 data, we are now updating our study using current 2012 year-end data. The present article will evaluate country risk associated with PanAmerican Silver (NASDAQ:PAAS).
We have collated country risk ratings for numerous countries from eight different sources and averaged these ratings into compounded country risk scores. Our compounded country risk ratings range from 0 to 100 with low numbers indicating low risk and high numbers indicating high risk. The most recent results from this work can be found in this article. Most definitions of country risk include factors such as political risk, exchange rate risk, economic risk, sovereign risk, transfer risk, socio-economic risk and others. Depending on the source, various contributing factors of country risk are weighted differently. Readers interested in the specific definitions are encouraged to follow the links to our sources given in this article.
PanAmerican Silver is one of the largest silver mining companies operating eight mines in Mexico, Peru, Bolivia, and Argentina. During 2012 one mine in Peru (Quiruvilca) was divested and the Dolores mine in Mexico was acquired underpinning the stated intention of moving the portfolio emphasis away from high-risk South American jurisdictions. PanAmerican Silver has a market capitalization of $1.8B and a forward P/E of 9.5. The dividend has been increased earlier in the year and yields 2.2% at present. PanAmerican Silver owns the famous Navidad deposit in Argentina but has been unable to continue development of this potentially world-class mine due to uncertainties surrounding legislation in the province of Chubut. After three years of negotiations PanAmerican Silver scaled back investments to a mere trickle and is awaiting a more favorable environment before ramping up efforts again.
The table below provides a summary of production, reserves and resources for PanAmerican Silver. We used a silver-to-gold ratio of 50 and only considered precious metals for the assembly of the data for this table. Properties in the USA, which do not have NI 43-101 reports were ignored in our considerations.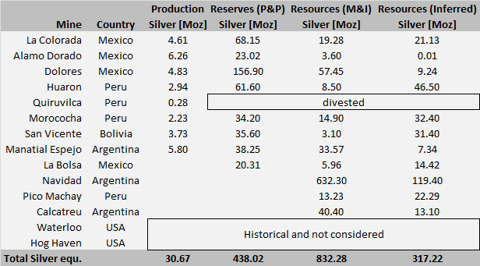 The asset profile above can be consolidated showing summations for each country of exposure resulting in the table below. The data are already calculated in percentages of gold-equivalent ounces. Country risk ratings as documented here are also shown in the central column of the table. The right side of the table shows the weighted risk contributions for each country separately for production, reserves and resources with summarized scores in the bottom line. The individual ratings can be interpreted as ratings going from present risk (production) into the future (inferred resource).

Observations
When considering production the country risk rating was computed to 46.35, which is only slightly down from last year's rating of 46.99 indicating significant exposure to country risk. The rating drops to 42.25 when considering reserves, mainly due to the addition of the Dolores mine in the safe jurisdiction of Mexico. However, due to the enormous resources associated with the Navidad project in Argentina the country risk rating jumps to 63.75 based on measured and indicated resources. A decrease to 53.75 is noted when considering inferred resources due to proportionally higher contributions from comparatively safe Peru.
The diagram below shows a slight reduction overall in exposure to country risk from last year confirming the stated strategy of reducing exposure to high-risk jurisdictions in South America. However, country risk exposure is still significant for PanAmerican Silver overall.
Note: last year's statistics did not differentiate between different resource classes.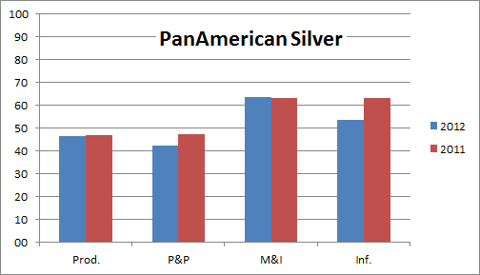 Disclosure: I have no positions in any stocks mentioned, and no plans to initiate any positions within the next 72 hours. I wrote this article myself, and it expresses my own opinions. I am not receiving compensation for it (other than from Seeking Alpha). I have no business relationship with any company whose stock is mentioned in this article.