Google (NASDAQ:GOOG) the Internet giant has come a long way since its early days as a search engine. Shareholders have been well rewarded since the company's IPO in late 2004 at $85 per share. Today, shares inched closer to the dreaded $1000 level by closing up $5.31 to finish the week at $909.18. The company has its hands in everything these days from display advertising, to mobile, to OS, to online video, to the latest in eyewear technology. In this article I would like to focus on the huge potential YouTube has in the decades ahead.
Background
YouTube, founded by three early PayPal employees, emerged onto the Internet scene in the middle of 2005 as a place for people to watch and share original videos through a Web experience. The site's popularity grew quickly in 2006 with roughly 20 million unique visitors per month placing the website fifth in the Alexa rankings at the time. On October 9, 2006, Google announced that it acquired YouTube for $1.65 billion in a stock-for-stock transaction.
A Shift Of The Budget
We are seeing an increasing trend of advertisers moving more money into their online video budgets. YouTube is positioned well to benefit from this shift as the company pulls in over 1 billion visitors per month into its deep portfolio of online video content. According to the new BrightRoll survey, 75% of advertising agencies believe video advertising is more effective than conventional television advertising. This number is up from 64% last year. We are seeing this shift because studies have show that online video advertising results in higher brand awareness, message association, and purchase intent when compared with traditional television ads. The table below shows the percentage of advertisers that believe video advertising is more effective than the following other channels:
This sentiment is seen clearly in the growth rates of online video advertising. It is expected that online video advertising budgets will grow 41.4% in 2013, to $4.14 billion. The following table shows the 2013 online video budget increases compared with 2012: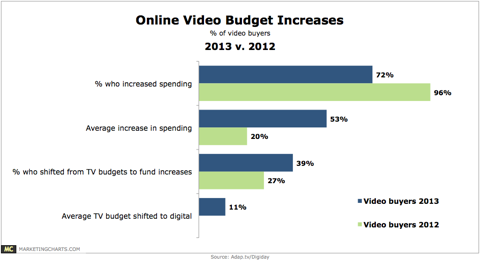 It is expected that 72% of advertisers will increase spending by an average of 53% in 2013. It was reported that 39% of these advertisers will be cutting their TV budgets to fund the increases. YouTube's brand identity coupled with the targeted advertising it can provide for its clients should allow the company to pull in a nice chunk of this increased spending.
Morgan Stanley recently put out a note, which suggested YouTube will do $4 billion in gross revenue and $711 million in operating income this year alone. The firm also predicted that by 2020 revenue will hit $20 billion and operating income will come in at as much as $5 billion.
A Shift Away From Conventional Cable
In recent years, we have seen our media shift from conventional television to an array online outlets like YouTube. The newest generation has been exposed to this shift more than any other before it. Up until this point it was the norm for adults to purchase the conventional cable package but it only makes sense that as this generation turns into adults it will bypass this step completely. It has come to the point where virtually all content available through these conventional packages is now available at a a lower cost via online outlets. Earlier this month Google announced it is launching a pilot program for a small group of partners that will offer paid channels on YouTube with subscription fees starting at $0.99 per month. National Geographic and UFC are among the early channels in the pilot program. The selection of channels should increase as demand continues to rise.
Conclusion
Going forward, I believe Google will finally start to reap significant benefits, in terms of profits, from this acquisition. Youtube has positioned itself well to benefit from the online video advertising tsunami scheduled to hit shore over the next decade.
Both of the tables were sourced from MarketingCharts.com
Disclosure: I have no positions in any stocks mentioned, and no plans to initiate any positions within the next 72 hours. I wrote this article myself, and it expresses my own opinions. I am not receiving compensation for it (other than from Seeking Alpha). I have no business relationship with any company whose stock is mentioned in this article.