The big news for Alcoa (NYSE:AA) recently was its announcement of production cuts as well as similar cuts by others in the industry. However, the price of aluminum on the London Metals Exchange (LME) is $1,863 per metric ton (3 month buyer) and has been trading in a tight range for the last month. The production cuts should be a positive driver for aluminum prices, but it is unclear if these cuts are enough. Furthermore, the broader weakness in metals, led by gold, is having an impact on aluminum. In this article I will discuss the recent news of production cuts and look at the price action of aluminum and other metals. Furthermore, I will discuss how all of this impacts Alcoa's stock price going forward.
Previous Articles About Alcoa
I wrote three articles about Alcoa and aluminum prices recently:
My basic thesis, which I explained in my previous article, remains the same:
Alcoa is a well run company with an attractive downstream business that produces components for several growing end-markets, especially automobile and aviation. However, its upstream business has been pressured from very weak aluminum prices. Alcoa has a lot of debt and is marginally cash flow positive, so the price of aluminum is the key driver of Alcoa's overall profitability and the stock price. Aluminum prices are trading where they found support a few times in recent years. The next big move in Alcoa's stock will likely be determined by aluminum prices bouncing off this level or falling to new lows.
Alcoa's Product Cuts
On May 1, Alcoa announced that it may cut 460,000 metric tons of capacity. The current price of aluminum exceeds the cost of production for much of the aluminum industry, including some of Alcoa's operations. The industry needs to take out capacity in order to support prices and prevent a further selloff.
This announcement is a positive for Alcoa and the industry. It also may signal a shift in the approach of Alcoa's management as they are taking proactive action and not just waiting for aluminum prices to rebound.
Alcoa then moved forward with the first part of its capacity reduction on May 16. Alcoa announced that it will close two potlines in Quebec (along with some other capital projects):
"The closure of the two Soderberg potlines, which are among the highest-cost smelting capacity in the Alcoa system, will be complete in August. The two lines represent 105,000 metric tons of capacity, and are part of the 460,000 metric tons of smelting capacity Alcoa announced was under review on May 1...
Capital costs outlined in the announcement are included in the company's 2013 plan. Total 2013 restructuring-related charges associated with the closure outlined above are expected to be between $135 million and $155 million after-tax, or $0.11 to $0.13 per share, of which approximately 30% would be recorded in the second quarter. Cash costs during 2013 are expected to total approximately $100 million."
Rusal Production Cuts
Like Alcoa, Rusal also announced production cuts. The Wall Street Journal reported:
"Russia's United Co. Rusal PLC, the world's largest producer of aluminum by volume, has already announced plans to reduce output by 300,000 tons, or 7% of production, in 2013, and permanently close 275,000 tons of capacity by the end of 2015. Cutting production 'is the only way for the industry to move forward from the present position,' Oleg Deripaska, Rusal's CEO and majority owner, said in an interview Wednesday with The Wall Street Journal."
Furthermore, a recent presentation by Rusal's deputy CEO, Oleg Mukhamedshin, stated: "We estimate another 1-1.5 mtpa of Ex-China capacity cuts should be made in order to support prices."
Aluminum Industry Supply And Demand
On the last earnings call, Alcoa insisted that supply/demand for aluminum was roughly in balance, see the top left chart: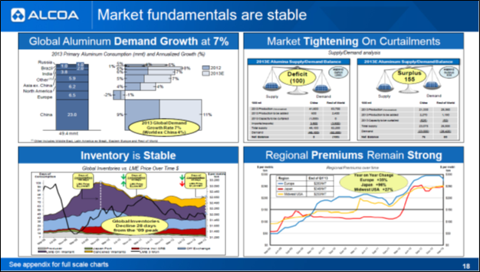 (Source: Alcoa's Q1 earnings presentation)
However, some industry participants have a different view:
The WSJ article mentioned above quoted forecasts by Barclays analysts:
"Prior to Wednesday's announcement by Alcoa, analysts with Barclays estimated global production of aluminum would exceed demand by about 1.2 million metric tons in 2013, the ninth consecutive year that the world's smelters will have produced more aluminum than consumers demanded. Barclays estimated Chinese aluminum production will increase by another 10%, or 2.2 million tons this year."
Impact on Aluminum Prices
These production cuts should have a positive impact on the price of aluminum. However, there are two factors that could disrupt that impact.
First, China is a big producer of aluminum. Although new regulations are intended to cut capacity in China, it is unclear if this will happen.
Second, many aluminum industry participants (including Alcoa) have said that the LME price of aluminum is diverging from market fundamentals because of increased activity by financial buyers. It is unclear what kind of impact financial buyers will have going forward.
LME Aluminum Prices
The following charts show the LME aluminum price. On a long-term time frame, the price of aluminum looks weak.
However, the recent drop in aluminum was halted at a key level of support. Over the last month, LME aluminum has been trading in a tight range just above key support. It looks like the price is positioned for a big move, either up or down.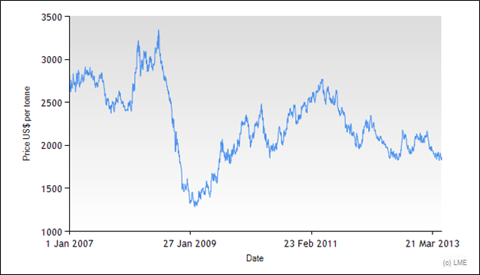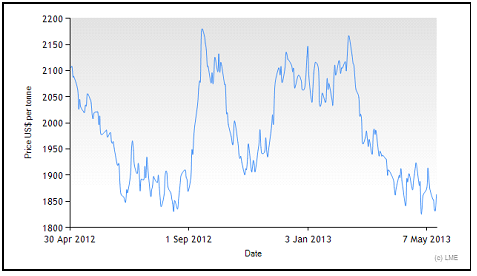 (Source: LME.com, prices for 3 month buyer)
Impact Of Copper, Gold And The Broader Metals/Mining Industry
The recent drop in aluminum prices coincided with broader weakness in metals prices. Although each metal should trade on its own supply/demand dynamics over time, in the short term anything can happen and the presence of financial buyers in the metals markets may increase the correlations.
The following shows the price action for LME copper (3 months buyer) over the last year. Unlike aluminum, copper broke through its support level from 2012 and traded down to a lower level of support.
Copper bounced back from the mid-April lows more convincingly than aluminum, but it is still too early to say if this is a reversal of the prior trend or a dead-cat bounce before resuming another leg lower.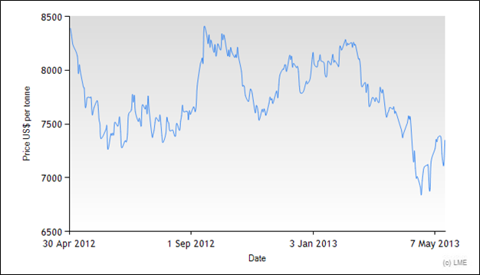 (Source: LME.com, prices for 3 month buyer)
Gold seems to have a big influence on aluminum and other metals. On April 12, gold (NYSEARCA:GLD) dropped through a key level of support. Although it initially bounced, it has again traded down to its lows. The price action of gold is concerning for aluminum, because if gold continues to trade lower it could pull down aluminum with it.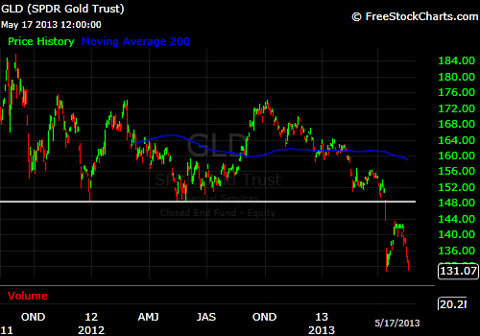 (Souce: FreeStockCharts.com)
The following compares Alcoa's stock price with the price action of the iPath® Dow Jones-UBS Copper Subindex Total Return ETN (NYSEARCA:JJC), the iPath® Dow Jones-UBS Aluminum Subindex Total Return ETN (NYSEARCA:JJU) and the GLD ETF.
Alcoa has outperformed over the last few weeks, but has generally traded in-line with copper and gold over the last year.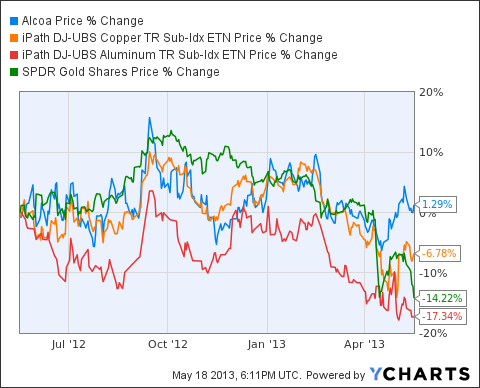 A comparison with the SPDR® S&P® Metals and Mining ETF (NYSEARCA:XME) shows a similar pattern: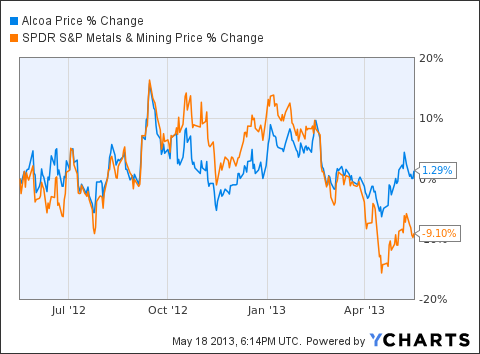 Implications For Alcoa
All of this is important for Alcoa because Alcoa is marginally cash flow positive. A further drop in aluminum prices would be a big headwind for the company's 2013 goal of achieving positive free cash flow.
Furthermore, Alcoa is a levered company and its balance sheet would be pressured with lower aluminum prices.
Financials And Credit Agency Actions
In my last article I mentioned that Standard & Poor's revised Alcoa's credit rating outlook from stable to negative. In the article I wrote:
"According to S&P, Alcoa is expected to generate $2.4 - $2.8 billion of EBITDA, which would result in Debt / EBITDA of 5.5x - 6x and FFO / Total Debt below 20%. S&P based its rating on the anticipation that Debt / EBITDA would be 3.5x - 4x and FFO to total debt would be more than 20%."
This data comes from S&P and is not based on my calculations. When S&P talks about Debt / EBITDA in the 5.5x - 6x range, I believe that it is taking into account the pension obligations. Let me explain.
S&P is projecting EBITDA of $2.4-$2.8 billion. According to Alcoa's earnings slides, it generated $2.0 billion of adjusted EBITDA in 2012 and $3.3 billion of EBITDA in 2011. Obviously, Alcoa's EBITDA potential depends on aluminum prices (and the performance of the downstream business, which is strong), but S&P's projection is inline with Alcoa's recent results.

(Source: Alcoa's Q1 2013 earnings slides)
Alcoa's balance sheet as of March 31, 2013, shows $8.9 billion of total debt and $7.4 billion of net debt.

(Source: Alcoa's Q1 2013 earnings slides)
Assuming $8.9 billion of total debt and $2.6 billion of EBITDA (midpoint of S&P's forecast), the total debt / EBITDA would be 3.4x.
As of March 31, 2013, Alcoa's pensions were underfunded by $3.6 billion and it had $2.6 billion of underfunded other post-retirement benefits. With these liabilities, total debt would be $15.1 billion and the leverage multiple would be $5.8x.
On April 11, 2013 Fitch also revised its outlook from stable to negative. Fitch expects 2013 EBITDA of $2.7 billion, which would "result in financial leverage remaining slightly above 3 times (NYSE:X) in 2013." It seems that Fitch is not adding the pension and retirement obligations in its calculations.
The bottom line is that with the leverage on Alcoa's balance sheet it needs a rebound in aluminum prices to increase profitability and de-lever.
Analyst Estimates
The following are equity analyst estimates for Alcoa, which have been coming down over time.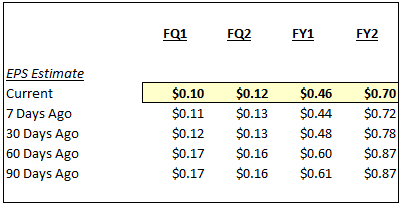 (Source: Yahoo Finance)
The mean price target is $9.38 per share and the range is $6-$12.
Alcoa's Price Action
Alcoa has been in an ever narrowing trading range. It bounced off the mid-April lows below $8 per share. However, it has not been able to make a "higher high" yet.
Alcoa's stock price likely needs a significantly higher aluminum price to break out of this range. The news of production cuts was a step in the right direction, but not enough to sustain a larger bounce yet.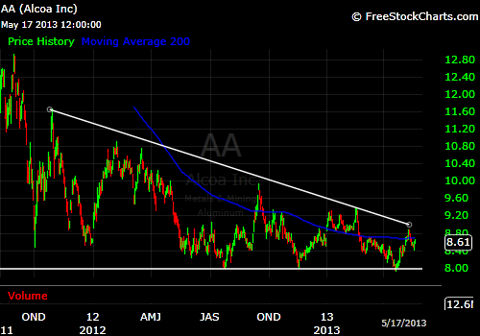 (Source: FreeStockCharts.com)
Conclusions
I was encouraged by Alcoa's announcement of production cuts. This may signal a change in Alcoa's perspective, since it previously insisted that the aluminum supply/demand was basically in balance.
After the price of aluminum halted its decline in mid-April it has been trading in a tight range. The price of aluminum looks ready for a big move, but it is not yet clear in which direction.
Production cuts should support a move higher. However, it is unclear if the production cuts from Alcoa and other companies are enough. Furthermore, the price of aluminum seems to be moving with gold and other metals. Further weakness in gold could negatively impact the price of aluminum in the short term.
I initiated a long position in Alcoa after the news of its plan for production cuts. However, I exited the position for a small profit because the price of aluminum barely reacted to the news. I am encouraged by the talk of production cuts and continue to look for opportunities to invest in Alcoa and may initiate another position soon. However, weakness in aluminum and/or gold may make me hold off longer.
At some point there will be enough production cuts (and demand increases) to drive up the price of aluminum. Because of Alcoa's leverage, its stock price should see significant gains, if that scenario plays out. The question is: is aluminum at that inflection point now or does it need to trade lower before reaching the bottom?
Disclaimer: The opinions expressed above should not be construed as investment advice. This article is not tailored to specific investment objectives. Reliance on this information for the purpose of buying the securities to which this information relates may expose a person to significant risk. The information contained in this article is not intended to make any offer, inducement, invitation or commitment to purchase, subscribe to, provide or sell any securities, service or product or to provide any recommendations on which one should rely for financial, securities, investment or other advice or to take any decision. Readers are encouraged to seek individual advice from their personal, financial, legal and other advisers before making any investment or financial decisions or purchasing any financial, securities or investment related service or product.
Information provided, whether charts or any other statements regarding market, real estate or other financial information, is obtained from sources which we and our suppliers believe reliable, but we do not warrant or guarantee the timeliness or accuracy of this information. Nothing in this article should be interpreted to state or imply that past results are an indication of future performance.
THERE ARE NO WARRANTIES EXPRESSED OR IMPLIED AS TO ACCURACY, TIMELINESS, COMPLETENESS, OR RESULTS OBTAINED FROM ANY INFORMATION IN THIS ARTICLE OR ANY LINKED WEBSITE.
Disclosure: I have no positions in any stocks mentioned, but may initiate a long position in AA over the next 72 hours. I wrote this article myself, and it expresses my own opinions. I am not receiving compensation for it (other than from Seeking Alpha). I have no business relationship with any company whose stock is mentioned in this article.
Additional disclosure: I may trade any of the stocks/ETFs mentioned in this article at any time, including in the next 72 hours.