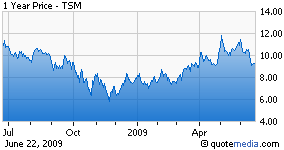 As markets come down and Nouriel Roubini talks of yellow weeds over green shoots, I figured it was useful to still point out some positive news despite it being a bit passé. Taiwan Semiconductor (NYSE:TSM), the top dog when it comes to independent semi-conductor foundries, has announced that it will rehire 700 workers it laid off during the economic crisis. What is amazing is that Taiwan Semi has 23,000 employees, which means that it didn't fire very many to begin with. The company's chairman said that:
although the economic crisis continues, the company's revenues are on the upturn and the second quarter will be much better than the first . . . We will not have further lay-offs
So is this a sign of brightening prospects from TSM? Well, it appears things unfortunately aren't that simple. Despite the relatively small size of TSM's original layoff (700 people), the firings created quite a backlash from TSM's employees.
Angry former employees last month surrounded Mr Chang's house to protest at the loss of their jobs and demand bigger severance packages.

Mr Chang, widely respected as the godfather of Taiwan's semiconductor industry, said the incident arose out of a misuse of the employee evaluation programme and that TSMC "did not sufficiently consider the personal dignity of our staff, nor the difficulties of finding another job in such harsh economic conditions".

He said he hoped to rehire by the end of this month those who had left, and would give additional compensation to those who did not wish to return. "I feel very much pained and regretful over the entire incident," he said.
Thus it appears his decision to re-hire might not have necessarily been 100% economic. Still, the company does indeed see improving prospects after suffering a tough 1Q09 where capacity utilization in this high fixed cost business hit 40%. But going forward, they see an 80% sequential rise in revenue, cap utilization popping back to 70%, and further out see their business growing 50% by 2018.
Revenue from TSMC's foundry business will grow by as much as 50 percent to $14-$15 billion by 2018, Chairman Morris Chang told a news conference, up from about $10 billion in 2008.
More near term, they plan to reachieve 2008 revenue levels by 2012, which is still a few years out, but it appears they expect to be making money on the way there, given that they were still able to eke out a profit during their horrible 1Q09.
Beyond this, they are even talking about expanding into a new line of green business, a huge shift for them, which could be silicon-based LED or Solar technology. All-in-all a pretty positive outlook from TSM. Even if things will take time to recover, TSM at least feels they have passed an inflection point. Latest May sales data was down 15% YoY, vs. the 40% YTD Jan-May run-rate, showing a clear turn-around in the current numbers as well.
Disclosure: The author does not own any shares of TSM.