Amarin (NASDAQ:AMRN) had been trading bullish on the heels of their quarterly conference call two weeks ago where they reported a continued increase in Vascepa sales and $2.3 million in recognized Vascepa revenues. Amarin made a 20% run after earnings, but has since pulled back to the $7 region. Over the last month, the stock has been coiling and condensing, getting ready to make its next move up or down which will be catalyzed by prescription data, guidance and the company's ANCHOR indication:
From its website, "Amarin Corporation is a biopharmaceutical company focused on the commercialization and development of therapeutics to improve cardiovascular health. Amarin's product development program leverages its extensive experience in lipid science and the potential therapeutic benefits of polyunsaturated fatty acids. Vascepa (icosapent ethyl) is Amarin's first FDA approved product and is available in the United States by prescription."
It's become noted many times over that Amarin's handling of its launch of Vascepa is ultimately going to determine the path the company is going to take as a whole. If Vascepa fails and is not granted ANCHOR indication, there aren't a lot of roads to go down that end in the company not going under. If Vascepa establishes market share and competes well with GlaxoSmithKline's (NYSE:GSK) Lovaza, you have the potential for a massive upside and/or buyout situation. The entire company hinges on this one product, and that's why the data behind Vascepa prescriptions are so important, and constantly put under a microscope.
To this point, prescription data has become the only gauge that investors have to use and see how the launch is doing. The company again reiterated on its last conference call that it is "encouraged," but still did not want to offer guidance for the future.
I had offered in my last article in regards to how key the prescription data actually is:
They've been growing inline, but not exceeding, expectations thus far. Amarin is currently gapping up to open Wednesday morning in the $7.80's. We'll know more when we get updated prescription information this Sunday. Soon, we're going to be able to not only get data on total scripts, but reasonable data on how many people renew and continue subscriptions.

The bearish argument for Amarin remains its massive cash burn from the previous quarter combined with recent studies showing that fish oil isn't nearly as effective as some people think it is. They dropped $58 million last quarter, but, I'll be the first to admit that launching something from scratch is not an easy task -- and Amarin is anything but undercapitalized with a couple hundred million in the bank.
Moving along with the launch, prescriptions had been growing adequately, picking up 10-15% each week. For the week ended last week, IMS reported a staggering pullback, with a very small 1.54% growth. Total prescriptions for the week ended 5/10 came in at 3,035, up from 2,989.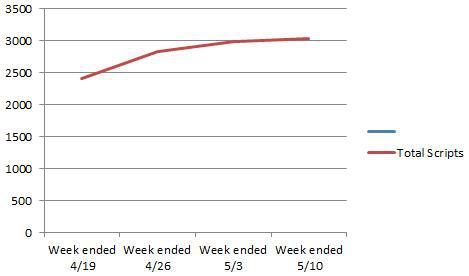 Before everybody rips my head off about the chart, I will note that this chart is ONLY the last four weeks, and doesn't show the adequate growth up to this point. However, it makes the point that I'm trying to make with regards to prescriptions slowing.
The concern here lies not so much this week, but what will happen if Amarin finds itself having several weeks of this paltry growth, or worse, regression. With Amarin holding a lofty $1 bil market cap, there's a chance slowing prescription data could be a catalyst for some investors to head towards the exits.
Hopefully, this article offers some pause to both bulls and bears on Amarin. There is a chance this could be a pullback in a "cyclical growth," similar to the kind GSK experienced when launching Lovaza. However, a couple of weeks of this growth in a row without company guidance could spell a major problem for the company and its shareholders.
I hold both Amarin calls and puts (about 3:1 puts to calls, as I did not add calls last week), as I'm convinced this company is either going to be extremely successful or an extreme failure.
If you're looking to open a position, I'd be watching the coming week's data extremely closely before doing so. As always, best of luck to all investors.
Disclosure: I am short AMRN. I wrote this article myself, and it expresses my own opinions. I am not receiving compensation for it (other than from Seeking Alpha). I have no business relationship with any company whose stock is mentioned in this article. I own 3:1 puts to calls.