Carrizo Oil and Gas (NASDAQ:CRZO) is a small- to mid-cap Exploration and Production (E&P) company in premier oil locations in the lower 48 United States. You might remember it as natural gas producers, but it began making a major shift to oil in 2010. The company's remaining natural gas operations are in some of the best areas: the Marcellus and some of the better Barnett acreage in North Texas. Its oil properties are in the Niobrara of Wyoming, and Eagle Ford of southern Texas, the latter of which is the company's driver of growth right now. Carrizo has also been an early mover in the nascent Utica Shale of eastern Ohio, acquiring mineral rights on over 14,000 acres.
Latest quarterly results were anchored by remarkable oil production growth:
A 57% increase in oil production vs. Q1 2012, with long-term oil production growth of 28%
A 47% increase in oil revenue vs. Q1 2012
A 49% year-over-year revenue increase
A 35% year-over-year EBITDA increase
An increase in the company's syndicated revolving credit line from $365 million to $530 million
Purchase of an additional 4,300 acres in the Eagle Ford Shale. This is considered a "bolt-on" due to Carrizo holding adjacent acreage.
Funding Gap and Debt
This year Carrizo's funding gap, when capital expenditure exceeds cash flow, will be around $300 million. The company already has $100 million in cash from asset sales in 2012, leaving $200 million to be dealt with. Carrizo has traditionally plugged funding gaps through either taking out debt or doing joint ventures. This time, it may possibly sell gassy assets in the Marcellus or Barnett. The company's debt currently sits at $969 million according to Morningstar. Management's target is to be at three times EBITDA earnings. The ratio currently sits at 2.6.
Walking a Tightrope
We could do 50% (oil production growth) if we took on more debt.
Chip Johnson, Baird 2013 Growth Stock Conference
Despite a large funding gap, Carrizo is reluctant to take on more debt because it fears the market will become concerned. At the same time, Carrizo is having great success in its drilling, particularly in the Eagle Ford. CEO Chip Johnson believes that Carrizo could grow oil production much more quickly, but has declined to do so in order to stay within its own debt target.
While many oil companies are simply trying to grow oil production as much as possible, Carrizo's situation is something of a balancing act: managing debt and covering its substantial funding gap while growing earnings as rapidly as possible. As a result, debt/EBITDA has steadily fallen on the back of production and revenue growth. At this stage, Carrizo's most important goal is to make sure growth outpaces debt. In this quarter it did just that.
Potential In Utica and Probable Eagle Ford
This summer Carrizo will drill its first exploratory well in the Utica Shale of eastern Ohio. Carrizo has been an early mover here and has shifted concentration to the southern part of the shale, the area it believes will be the most oil rich.
Management believes the Utica could end up rivaling the Eagle Ford both in Internal Rate of Return (IRR), which is a metric of profitability, and Estimated Ultimate Recovery (EUR), which is a measurement of the resource base. Well costs will be higher, between $8 and $9 million, due to infrastructure. However, acreage royalties will be lower than in the Eagle Ford.
Unfortunately, Carrizo's 14,000 Utica acres may be all it gets. Bids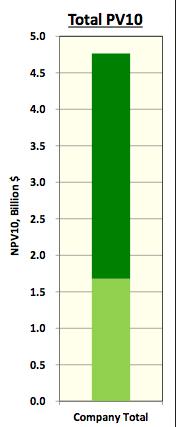 are getting increasingly competitive in the southern part of the Utica play and bids for mineral rights are increasing quickly. Johnson believes this may be due to new players "floating around" with a lot of money. Even still, Carrizo's position is quite good and is estimated by management to perhaps add at least $500 million to Net Present Value (NPV).
Much of the company's Eagle Ford acreage is also untapped. Over 80% of possible wells on its south Texas acreage remain to be developed. After the 4,300 acre purchase, that percentage is surely higher. At its most previous estimate, the NPV10, or Net Present Value with an annually discounted rate of 10%, is $1.6 billion. When we include "probable" but yet unproven reserves, that number jumps to over $4.5 billion. Consider that the market cap of Carrizo is only $1.1 billion now and you get the idea of this stock's potential. In its latest road show presentation, Chip Johnson said that the independent engineers would give Carrizo its probable value "if pressed."
Conclusion
Carrizo had an outstanding quarter showing the company's growth potential and profitability in the Eagle Ford. The stock has been weighed down by concerns of a substantial funding gap and high debt levels, but the company seems to be balancing things while growing at an escape velocity. And here is one final point: Chip Johnson recently mentioned that the yield to maturity on some of Carrizo's bonds now stand at 3.8%, which is remarkable because the yield was 7.5% when they were originally issued. The bond market has given Carrizo a vote of confidence. I believe the stock market could do the same.
Stay Tuned
Carrizo is a company I both own stock in and follow regularly, and I plan on writing update articles when both material and relevant. In addition, I am a believer in the U.S. oil production "renaissance" and this is a topic I have written about and will frequently cover in the future.
Additional Sources:
"NPV10" chart from Wells Fargo 4th Annual E&P Forum
Disclosure: I am long CRZO. I wrote this article myself, and it expresses my own opinions. I am not receiving compensation for it (other than from Seeking Alpha). I have no business relationship with any company whose stock is mentioned in this article.