The Landscape
Regulated utilities posted a 2.0% and 7.5% nominal and total return in 2012. Small- and mid-cap regulated issuers were up 1.6% while large issuers were up 1.1% on a nominal basis, according to Barclays.
Strong investor interest in dividend-paying stocks continued to stoke positive income fund flows. This support was offset by investor concerns about group price-to-earnings valuation levels and uncertainty about dividend tax policy after the November elections. As for valuation, the regulated group ended the year with very compressed price-to-earnings multiples.
The relative 2014 P/E ratio spread between large-capitalization regulated companies and small- to mid-capitalization regulated companies stood at just 0.8%. This is very tight versus the historically normal range of 7% to 10% large-cap premium.
Summary of Valuations

Source: Yahoo Finance
Covanta Holding Corp. (NYSE:CVA) the One To Buy
Energy Revenues. Increased fees from contract extensions/conversions will drive Covanta Holdings' revenues through 2015. There is also a modest impact from rising power prices and merchant prices. Every $1 per million cubic feet change in gas is equivalent to $5 to $10 million in EBITDA in 2013, as estimated by Barclays.
Waste Revenues. The biggest drivers are inflation on contracts, estimated at 1% to 2% and specialty waste where the company anticipates double-digit growth in 2013.
EBITDA. CVA's 4Q2012 EBITDA of $143 million was slightly lower than the $146 million consensus estimate. Free cash flow after maintenance capex was $57 million versus $63 million analyst consensus estimate.
EBITDA guidance was up 3% from $500 to $530 million. Barclays expects an acceleration of EBITDA growth in 2014 to 2015 due to smaller headwinds from debt service revenue and growth initiatives. The bank maintained its Overweight rating on CVA shares, raising its price target $1 per share to $21 to reflect inclusion of tax benefits. It expects CVA to continue growing the dividends.
Dividend Yield. CVA increased dividends by 10% in March of 2013. Annualized cash dividend is now $0.66 per share. Dividend yield is 3.3%.
Rating. Recommending a "Buy" on the stock: (1) A highly contracted business mix; (2) 3.4% dividend yield and regular stock buybacks; and (3) Organic growth opportunities in specialty waste and metals.
Ecology and Environment, Inc. (NASDAQ:EEI) the One to Hold
Company History. Ecology and Environment, Inc. has completed over 50,000 projects in 122 countries, including some of the most iconic and high-profile projects in the world. Since 1970, EEI has provided environmental solutions in nearly every ecosystem.
Revenues. Revenues of Ecology and Environment Inc. for fiscal 2Q2013 were $36.2 million, a decrease of $4.0 million or 10% from the $40.2 million reported in the second quarter of fiscal year 2012.
Revenue Guidance. EEI President and CEO Kevin Neumaier reassured stockholders, saying: "We are starting to see an improvement in operations and in earnings over the past few quarters. These are somewhat lumpy from quarter to quarter. With a stabilizing and slow improvement in revenue less subcontracts and some cost reductions, earnings are improving. Over the longer term we are seeing a number of signs of improvement in our markets."
Contracts. EEI was awarded $39 million in contracts to consult on the development of eco-cities and a large healthcare complex for the China International Finance and Guarantee Group with the backing of the Chinese government.
Dividend Yield. Its 3.8% dividend yield is likely to continue. EEI declared a six-month dividend of 24 cents per share. This represents the 52nd consecutive dividend declared since EEI became public in 1987.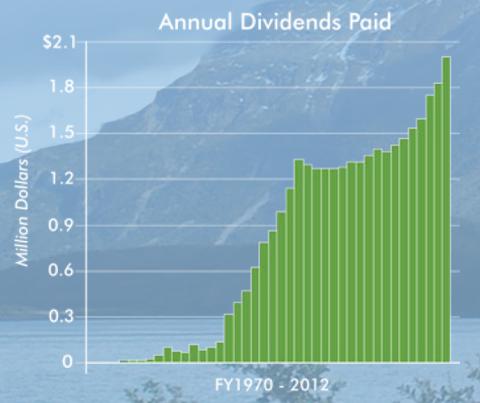 Source: Annual Report
Rating. Recommending to "Hold" EEI stock. Second-quarter earnings are substantially up, although no significant control over subcontracting costs, thus resulting in flat gross profit margins.
Waste Management Inc. (NYSE:WM) the One to Avoid
Earnings Estimate and Cash flow. Waste Management Inc. reported its first-quarter 2013 EPS of $0.40, slightly below consensus of $0.41. The company also reiterated its 2013 EPS and free cash flow guidance of $2.15 billion to $2.20 billion and $1.1 billion to $1.2 billion, respectively.
EBIT. WM reported EBIT of $425 million versus Goldman Sachs' $432 million estimate. Weaker EBIT was offset by a lower tax rate (31.9% versus Goldman Sachs' 35% estimate).
Pricing Strategy. WM has implemented a new regulatory cost recovery fee and modified fuel surcharges. Analysts expect WM's core pricing to accelerate through 2013 driven by a cycling volume recovery (due to U.S. housing coming back), and improved pricing discipline.
Earnings Risk. A combination of restructuring charges and impairments of investments resulted in a decline in earnings.
The charts below show that WM's core volumes, pricing and EPS trends will recover once the housing market improves:

Source: Goldman Sachs; Factset Research
Operating Income. From 2009 to 2012, WM's operating revenues had a projected CAGR of 5%. Capex recorded a CAGR of 17% since 2010.
Acquisitions. The company has had a strong focus on acquisitions in order to boost its revenues. At the onset of the year, WM announced the acquisition of Greenstar. This is aimed at improving the company's recycling capacity.
Dividend Yield. WM has a dividend yield of 3.58%, and it has consistently hiked dividends in the past. The company's strategy to improve its dividends has made them extremely attractive to investors.
Rating. Recommendation is to avoid the stock for now. Aside from restructuring charges and impairments that impact earnings negatively, visibility in terms of volumes and pricing are not convincing in the near term, and it still hinges on the recovery of the U.S. housing market (residential fixed investment).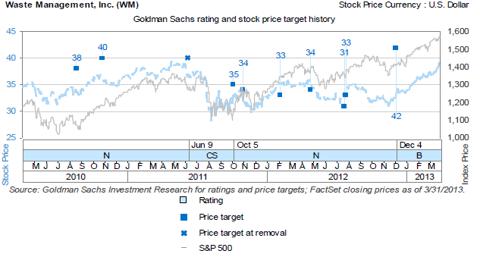 Disclosure: I have no positions in any stocks mentioned, and no plans to initiate any positions within the next 72 hours.
Business relationship disclosure: Black Coral Research, Inc. is a team of writers who provide unique perspective to help inspire investors. This article was written Hans Centena, one of our Senior Analysts. We did not receive compensation for this article (other than from Seeking Alpha), and we have no business relationship with any company whose stock is mentioned in this article. Black Coral Research, Inc. is not a registered investment advisor or broker/dealer. Readers are advised that the material contained herein should be used solely for informational purposes. Investing involves risk, including the loss of principal. Readers are solely responsible for their own investment decisions.