One thing that most energy analysts can probably agree on is that oil and natural gas reserves aren't getting any easier to discover, or extract from the earth. The obstacles are only increasing, from the pure location of the natural resource, to the political barriers being established to wean ourselves off of our fossil fuel addiction. However, another notion I think most energy analysts can agree on is that fossil fuels will continue to play a vital role in fueling global growth for decades to come.
With that in mind, we have developed a longer-term structural theme in the energy services sector for clients in our opportunistic growth portfolio. It recaptured my attention today due to a notable outperformance in energy services ETFs vs. the rest of the market. This was more than likely due to the affirmation of a positive outlook from the energy analysts over at Deutsche Bank.
I like to refer to the companies that make up this specialized area of the market as energy tech stocks, similar to biotech as it relates to healthcare stocks. They are the innovators of technologies that have allowed large integrated oil companies to access reserves that would not have been financially feasible even just 10 years ago. More specifically, they are the creators and innovators of equipment in; drilling, oilfield services, and oil and gas equipment manufacturing. A sector of the energy arena that I believe is leveraged to benefit from global growth than just the larger integrated oil companies alone.
A great ETF to gain exposure to this sector is the Powershares Dynamic Oil and Gas Services Portfolio (NYSEARCA:PXJ). I think the intellidex concept of index construction that PXJ utilizes makes a lot of sense, as it uses a criteria based selection process. The factors, ranging from price and earnings momentum, to value, carry a deciding factor on whether a constituent stock is admitted to the index. The end result is a concentrated mix of just 30 stocks that offer the best qualities for exposure to the sector. In fact, as shown in the chart below, over the last year PXJ outperformed the similar iShares DJ Oil and Gas Services ETF (NYSEARCA:IEZ) by 4.4%.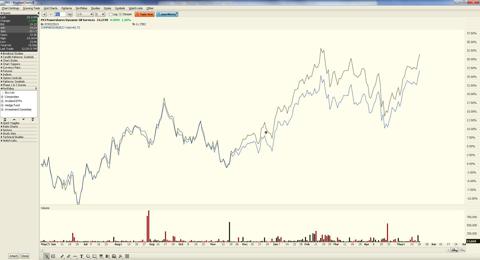 It is important to note that although the business model of a typical oil and gas service company is not directly tied to the day-to-day price swings of oil. Such as the large integrated oil companies that make up the SPDR Select Energy ETF (NYSEARCA:XLE), there is sympathetic volatility that reverberates over to PXJ and IEZ. As you would expect, over the course of an entire cycle the ultimate demand for exploration, production, and service will be meaningfully impacted by the price and demand for energy.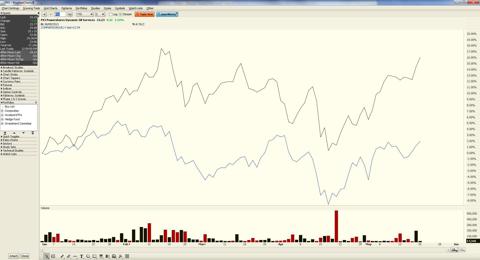 In a comparison, PXJ hits its most recent low back in April at the same time the iPath S&P GSCI Crude Oil ETN (NYSEARCA:OIL) did, and both have since returned to their most recent highs. So investors should keep in mind that investments within this sector is a direct bet on the success of the companies within the ETF, alongside a secondary bet on the rising price of oil and natural gas.
Due to the added volatility in energy service names, aggressive investors wanting to play the recent upside should participate if a breakout materializes and then set a stop just below the peak that was established back in February near the $24.00 level. That way if the price of oil, or the general market corrects, you won't have the risk of significant downside participation. Furthermore, if the recent rally has legs, it can easily extend to the highs established in April 2011 at 27.00 on PXJ. A setup like this one presents just the right amount of risk-to-reward for capital appreciation that I look for in a sector allocation. With any investment approach, having fundamental evidence backed by sound technical justifications, will ultimately yield a favorable result.
Disclosure: I have no positions in any stocks mentioned, but may initiate a long position in PXJ over the next 72 hours. I wrote this article myself, and it expresses my own opinions. I am not receiving compensation for it. I have no business relationship with any company whose stock is mentioned in this article.
Additional disclosure: Fabian Capital Management, and/or its clients may hold positions in the ETFs or mutual funds mentioned above. The commentary does not constitute individualized investment advice. The opinions offered herein are not personalized recommendations to buy, sell or hold securities.