The value of "good" farmland increased 4% in the first quarter of 2013 compared to the fourth quarter of 2012, and year over year values have increased by 15%. Of the five states included in the 7th District, four states posted double digit year over year increases, masking Wisconsin's 3% decrease.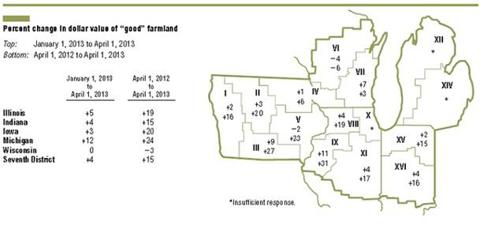 Demand and volume of farmland sales increased in the first quarter of 2013. Additionally, cash rental rates increased 11% compared to 2012, but mark the smallest annual increase in the past two years. When comparing value increase to rental increase (15% vs. 11%) the percentage difference fall in line with historical averages as cash rent usually lags values. Over three quarters of bankers believe values will stabilize in the second quarter.
Earnings
Grain prices are following the trend and according to the USDA's most recent data, corn prices in the first quarter of 2013 were estimated at $7.06 per bushel, a 2.5% increase. Soybean prices were estimated at $14.47 per bushel, a 1.4% increase.
Credit
Credit conditions remain positive for producers but the demand for agriculture related loans fell to its lowest level since 1986.
The average loan-to-deposit ratio was 63.7, the lowest level since 1994. Bankers are concerned because this is 13 percentage points below what they desire. A whopping 89% of bankers are below their desired level of lending.
Interest rates for operating loans and agriculture real estate loans fell to 4.91% and 4.60%; both rates are record lows.
Outlook
Farmers trying to plant the 2013 crop have been met with heavy precipitation, preventing them from getting into the fields; last year at this time almost the entire corn crop was planted compared to only 28% this year. The USDA expects the 2013 crop to be large due to increased production and planted area, but history has show that late planting, especially deep into May, decreases yield significantly. We expect soybean acreage to increase at the expense of corn acreage if late planting persists.
The Federal Reserve Bank of Chicago's first quarter survey of Farmland Values and Agricultural Credit Conditions Report is a summary of the 7th District's value of farmland, farm loan portfolio performance, and on-farm income. The 7th District consists of the entire state of Iowa, and portions of Illinois, Indiana, Wisconsin, and Michigan.
Disclosure: I have no positions in any stocks mentioned, and no plans to initiate any positions within the next 72 hours. I wrote this article myself, and it expresses my own opinions. I am not receiving compensation for it. I have no business relationship with any company whose stock is mentioned in this article.