One of the hidden gems among the Canadian energy companies would have to be Pembina Pipeline Corp (NYSE:PBA). Pembina has a large and integrated midstream asset footprint in Western Canada. Unlike most midstream companies in the US, Pembina is a dividend paying corporation and is not structured as an MLP. Pembina currently offers a $0.135 per share monthly dividend and yields about 4.70%.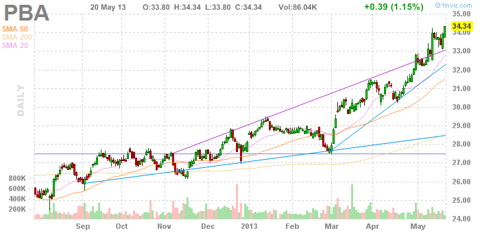 Pembina's assets include 1,650km of pipelines, 368 MMCF/D in net natural gas processing capacity, 7,850km of network transports,12 MMBBL of storage capacity and various other assets. During FY 2012, 50% of Alberta's crude oil and 30% of its NGLs production was transported on Pembina's systems.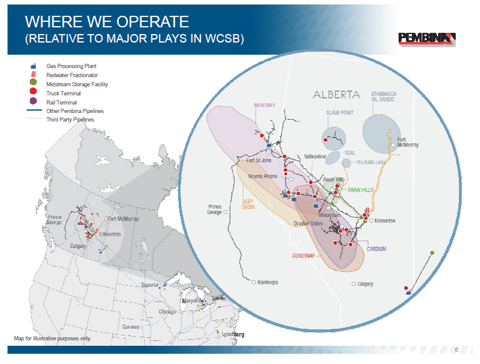 On May 9, Pembina announced its Q1 2013 results. For the quarter, Pembina saw revenues surge to $1.28B, up 170% from $475M in Q1 2012. Pembina's operating margins increased 88% to $240M while earnings increased 176% to $91M. On a per share basis, earnings increased to $0.30, up 58% from $0.19 last year. Pembina's comparisons were significantly aided by the completion of its merger with Provident Energy (PVX) on April 2, 2012.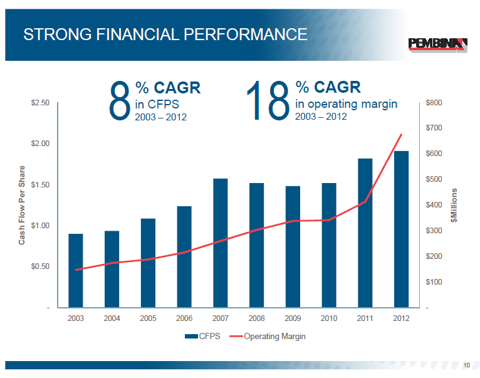 Using EPS, Pembina's dividend payout ratio is a rather higher 136%. However, a better metric to determine Pembina's dividend safety would have to be its adjusted cash flow from operations, or simplify adjusted cash flow. Pembina posted adjusted cash flow of $207M, up 109% from the $99M last year. Dividend payments were $121M in the quarter and $66M last year. This results in a Q1 2013 payout ratio of 58% and a Q1 2012 payout ratio of 67%.
Pembina made substantial progress on its growth plans by securing $1.3B in additional capital in the quarter. In March Pembina announced an offering of 11,206,750 common shares at a price of $30.80 per share, including 1,461,750 common shares issued at the same price on the exercise in full of the over-allotment option granted to the underwriters. Pembina's gross proceeds from the offering was approximately $345M. In April, Pembina issued $200M of 30-year senior unsecured notes. The notes have a fixed interest rate of 4.75% and will mature on April 30, 2043.
The most significant of Pembina's planned investments is the $1B expansion of its NGL related infrastructure. The projects entails three integrated components along the NGL value chain:
Twinning of the 200 MMcf/d Saturn deep cut facility ("Saturn II") which will extract valuable NGL from raw gas streams in the Berland area of Alberta at an estimated capital cost of $170 million;

Twinning of its 73,000 bpd ethane-plus fractionator ("RFS II") at its Redwater site, near Fort Saskatchewan, Alberta at an estimated capital cost of $415 million; and,

The Phase II NGL pipeline capacity expansion of its Peace/Northern NGL System which will accommodate increased NGL volumes at an estimated capital cost of $415 million.
Pembina has been a clear winner in terms of long-term dividend-growth and total returns. Since 2002, Pembina has paid out over $2.4B in dividends and has shown dividend-growth at a 4% CAGR. Pembina's average compounded annual return has been 17.8% while its total return has been over 500%. Note that this assumes reinvested dividends.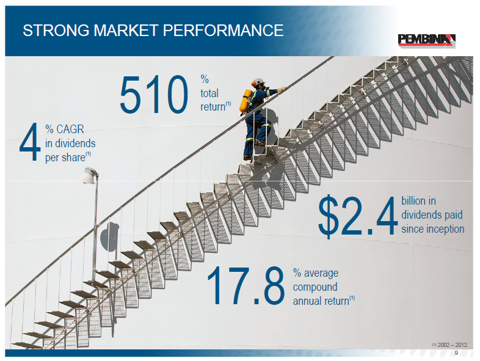 Conclusion
Pembina's new NGL related projects should provide long-term, sustainable returns once complete. Western Canadian energy production is facing serious bottleneck issues and this has led to historically high spreads. While rail has taken up some of the slack, pipeline infrastructure is the only long-term to this problem. Pembina is in the right place at the right time. I would be a buyer on any weakness or share offering.
Disclaimer: The opinions in this article are for informational purposes only and should not be construed as a recommendation to buy or sell the stocks mentioned. Please do your own due diligence before making any investment decision.
Disclosure: I have no positions in any stocks mentioned, and no plans to initiate any positions within the next 72 hours. I wrote this article myself, and it expresses my own opinions. I am not receiving compensation for it (other than from Seeking Alpha). I have no business relationship with any company whose stock is mentioned in this article.