By David Russell
Options action turned aggressively bullish on Ambac Financial Group (ABK) today as traders snapped up calls in the heavily shorted bond insurer.
Call volume spiked to 27 times the average amount over the last 20 sessions. Almost all the buying focused on the January 2.50 calls, which traded 20,146 times for $0.15 to $0.30 against open interest of 17,999 contracts. Most of the activity occurred during a 10-minute period, suggesting purchases by a single large investor.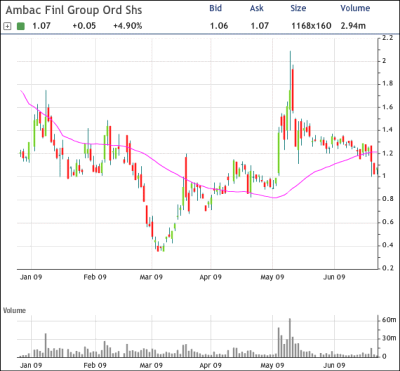 ABK, which is up 4.9 percent to $1.07 in midday trading, has fluctuated between $0.35 and $1.75 over the last six months. It would have to rally 164 percent for the calls purchased today to turn a profit on expiration.
The stock was one of the first to collapse in the mortgage crisis and still had a substantial short interest representing 15 percent of the float as of May 26. Small gains in the share price could trigger more buying as shorts rush to cover, creating a classic "squeeze" higher despite a lack of positive developments for the company.
Today's buyer may have purchased the calls as a hedge against such a short position. The distant month provides more delta, which means the options will appreciate more quickly than shorter-dated calls if the stock rallies. The longer expiration also reduces the likelihood of time decay eroding the position's value.
Calls in ABK today outnumbered puts 1,635 to 1, reflecting the lopsided bullish trade.

(Chart courtesy of tradeMONSTER)