Chicago-based Strategic Hotels & Resorts (NYSE:BEE) is a luxury hotel real estate investment trust (REIT). Strategic Hotels & Resorts has an ownership interest in 18 hotels and resorts which focus on the upper-upscale and luxury lodging market. Its hotels are managed by high-end hotel management companies such as Fairmont, Four Seasons, Hilton, Hyatt (NYSE:H), InterContinental (NYSE:IHG), Loews (NYSE:L), Marriott (NYSE:MAR), KSL Resorts, Ritz-Carlton and Westin (HOT).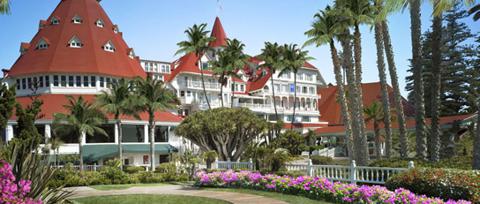 Hotel Del Coronado, San Diego, CA
| | |
| --- | --- |
| Resort Properties | |
| Property | Location |
| Fairmont Scottsdale | Scottsdale, AZ |
| Four Seasons Resort | Jackson Hole, WY |
| Four Seasons Resort | Punta Mita, Mexico |
| Hotel Del Coronado | San Diego, CA |
| Loews Santa Monica Beach | Santa Monica, CA |
| Marriott Lincolnshire | Lincolnshire, IL |
| Ritz-Carlton Half Moon Bay | Half Moon Bay, CA |
| Ritz-Carlton Laguna Niguel | Dana Point, CA |
| | |
| Urban Properties | |
| Property | Location |
| Fairmont Chicago | Chicago, IL |
| Four Seasons Hotel | Silicon Valley, CA |
| Four Seasons Hotel | Washington, DC |
| Intercontinental Hotel | Chicago, IL |
| Intercontinental Miami | Miami, FL |
| JW Marriott Essex House | New York, NY |
| Marriott Grosvenor Square | London, England |
| Marriott Hamburg | Hamburg, Germany |
| The Westin St. Francis | San Francisco, CA |
| Hyatt Regency | La Jolla, CA |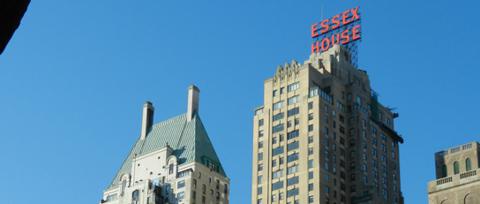 JW Marriott Essex House Hotel, New York City
Ripe for a Takeover
There has been a lot of speculation that Strategic Hotels might be a viable takeover candidate. Last November, the company's founder and CEO, Laurence Geller, stepped down with little explanation and was replaced by Raymond "Rip" Gellein. CEO Gellein is often referred to as a "timeshare industry pioneer." He sold his timeshare company twice, first in the 1980's, only to buy it back five years later, taking it public again for $360 million in 1999. He retired from Starwood Hotels and Resorts Worldwide in 2008. Mr. Gellein, who is 65, still commutes to Chicago from his home outside Orlando, Florida. His age and business background raises the question if he is in this for the long haul.
Gellein says he is in no hurry to sell Strategic Hotels, but opportunistic investors are hoping that he will be the last CEO of the company, sooner rather than later. After the company posted a fourth quarter loss, hedge fund Orange Capital, LLC called for the company to sell off its assets. On February 1st, Orange Capital, which owns 6.25 million shares of Strategic Hotels' stock, sent a letter to the company's board asserting, among other things, that a sale of the company's properties would likely result in proceeds of $11 to $14 per share. This represents a huge premium to the current share price of $8.12 (close as of 5/17/13). Mr. Gellein and his company for the most part rebuffed the demands, saying they "strongly disagreed with certain assumptions and conclusions outlined in the communication."
JMP Securities analyst Will Marks says that potential buyers, lured by the chance to snap up Strategic Hotels' luxury properties for a bargain, may view former CEO Geller's departure as removing a hurdle to a deal for the company. Geller himself is barred under the terms of his separation agreement from making a bid for the company for 18 months. JMP Securities' analyst Marks estimates the net asset value of the company's hotels to be about $10 share. Raymond James analyst James Crow also views a sale of the company "as the surest path to unlocking the value of Strategic Hotels assets."
On May 20, Strategic Hotels announced the termination of its stockholder rights plan. The full text of the amendment to the rights plan will be filed by the Company with the Securities and Exchange Commission on a Form 8-K, when available. This adds additional fuel to takeover speculation.
Digging Out of a Mountain of Debt
After the global financial crisis, Strategic Hotels has spent the last few years selling off assets and recapitalizing its properties in order to reduce its heavy debt burden. Its current Net Debt to EBITDA ratio is 6.6X, which has been reduced from a peak of over 14.0X. Still, this level is still among the highest among hotel REITs in the Green Street Advisors (a Newport Beach-based research firm specializing in REITs) coverage universe and well above the sector average of 4.8X.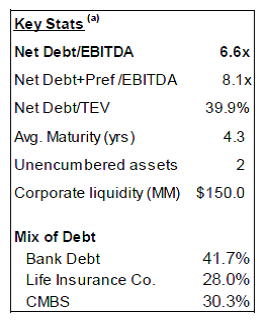 Source: May-2013-Investor-Presentation
Over the last two years, the company completed accretive restructurings of the debt of its Hotel del Coronado and Fairmont Scottsdale properties and pushed out the maturities.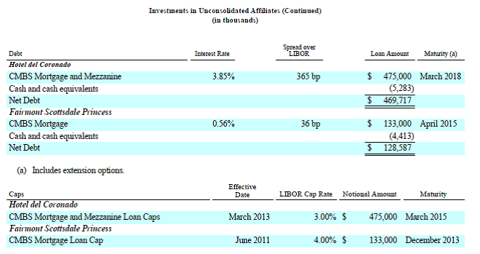 Source: Q1 2013 Strategic Hotels and Resorts Earnings Conference Call Supplemental Information
Mr. Gellein has committed to selling one hotel (likely to be its Lincolnshire, Illinois property) to raise money to pay down a credit line used to finance the $362 million acquisition in September 2012 of the Essex House property in New York City. The company also plans to sell the Lakeshore Athletic Club property next to its Fairmont Chicago Millenium Park property.
Hotel Market Rebound
Strategic Hotels & Resorts has been helped by the rebound in the hotel market. The U.S. hotel and lodging industry wrapped up 2012 on a high note, with lodging performance indicators seeing considerable improvement. For 2013, Smith Travel Research predicts:
Flat occupancy rates with a 0.3% increase to 61.4%
ADR (Average Daily Rates) rising 4.6% to $111.01
RevPar (Revenue Per Available Room) will grow 4.9% to $68.17
Room rates are on the rise given higher demand and lower supply. PricewaterhouseCoopers (PwC) forecasts 0.8% supply growth versus 1.8% demand growth in 2013. Their predictions for RevPar and ADR call for an even more robust recovery, projecting a 5.9% increase in RevPar and an increase in ADR of 4.8%. They also predict that the "higher-priced segments are expected to experience the strongest gains." According to PwC, as a result of strong business travel and group activity, occupancy levels in the luxury, upper-upscale and upscale segments have already exceeded pre-recession peaks. This perfectly describes the niche market served by Strategic Hotels.
Competitive Positioning
In addition to its desirable portfolio of properties, its competitive positioning in the lodging space also makes the company very desirable. Strategic Hotels is really the only pure play high-end lodging REIT and delivers industry-leading financial metrics. And, as previously noted, its market focus on the high-end best positions it to leverage the recovery in the lodging industry.
As a function of its high-end positioning, Strategic Hotels' ADR, RevPar, non-Rooms Revenue per Available Room, and EBITDA per Available Room are all superior to its closest competition: Pebblebrook Hotel Trust (NYSE:PEB), LaSalle Hotel Properties (NYSE:LHO), Host Hotels & Resorts (NYSE:HST), Sunstone Hotel Investors (NYSE:SHO), and DiamondRock Hospitality (NYSE:DRH).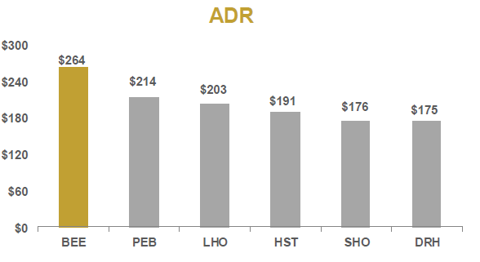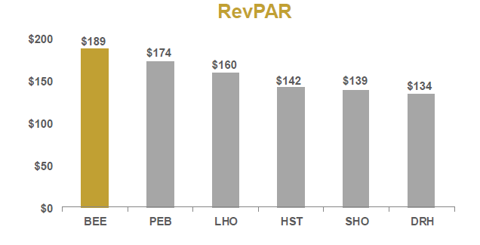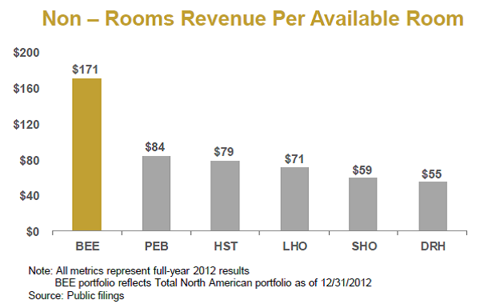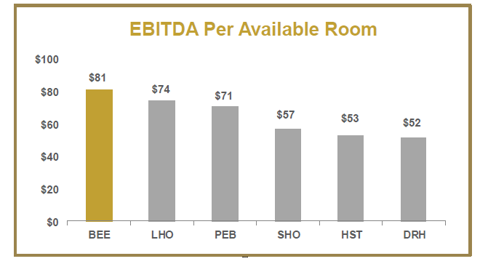 Strategic Hotels' first quarter results reported on April 29th were mixed, but for the most part ahead of expectations. The company reported Q1 FFO (Funds from Operations) of $0.01 slightly below the $0.03 Capital IQ consensus estimate. But the company reaffirmed its full year guidance ranges, including same store RevPar growth in a range of 5-7% and Total RevPar growth of 4-6%.
($ in millions, except per share and operating metrics)

First Quarter

Earnings Metrics

2013

2012

% Change

Net loss attributable to common shareholders

$(23.4)

$(31.5)

N/A

Net loss attributable to common shareholders per diluted share

$(0.12)

$(0.17)

N/A

Comparable funds from operations (Comparable FFO)

$2.3

$3.1

(25.2)%

Comparable FFO per diluted share

$0.01

$0.02

(50.0)%

Comparable EBITDA

$34.5

$33.3

3.5%

Total North American Portfolio Operating Metrics

Average Daily Rate (ADR)

$280.36

$263.44

6.4%

Occupancy

67.9%

68.2%

(0.3) pts

Revenue per Available Room (RevPAR)

$190.35

$179.57

6.0%

Total RevPAR

$362.93

$343.98

5.5%

EBITDA Margins

18.9%

17.8%

110 bps

North American Same Store Operating Metrics

ADR

$265.73

$248.23

7.0%

Occupancy

66.2%

67.5%

(1.3) pts

RevPAR

$175.99

$167.60

5.0%

Total RevPAR

$335.95

$320.18

4.9%

EBITDA Margins

18.0%

17.8%

20 bps
Conclusion
Even at current share price levels (the stock is up more than 30% YTD), Strategic Hotels represents a value opportunity in the hotel REIT industry. It appears likely that the best method to unlock shareholder value is a full or partial sale of the company's assets. Given that the stock is trading at a discount to the estimated NAV of the company's property portfolio, this suggests there is more upside opportunity. And despite new CEO Gellein's protestations to the contrary, he might be ready to take a prolonged vacation, and once again retire to his home in Florida.
Disclaimer
The opinions expressed above should not be construed as investment advice. This article is not tailored to specific investment objectives. Reliance on this information for the purpose of buying the securities to which this information relates may expose a person to significant risk. The information contained in this article is not intended to make any offer, inducement, invitation or commitment to purchase, subscribe to, provide or sell any securities, service or product or to provide any recommendations on which one should rely for financial, securities, investment or other advice or to take any decision. Readers are encouraged to seek individual advice from their personal, financial, legal and other advisers before making any investment or financial decisions or purchasing any financial, securities or investment related service or product.
Information provided, whether charts or any other statements regarding market, real estate or other financial information, is obtained from sources, which we and our suppliers believe reliable, but we do not warrant or guarantee the timeliness or accuracy of this information. Nothing in this article should be interpreted to state or imply that past results are an indication of future performance.
Disclosure: I am long BEE. I wrote this article myself, and it expresses my own opinions. I am not receiving compensation for it (other than from Seeking Alpha). I have no business relationship with any company whose stock is mentioned in this article.