Solar stocks have been one of the worst performing sectors in the stock market in recent times. The whole industry has been plagued with huge overcapacity which led to a crash in solar panel prices. Stocks have fallen by more than 90% from their peak values for a number of top solar stocks. LDK Solar (NYSE:LDK) and Suntech (NYSE:STP) have defaulted on bond payments but are still operating in a zombie state.
While U.S. solar stocks like First Solar (NASDAQ:FSLR), SolarCity (SCTY), Real Goods Solar (RSOL), Enphase Energy (NASDAQ:ENPH) have seen strong price appreciation, Chinese solar stocks have got left behind. There is no fundamental justification why U.S. solar stocks should go up much more than Chinese solar stocks. Though U.S. stocks will benefit from an EU duty on Chinese solar panel imports, these restrictions will be easily circumvented through Taiwanese outsourcing. The Chinese costs of manufacturing remain below that of U.S. solar companies and the Chinese companies will also benefit hugely from their massively growing domestic market.
Chinese solar stocks rocketed up yesterday on an epic squeeze after JA Solar (NASDAQ:JASO) reported a smaller loss than expected. This was not wholly unexpected, as other solar companies like SunPower (NASDAQ:SPWR) and FSLR have given positive results in recent times. The main reason why the stocks went parabolic was their ultra cheap valuations, a frothy broader market and catching up to their U.S. solar peers in terms of stock performance.
Why the Stocks skyrocketed
1) U.S. solar stocks have been going up much faster than Chinese stocks
U.S. solar stocks have been going up rapidly in the last months with listed solar installers like Real Goods Solar and SolarCity making new highs on a daily basis. SolarCity's valuation now exceeds that of SunPower, despite much lower revenues and scale of operations. There is no doubt in my mind that SolarCity is in the bubble territory. While SPWR and FSLR have also climbed rapidly in 2013, SolarCity's stock price appreciation has left them far behind in terms of inverter profit.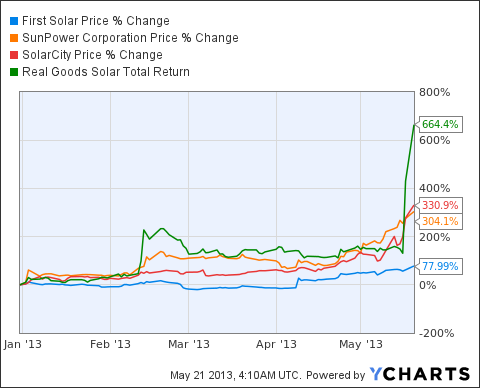 FSLR data by YCharts
2) Chinese solar stocks have underperformed U.S. solar stocks
Except for Canadian Solar (NASDAQ:CSIQ), most of the other Chinese stocks have not participated in the US solar stock rally. Though some of the Chinese companies are hobbled by a huge debt burden, the better ones like ReneSola (NYSE:SOL), Yingli Green Energy (NYSE:YGE), Trina Solar (NYSE:TSL) and JinkoSolar (NYSE:JKS) have remained subdued. These companies are suffering like the rest of the industry from prices which are ruling below costs. While all of these companies are making losses, the situation is expected to turn around as expansion plans have been put on hold and weaker players are going out of business.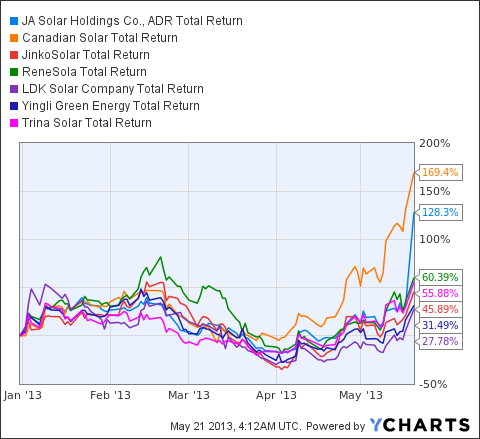 JASO Total Return Price data by YCharts
3) Solar industry continues to grow at a strong pace
The positive side of the solar panel price crash has been the huge demand growth in solar panels throughout the world. Solar energy prices have already reached grid parity in a number of places. What this means is that it is now more profitable to install solar panels in your home, rather than buying electricity from your utility. While there are still issues of intermittency, the relentless decrease in solar cost and increasing prices of fossil fuels means that solar energy with energy storage might become cheaper than utility electricity in most parts of the world in the next decade. The year 2013 should be another strong year for solar demand and the industry should return to a demand-supply equilibrium by mid-2014 in my view.
Lux Research thinks that the solar industry will return to equilibrium only in 2015 when demand catches up with the supply. They think that the industry will grow to more than 50 GW from the current 30 GW. I think that Lux Research is being a bit pessimistic given the current trends, as I think that the industry should return to equilibrium in mid 2014 as companies keep going bankrupt. Technology advances will eliminate weaker solar companies who do not have the money to invest in normal operations, let alone invest in new equipment. European companies have almost disappeared while the Japanese companies are only surviving due to the boom in their local market. No new company is entering the solar market compared to the deluge of new entrants before the crisis. The recent solar module price rise indicates that quality solar panels are seeing increased demand compared to the supply. Also, [the] solar trade war is leading to higher tariffs which are pushing up prices. Only companies with a large geographical footprint will be able to survive as the global solar market gets more dispersed.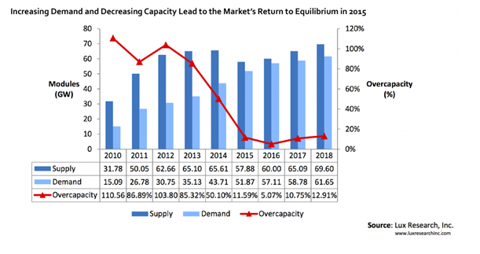 4) Short interest in Chinese stocks remain high
The stock market has recently seen huge short covering as the indices keep climbing up driven by central bank liquidity. The broader market has not seen such a sustained rally since 1900 as investors are becoming increasingly complacent. Short sellers have been painfully squeezed in a number of stocks such as Tesla (NASDAQ:TSLA). Solar stocks also have a high short interest which meant that any good news could result in a huge rise in prices. I did not think that JA Solar reported anything very great yesterday (Monday), but the general market conditions conspired to make it one of the best days for the solar stock sector.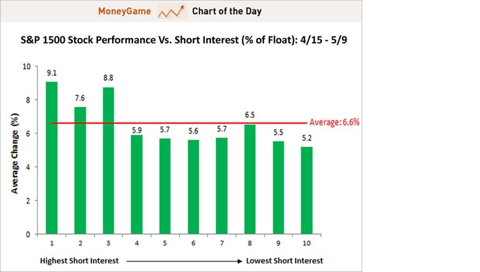 Summary
Solar stocks are one of the most volatile sectors in the market and they require a high level of experience and expertise to invest. The industry is still in the infancy stage and a number of companies listed today may not survive tomorrow. SunPower which has seen a ~450% rally from its all-time low, was on the brink of bankruptcy last year. The leaders of today could easily be gone in a couple of years. Q-Cells were the biggest solar cell supplier in the world in 2008. It is now bankrupt as it could not navigate the treacherous fast changing trends of the solar industry. I would remain cautious of playing the solar rally and would remain especially wary of small companies with low competitive barriers.
My top pick in the solar industry remains ReneSola. I also remain positive about SunPower though the huge stock price run has made it relatively expensive compared to other solar companies. I would not buy any of the U.S. solar companies, especially SolarCity and Real Goods Solar.
Disclosure: I have no positions in any stocks mentioned, and no plans to initiate any positions within the next 72 hours. I wrote this article myself, and it expresses my own opinions. I am not receiving compensation for it (other than from Seeking Alpha). I have no business relationship with any company whose stock is mentioned in this article.