A month ago, I wrote an article in which I argue that J.C. Penney (NYSE:JCP) is destined to fail unless the company saw significant increases in its sales. Here are some key points from that article:
J.C. Penney is losing money at a rapid rate, and while bankruptcy is not an immediate threat, it is the most logical outcome given the company's current performance as well as its trajectory.

In order to turn itself around, the company cannot simply revert back to its old strategy. Under Ron Johnson, the company did irreparable damage to itself by disenfranchising its customer base. In order to increase its sales enough to survive, the company has to reinvent itself and create enthusiasm for its brand. While this in itself is not impossible, it is incredibly difficult to achieve given the company's financial position.
The company's problems are exacerbated by the tepid retail environment in the United States.
While shorting

J.C. Penney shares is the obvious takeaway from these considerations, investors should wait for some optimism to enter the marketplace, and for the short interest to dissipate.
Although only a month has passed, there have been some meaningful developments.
We learned that George Soros took a meaningful stake in

J.C. Penney.

The company introduced its new "We're sorry" advertising campaign.
The stock has risen roughly 20%.
The company released its latest quarterly earnings report. This report evidences the company's continued loses, its poor market position, and management's total ignorance of pending Armageddon.
None of these points alters my opinion that the company is likely headed towards bankruptcy. In fact, the fundamental points solidify this viewpoint. The trading points (the rise in the stock and Soros' stake) merely reflect growing optimism, which I cited in my previous article as a prerequisite for taking a short position in the stock.
This article is a follow-up on my previous article. I find it necessary to write after this latest quarterly report because I now believe that there is virtually no plausible scenario in which the company survives. This is the case because of the following:
The company is deteriorating financially at a faster pace while management is not at all alarmed.
The company failed to attempt to reinvent itself and to attempt to create enthusiasm for its brand or its products. It merely begged for business.
Despite rising consumer confidence, retail sales remain tepid, and a tide that isn't rising will not lift any boats: these boats will have to lift themselves.
Of course, I could be wrong, but I listed a set of criteria in my previous article on J.C. Penney that, if they were satisfied, would lead me to change my mind: so far all indications point more solidly in the direction of my base-case scenario, which is the company's failure. Let us look at the above points in greater detail:
1: The company is deteriorating financially at a faster pace while management is not at all alarmed.
In the first quarter, J.C. Penney saw its sales drop 16% from the first quarter a year earlier from $3.15 billion down to $2.64 billion. Its loss widened from $163 million to $348 million. This is bad, but what has me especially worried is the following:
The company's cash flow was -$109 million for the quarter despite the fact that the company borrowed $850 million from its $1.85 billion line of credit. "Corrected" for the loan this equates to a negative free cash flow of $959 million for just one quarter!
The company's working capital fell roughly $800 million during the quarter, or from $1.1 billion at the end of the previous quarter to just $284 million. Furthermore, $2.8 billion of the company's current assets is in inventory. If the company's sales continue to decline, or even if they remain where they are, I would guess that it would have to mark down the value of its inventory as it reduces prices as a last resort to get customers into its stores.
All of this is occurring while the company's sales are deteriorating. Simply arresting sales losses would hardly change the direction that the company is going financially. The only positive point I can make regarding the company's financials is that they do not have to refinance or pay down a significant amount of debt until 2015. While the company can survive that long if it can begin to increase sales, given its current sales trajectory I do not see this occurring.
In the latest conference call, the company's management does not acknowledge the financial trouble that I discuss here one bit. CFO Ken Hannah's remarks during the call do not go further than a recitation of the company's balance sheet. He does not discuss the fact that the company will have to increase sales markedly in order to return to profitability, nor does he discuss the company's precipitous drop in cash flow or working capital. Given the company's high operating costs, which totaled over $1 billion per month last quarter, it is imperative that these issues are addressed in order for an investment in the company's shares to be reasonable, as such an investment depends on the company's being able to fund its day-to-day activities.
2: The company failed to attempt to reinvent itself and to attempt to create enthusiasm for its brand or its products. It merely begged for business.
While management fails to discuss its financial shortcomings, it pretends that it has salvaged its image with the public by improving its stores and by implementing its "we're sorry" campaign. In the conference call management discusses its clear-cut plans to bring back the customers it has lost. It brags that the "we're sorry" campaign was successful, citing an increase in sales (which it could not discuss materially) as well as its ubiquity in social media. Citing this un-reportable data as "success" is ludicrous given that it is collected over such a short-time period. Further, a "we're sorry" campaign is hardly memorable marketing longer term. It does not create excitement for the company's products the way something like the iPad did for Apple, or the way Michael Jordan did for Nike. At best, I suspect that it will lead to a dead cat bounce in the company's sales for May, and possibly June.
But ultimately I think this is the wrong approach for J.C. Penney to take. I argued the following in my April 22nd article:
In order for the company to turn itself around it is going to have to radically reinvent itself and regenerate consumer enthusiasm. Currently management hopes to revert back to the company's old ways, but putting a few items on sale and mailing out some coupons will likely be insufficient. Even if it chooses to try to reinvent itself, with its limited resources for doing so, there is a very high probability that it is too late: time is running out for J.C. Penney.
By attempting to get its old customers back, the company's actions are akin to somebody trying to get a job back after being fired for negligence. Given the highly competitive nature of the retail landscape, I doubt this strategy will work. It might work assuming that J.C. Penney's management had a deep understanding of its customer base, but comments made during the conference call regarding the company's customer base demonstrate that this isn't the case. On the one hand, the company wants to bring back its old customers suggesting that there is a definitive set of people who go to (or rather went to) J.C. Penney. On the other hand, CEO Mike Ullman suggests that J.C. Penney's customers are fickle and that they are simply looking for low prices. If the latter is true, then the company needs to quickly figure out a way to take market share from the likes of Wal-Mart, Target, Costco, and the dollar stores; but it is not doing this.
The fact is that J.C. Penney does not have a well-defined customer base, and this is precisely the problem it is having in trying to regain its lost sales. Unless it is able to define its customer base and successfully market to these individuals it will continue to see poor sales and to lose money: it is for this reason that I argue that the company has to radically reinvent its image and create excitement about its stores and products.
3: Despite rising consumer confidence retail sales remain tepid, and a tide that isn't rising will not lift any boats: these boats will have to lift themselves.
J.C. Penney is suffering from its own internal problems while at the same time retail sales in the United States are tepid: they are rising, yet not very rapidly. Furthermore, despite general consumer optimism, recently there has been a deceleration in the rate of increase in retail sales, as the following chart illustrates.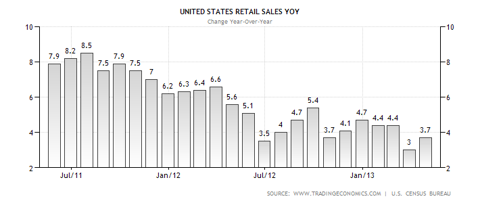 Given this chart it is difficult to make an investment case for American retailers in general, although one can make the case for individual companies: there are numerous retailers that are bucking this trend because they are creating their own unique markets (Costco, Panera Bread, Michael Kors...etc.). In this environment, where there is a very real possibility of recession in retail sales, it is impossible to make the case for investing in a company that is: (1) experiencing double digit sales declines, and (2) that has a mediocre turnaround agenda. Even if one anticipates the opposite -- namely a rise in retail sales -- and assuming that all retailers were affected equally, J.C. Penney would still see marked declines in its year-over-year sales figures when it would have to see a stunning 20% increase in its sales just to erase the 16% decline it saw from Q1 2012 (in which the company lost money) to Q1 2013.
4: Conclusion
J.C. Penney's business continues to deteriorate. Furthermore this negative trend is becoming more ossified, and it is more difficult for the trend to reverse. Management seems oblivious, and it is either ignorant of the company's dire situation or it is lying to the investment community: neither scenario creates a positive investment environment.
Nevertheless, I still think taking a short position is incredibly risky at this point in time for the following reasons:
I don't think that bankruptcy is right around the corner. Given what I mention above and what I discuss in my April 22nd article, I believe it to be the most likely scenario. Further, given what I mention in this article I cannot imagine a plausible scenario in which bankruptcy is not in the cards for the company. Nevertheless there is still time for the company to tread water unless there is a recession or a liquidity crisis in the near future. As a result potential short sellers are in a position to be very patient so that they can pick a good entry point when there is more optimism in the market.
There is an incredibly high short position in the stock with over 50 million shares currently being sold short out of a float of roughly 220 million shares. Any perceived good news can lead to a massive short squeeze that can move the stock higher by 20%, 30%, or more.
There is a very good chance that a short squeeze can take place. As I mentioned above, it is likely that the "we're sorry" campaign did have a notable short-term positive impact for the company. While I don't think this will save the company or even impact its long-term financial situation, it may very well lead to a short squeeze when May sales figures are released. Aggressive traders might even consider getting long the stock. Longer-term fundamental investors like myself will be watching for this so-called positive development to short the stock if the anticipated short squeeze occurs.
We saw recently that George Soros took a long position in

J.C. Penney. I suspect that this news has (or will) draw other large players into the stock. News of another large hedge fund manager entering the stock will likely lead to a rise in the share price.
That being said bankruptcy is almost certainly in J.C. Penney's future given:
The company's deteriorating financial position,
Management's failure to recognize the company's deteriorating financial position,
Management's inability to define its long-term customer base and to reach these consumers through effective marketing, and
A tepid retail environment.
Ultimately investors should be looking for opportunities to sell their shares in J.C. Penney or to get short.
Disclosure: I have no positions in any stocks mentioned, but may initiate a short position in JCP over the next 72 hours. I wrote this article myself, and it expresses my own opinions. I am not receiving compensation for it (other than from Seeking Alpha). I have no business relationship with any company whose stock is mentioned in this article.