In 2013 the basic materials sector has collectively gained only 0.9% while the other sectors have all at least gained 12.1%. In addition to a challenging macro environment, the companies in this sector have been punished because of the markets' sentiment. And, a good way to watch for a change in this sentiment is to keep an eye on each company's short interest.

Despite the collective performance of the basic materials sector, the companies below trade near their 52-week highs so, in their case, a rising short interest would be more indicative of sellers expecting a pullback.
For this article, I have highlighted the short interest of Exxon Mobil and BP. They were selected because they were the only two of the eight major integrated oil & gas companies below with significant changes in the amount of short interest, as of the end of April. Below Exxon and BP's short interest review, I have also compiled a graph of the days to cover for the other six companies. The short interest changes for these six companies were immaterial but fluctuations in the average trading volume did affect the days to cover.
Companies Screened:
Exxon Mobil (NYSE:XOM)
PetroChina (NYSE:PTR)
Chevron (NYSE:CVX)
BP (NYSE:BP)
Total (NYSE:TOT)
Ecopetrol (NYSE:EC)
ConocoPhillips (NYSE:COP)
Occidental Petroleum (NYSE:OXY)
Exxon Mobil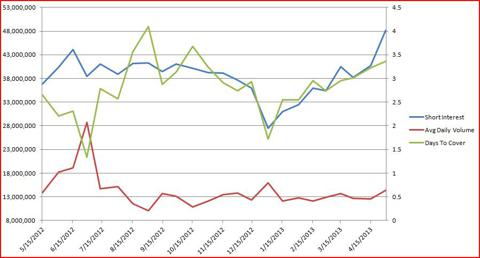 As you can see above, the short interest in Exxon Mobil increased to its highest point in the last 52 weeks, to 48,205,022 shares. This is an increase of 18.43% from the short interest reported on 4/15/13 (40.7 million) and amounts to 1.08% of the company's float. Days to cover of 3.362 was also near its 52-week high of 4.093 but didn't quite make it due to an increase in the average daily trading volume. Exxon currently trades for $91.76, very close to its 52-week high of $91.86.
BP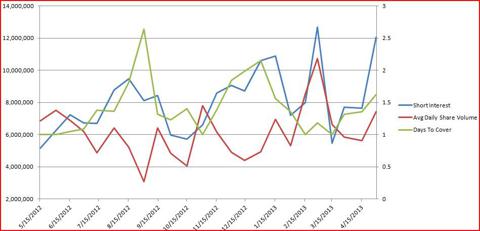 Short selling activity ramped up significantly for BP between the middle and end of April. Short interest at the end of April was up 36.59%, to $12,062,666 shares. This spike is just shy of the 12.679 million shares reported on 2/28/13 and is 2.33 times the lowest amount reported a year ago on 5/15/12 (5.163 million shares). Days to cover last stood at 1.622 days on an average daily share volume of 7.434 million. BP is also trading near its 52-week high of $44.43 (currently trades for $42.96) and is up 24.45% above its 52-week low of $34.52.
As promised, here is a look at the days to cover of the other six companies screened. I have put Ecopetrol on a separate graph only because its higher DTC made it harder to see the volatility in the other companies.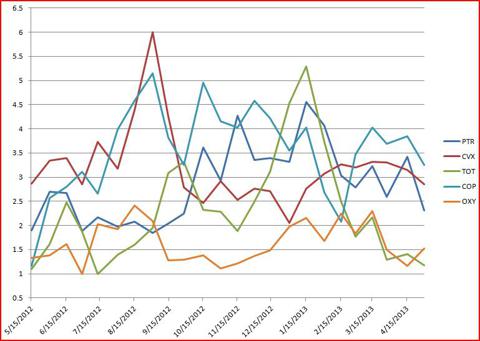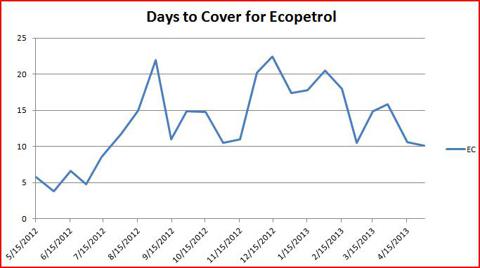 Short Interest = number of shares sold short.
Days to Cover = number of shares sold short divided by the average daily trading volume.
An increase in the short interest and/or days to cover is a bearish indicator that may be caused by a fundamental business change, bad news, or a short seller's bad investment. This information is supplementary to a more thorough business analysis and should not be acted upon alone. This information is only provided and should only be viewed as a monitor for new events and trends. Rethinking and monitoring your investments is just as important as acquiring them!
This data was compiled from information NASDAQ releases twice a month, follow me for updates! If there are any other companies you would like added to this list, please let me know via message on SeekingAlpha.com.
Sources:
Number of shares float was found at YAHOO! Finance
Short interest information was found here.
Disclosure: I have no positions in any stocks mentioned, and no plans to initiate any positions within the next 72 hours. I wrote this article myself, and it expresses my own opinions. I am not receiving compensation for it (other than from Seeking Alpha). I have no business relationship with any company whose stock is mentioned in this article.