In May, oil production from Mexico's (previously) largest oil field Cantarell slipped below 700 kb/day. While the death of Cantarell has been much discussed since it peaked five years ago at 2.1 Mb/day, what's less recognized is that the toppling of Cantarell has absolutely shattered Mexico's effort to halt the decline of oil exports.
The problem is simple. With Mexican domestic consumption of oil rising or flat, and overall production in serious decline, exports have fallen even more dramatically. And given that Mexico will one day not be able to export oil at all, one wonders they should take preemptive action, and phase out oil exports now.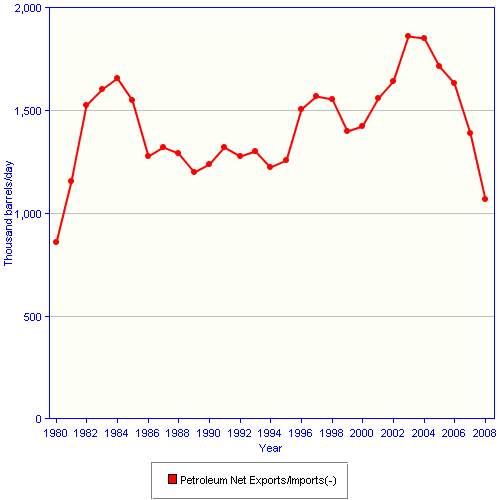 Mexico's revenues from oil sales are already crashing. While it's well known that Mexico hedged forward oil sales in 2008 (and did rather well on that trade as oil prices fell), it might behoove Mexico to start dealing sooner, rather than later, with the inevitable trajectory to zero. Oil export revenue has now fallen by over 50% since last year. Mexico will indeed stop exporting oil, probably no later than 2012. Frankly, I see headlines about the situation coming as soon as 2011.
Mexico is only producing 2.65 Mb/day now of crude oil. With domestic consumption running at roughly 2/3 of that figure, exports of crude oil are of course now below 1 Mb/day. The chart I've enclosed here includes exports of both oil and natural gas liquids, which keeps the "liquids" export figure still above 1 Mb/day. Well, that too will fall. Given the strategic importance of Mexican supply (Mexican oil travels quickly to the US) one wonders why this is not a front page story already. The implications for Mexican political stability are also fully in play.
How has Mexico handled the revenue shortfalls? Like most other countries in the world, they are borrowing money. The math is rather unforgiving. In the case of the United States, where we manufacture debt and dollars, we have had to replace the loss of paper production with…more paper production. Now that Mexico is using paper to replace its lost oil production, I am less convinced the world will grant De Effe (D.F. for Distrito Federal, or simply: Mexico City) the same leniency granted so far to Washington.
Were Mexico to stop exporting oil now, I see several advantages. One, the government could make a staged exit of their own choosing, thus stripping out the volatility in oil export revenues, which are going to end anyway. This would encourage planning. Two, the country could start facing up sooner to the need to make products with their remaining oil surplus, rather than selling the precious resource as a cheap, undervalued raw good. And finally, the announcement would send a wake-up call to the world oil market's, and would likely effect the crude oil futures curve, thus pulling up current prices a bit higher. Why leave the oil export market as the UK and Indonesia did, in rather sad resignation? Better for Mexico to make its exit with a bang.
Graphic: Net exports of crude oil and natural gas liquids from Mexico, 1980-2008.