Gold bulls are pointing to the very low inventories (1.67 million oz.) on the Comex and suggesting that the Comex is in trouble. Detractors claim that this has happened before, and although gold rallied, the Comex survived a force majeure and scandal. Yes, as the charts below show, there has been less registered gold in Comex warehouses before (in July 2011 and February 2010), and the Comex and paper gold scheme made it through.
However, this time there is a key distinction. The distinction in prior inventories-on-fumes setups was that there was a lot more producer hedging in place (see producer CoT position in the second chart below). Thus there was steady delivery of a real product, or a thing called actual physical gold. But today there is a completely different setup -- there is little producer hedging.
The last digit "0" is slightly cut off on the second chart below, but in February 2010 there were about 140,000 contracts hedged by producers. In July 2011 there were 200,000, or 20 million oz. Hedged gold translates into delivered gold to the Comex warehouse. Today there are only 27,066 (2.7 million oz.) hedged, and this is spread out for delivery over months and even years. Furthermore, the CoT data indicates that in the week ended Tuesday, May 14, producers closed out a whopping 1.04 million oz. of hedges.
This may also suggest that gold producers prefer to sell their gold elsewhere and bypass the Comex altogether as a legitimate place to conduct business. I truly believe that the poorly regulated Comex is suffering reputational risk and is a hollow, corrupt example of the original purpose of a commodity exchange. Since there is no price discovery on the Comex, it wouldn't surprise me if virtually all producer deliveries to the Comex warehouse disappeared simply because there are better prices to be realized in the real physical gold market.
The commercial and producer indicator on its own is very bullish, but this seems especially so today because of its challenge to the paper gold Comex "market." Another warning is the extremely high level of 301,900 oz. being served for delivery for the slow May contract that runs off next week. That is 10 times the norm for May and sets up a very interesting dynamic for the much more active June contract. The rollover from June to August has been going slowly, which suggests some are hanging around to serve the Comex for physical gold. Detractors who call the force majeure prospect a tinfoil hat theory would be well advised not to simply dismiss this development.
With inventories quite low and producer supply at a trickle, investors should avoid all paper gold markets such as the Comex and even the GLD. However, the shortage premiums being paid for physical gold and silver through dealers are excessive. I am perfectly satisfied with the Sprott Physical Gold Trust (NYSEARCA:PHYS), which is no longer selling at a premium to NAV. The various individual advanced stage stocks represented by the GDXJ are at extreme deep value, as is the GDX.
Click to enlarge images.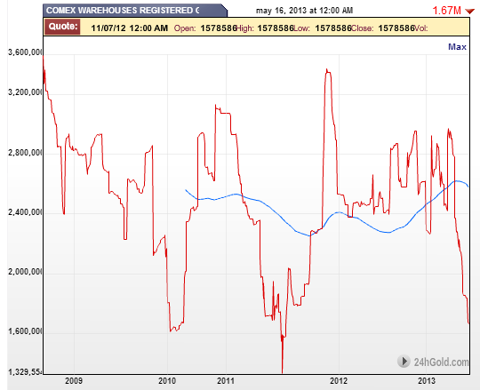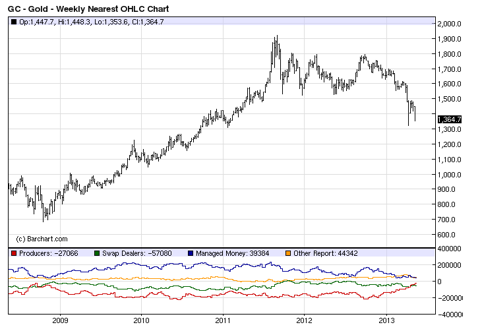 Disclosure: I am long PHYS, GDX, GDXJ. I wrote this article myself, and it expresses my own opinions. I am not receiving compensation for it. I have no business relationship with any company whose stock is mentioned in this article.