Baidu's (NASDAQ:BIDU) performance during last year was very weak. During the last 12 months shares of Baidu lost over 17%, while shares of its major competitor Qihoo 360 Technology (NYSE:QIHU) gained over 96%. It shows clearly which company was the investors' favorite. For investors who look for value the current price of Baidu may be interesting. Baidu currently is trading at 15.2 forward P/E, compared with the forward P/E 25.34 of Qihoo 360 Technology and 17.1 for Google (NASDAQ:GOOG). Baidu may be a good bet on the growing Internet desktop and mobile search market in China. One must remember that at the end of 2012, China had only a 42% Internet penetration rate so it is still a growing market.
Financial results
Last quarter's figures were not very strong. Let's summarize some of the most important facts. Baidu reported total revenue of $961 million, representing a 41.9% increase from the corresponding period in 2012. Net income attributable to Baidu was $328.9 million, representing only a 10% increase from the corresponding period in 2012. It was due to the rising cost of traffic acquisition (10.2% of revenue in 1Q 2013, as compared with 7.2% in 1Q 2012), increasing promotional expenses (selling, general and administrative expenses were $136.6 million - an over 77% increase from the corresponding period in 2012) and growing research and development costs (which were $130.5 million, over an 83% increase from the corresponding period in 2012).
The table shows the revenue and the net income of the company for the last several quarters.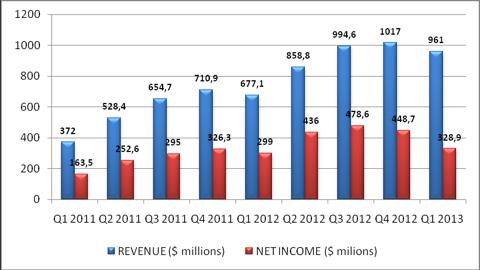 In terms of revenue growth first quarter of 2013 wasn't bad, but net income growth was at its historically lowest level. For the next quarter the company predicts revenue growth of 35.1% to 38.4%.
The table shows revenue, net income and EPS growth for Baidu for the last several quarters.
| | | | | | |
| --- | --- | --- | --- | --- | --- |
| | Q1 2012 | Q2 2012 | Q3 2012 | Q4 2012 | Q1 2013 |
| Revenue growth (YoY) | 82,0% | 62,5% | 51,9% | 43,1% | 41,9% |
| Net Income growth (YoY) | 82,9% | 72,6% | 62,2% | 37,5% | 10,0% |
| EPS growth (YoY) | 80,9% | 72,2% | 63,1% | 37,6% | 11,8% |
Future prospects
Growing competition (mainly from Qihoo) and poor monetization of the mobile market was a major fear of many investors. But Baidu has invested heavily in mobile during recent quarters (mobile browser, mobile maps with LBS functionality) and in cloud related services (cloud infrastructure to third-party app developers). The company offers a comprehensive suite of mobile apps like a browser, travel app, personal cloud storage, integration of maps and location-based services. These areas may be key for future growth of the company. In all these areas Baidu products are regarded as technologically advanced and offering good user experience. It seems that investors have started to believe that the company is able to copy its success in desktop searching to mobile searching. The numbers are quite good: the number of daily active users of mobile search at the end of first quarter was over 100 million. Baidu's iQiyi (China's leading online television and movie portal, launched only two years ago in 2010) has also grown rapidly and the company strengthened it by the acquisition of the online video business of Internet provider PPStream.
I think that fundamentally BAIDU is attractive (relatively low valuation, growth and the positive long-term business prospects). In my opinion the sentiment for the shares of the company has begun to change in the last few days (for example lower-than-expected results led only to a short one-day decline and the technical outlook seems to be more and more positive).
Technical analysis shows the important support at the $83-$84 level. On the upside we have the resistance level at $95-$96 and a higher psychological barrier of $100. Breaking of $95-$96 level, and more importantly $100 will be a buy signal.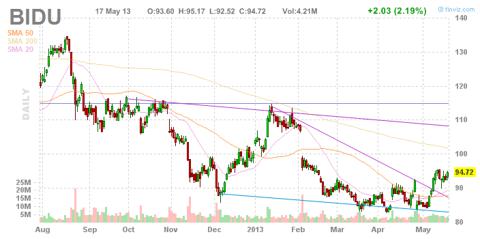 Disclosure: I have no positions in any stocks mentioned, but may initiate a long position in BIDU over the next 72 hours. I wrote this article myself, and it expresses my own opinions. I am not receiving compensation for it (other than from Seeking Alpha). I have no business relationship with any company whose stock is mentioned in this article.