Introduction
Recently Microsoft (NASDAQ:MSFT) released a Lumia ad which has gathered a lot of attention in the tech world. The ad is trying to promote Windows Phone at the expense of Apple and Android fans.
The question that remains to be answered is whether this ad is a success, a waste of resources or whether it's actually counterproductive.
Can it increase sales?
The necessity of Microsoft (or Nokia) to do something in order to increase sales can be seen in the below graph. While Nokia (NYSE:NOK) was the largest smartphone vendor in the fourth quarter of 2010, it has since seen sales declining constantly on a quarterly basis.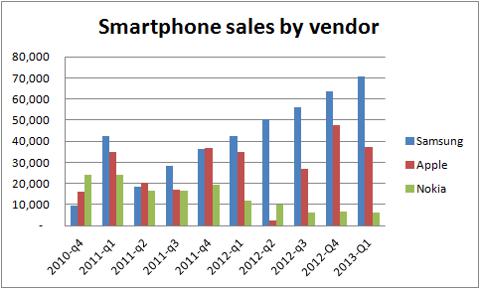 Source: Gartner.com
Some bulls had hoped/thought that Lumia with the release of W8 would receive an ecosystem-based boost, and while Lumia sales have increased from 2.2M in the year-ago quarter to 5.6M in the most recent quarter, it is still peanuts compared to the sales figures that Samsung and Apple puts up.
So what is the explanation for the relatively low sales, and how can Nokia regain market share?
Some people have argued that its problem is the lack of attention it gets. The quality of the phones are great and thus they believe that Nokia Lumia deserves higher sales. If the theory is correct then Microsoft's ad would help as it has gathered a decent amount of attention. However, I see two potential problems with the theory.
Problem 1 - The wrong target group
It doesn't bring attention to the desired target group. Rather the ad is heavily being discussed in tech forums, where the participants in the debate are already well aware of Nokia Lumia. For the ad to be considered a success it needs to be a subject of discussion at the dinner table or during school breaks. A commercial that only is a subject of discussion on tech forums can't be considered a success.
Problem 2 - It targets the wrong letter in the AIDA model
The AIDA model gives us a list of events which may occur when a consumer is watching an advertisement. The 4 letter are acronyms for (A)ttention, (I)interest, (D)esire and (A)ction.
The best ads are the ones which focus on the "correct" letter given the advertised products weaknesses/strengths. When a new product is to be launched into the market it is typically unknown and therefore the ad should focus on increasing attention and interest.
The problem with Microsoft's ad is that lack of awareness isn't the core problem of WP8. According to a MKM survey, 60% of the respondents answered that they weren't aware that WP 8 is available for sales. When the same question was asked regarding Blackberry 10 devices, 82.6% answered that they weren't aware that it was for sale. So relative to Blackberry, Microsoft and Nokia have actually done a very good job of promoting WP8.
So what should Nokia/Microsoft instead focus on?
The weakness of WP8 is that there isn't enough desire from the majority of smartphone-consumers. Personally, I like the advantages of having Live Tiles on my smartphone, and I believe that Nokia has a great range of phones at great value. However, Live Tiles as the main way of differentiating itself from its competitors isn't enough to convince smartphone users to abandon their beloved Android and iOS phones in favor of WP8. To get users convinced, Microsoft and Nokia need to do something bigger.
Apple gained popularity (and thereby desire) through the first mover advantage. Samsung has since taken over the role as the market leader in the US by producing visually differentiated phones (larger size) at a slightly cheaper price. When Samsung first became successful with its Galaxy line, it benefited from the "reverse snowball" effect which arises when users recommend their friends to buy it, who then recommend it to their friends ...

On the other hand, Nokia has suffered from the "downwards-snowball" effect as it began producing quality smartphones too late. Had the Lumia line been released 1 year earlier, the picture might have looked completely different. But as crying over spilled milk has never helped anyone, I think it is more relevant to look at what the future could bring to Nokia. Here is my prediction;
Nokia's snowball is currently at the bottom of the mountain. Over the next 1-2 years I think sales can only go up.
In a previous article I mentioned that Nokia was fairly priced, but in this article I would like to modify that statement. I believe Nokia is fairly priced given the most likely scenario. However there is a small probability that Nokia will regain popularity. In that case Nokia would be worth over $10 a share. So you can actually value Nokia as an out of the money call-option.
So the question that needs to be answered, what does it take for Nokia to create desire from consumers and regain its lost popularity?
Let me start out by making it clear - there is no easy solution. Ads themselves will not have a noticeable effect on sales as they need to create desire (rather than attention) and in order to create desire Nokia needs to have a superior product. Small improvements, like Live Tiles and Pureview Camera, aren't gonna cut it. Instead I see 3 different ways Nokia can be successful with its Lumia line:
Implement more innovative features (easier said than done).
Microsoft improves the ecosystem advantages of owning a Lumia phone.
When/if owners of Asha-phones upgrade to a "real" smartphone, they will be more likely to purchase a Lumia phone rather than an Android/iOS smartphone.
The problem with all of these three ways of obtaining success is that neither is particularly likely. As I discussed in my last article, Microsoft doesn't have a strong enough incentivize to improve the WP ecosystem, and I also do not believe that Asha-owners are significantly more likely to upgrade to a Lumia.
What this means for investors
As I don't think any of the catalysts are likely to occur and as I believe sales have stopped declining, I think the stock will have relatively low volatility over the next 1-2 years.
So I don't expect any near-term bankruptcy (or other type of worst-case scenario) for Nokia, and I also don't believe that Nokia will regain its lost market share. Rather, I see Nokia as a small player in the industry over the next 1-2 years, and given that prospect a share price between $3 and $4 seems fair.
Disclosure: I have no positions in any stocks mentioned, and no plans to initiate any positions within the next 72 hours. I wrote this article myself, and it expresses my own opinions. I am not receiving compensation for it (other than from Seeking Alpha). I have no business relationship with any company whose stock is mentioned in this article.