There is one major commodity that has been relentlessly going up in the last year and shows no signs for slowing down. It is not a classical commodity which is extracted or grown from the ground, but is made in sophisticated billion dollar factories called fabs. Semiconductor memory is a crucial component of all computing devices like smartphones, tablets and laptops. This industry has commodity like characteristics going through cyclical ups and downs. Building a fab requires huge investment, which leads to periodic overcapacity and price crashes. The memory industry is going through a major up cycle right now and investors can play the price rise through a number of stocks like Micron Technology (NASDAQ:MU), SanDisk (SNDK), Toshiba (OTCPK:TOSBF), Hynix and Samsung (OTC:SSNLF).
Memory demand is booming
The memory industry has followed the fortune of the PC industry in the past as PCs were the only big users of memory then. Even though PC shipments declined by ~14% in the past quarter, memory prices have shown no signs of stopping their ascent. The computing industry has changed dramatically in the last 5 years with the iPhone and iPad introduction. Smartphone shipments are expected to reach 900 million units in 2013, while tablet shipments should reach or exceed 200 million units. Though the unit memory requirement is small for mobile devices, the sheer number of devices creates a large absolute demand for memory chips. This upward trend is unlikely to reverse in the future with computing device shipments expected to double in the next 5 years. Servers are another big source of demand for memory.
The DRAM supply shortage isn't getting better and memory maker Inotera now believes it will drag on until the end of the year. Strong demand for smartphones and tablets is to blame, and prices are going up as well. Inotera believes the drought could even extend into the next year. The average price of benchmark DDR3 4GB modules already rose 13 percent last month according to DRAMeXchange. In fact, the price of DDR3 4GB DRAM has already gone up by about 70 percent in 2013. DRAMeXchange said demand for DRAM is starting to pick up, reversing an extended period of oversupply. However, the shortage is not bad news for memory makers.
The rapid rise of cloud computing has increased the demand for huge server data farms. This creates another growth driver for memory chips.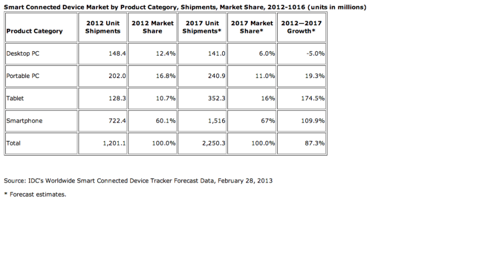 Suppliers have decreased and become more disciplined
The history of the memory industry has been marked by dramatic technological changes, extreme peaks and troughs, government bailouts, numerous acquisitions as well as bankruptcies. However, we think that the scenario for the memory industry may be changing. The industry has reached a critical level of consolidation with only four key players dominating the memory market. In DRAM, two of the heavy hitters are Koreans (Samsung, Hynix), while the other one is American (Micron). In NAND, the market is dominated by Toshiba-SanDisk, Samsung and Micron. Note the number of companies in the memory industry has continued to decline since the 1990s with the exit of Intel (NASDAQ:INTC), Texas Instruments (NYSE:TXN) and most of the Japanese conglomerates. The last 3-4 years have been even more brutal for the industry with the bankruptcy/takeover of some of the biggest remaining players like Spansion, Qimonda and Elpida. With the number of players diminishing, it looks unlikely that the industry will suffer from the same cycles of extreme peaks and troughs as seen in the past.
SanDisk in its recent quarterly CC said that it would not increase capacity in line with the industry growth rates. The management wants to concentrate more on decreasing costs rather than blindly increasing capacity during the up cycle. This shows maturity and discipline from leading memory players which help the industry decrease the cyclical intensity, if not eliminate it entirely.
NAND and DRAM prices on a strong upward trend
DRAM and NAND prices have been increasing relentlessly over the last 6 months as demand exceeds supply. The top memory producer has been looking to buy memory from competitors as it uses most of its in-house memory chips for its own mobile devices. Even commodity DRAM prices have increased as Samsung and Hynix have shifted their capacity toward mobile DRAM.
With commodity DRAM prices on the rise, contract price for mainstream DDR3 4GB modules increased from $17.25 in the beginning of the first quarter to $23.5 at the end of March, a 36.2% increase. As a result, DRAM industry revenue for the first quarter of 2013 remains on par with the previous quarter's figures, a rare occurrence in the traditionally weak first quarter, according to DRAMeXchange, a division of global research firm TrendForce. Not all suppliers of dynamic random access memory (DRAM) have seen the same gains, as some produce more commodity DRAM than others. SK Hynix and Micron have benefited the most from the price increases.
How to play the memory boom
There are two major memory companies listed in the U.S., which have seen their stock prices surge in the last couple of years. I have been bullish both on Micron and SanDisk for some time because of the secular change in the memory industry. Investors can also look at buying foreign companies, which derive a majority of their revenue from memory such as Toshiba and Hynix. Though Samsung is the biggest memory producer in the world right now, its mobile phones and display divisions are bigger profit generators. There are a number of smaller memory companies listed in Taiwan such as Powerchip, Inotera, ProMOS Technologies, A-Data etc. I would advise investors to buy Micron Technology as it is still in the early stages of a big turnaround. The company is going to almost double its revenues by acquiring Elpida for a very cheap $2.5 billion.
Hard disk drive makers are also piling up the gains
HDD demand has also increased in the last few years despite people predicting the demise of the industry due to NAND substitution. The relative cheap cost and huge demand for digital storage has ensured the HDD demand has also increased. This memory segment has benefited from a consolidation around two major players - Seagate (NASDAQ:STX) and Western Digital (NYSE:WDC). Both these stocks have become multi-baggers in the last 2-3 years, thanks to supply rationalization and price stability. I had suggested going long on Micron based on same sector dynamics and the stock has performed exceedingly well.
Here is my detailed long thesis on buying 3 memory stocks:
1. Seagate
2. Micron
3. SanDisk
Summary
Memory is not a classic commodity but shows similar characteristics as there is little quality differentiation between different suppliers and it goes through similar boom and bust cycles. The biggest difference is in terms of price as memory price per bit has decreased consistently due to the Moore's law. The memory industry is becoming a great place to invest as attrition and bankruptcy has eliminated most companies. It would surprise some readers to know that Intel and AMD (NASDAQ:AMD) used to be DRAM producers during the early part of their history. In fact, most of the big semiconductor companies have been memory producers at one point or another. The memory industry is currently in a very sweet spot with supply not being able to meet the burgeoning demand. This demand is going to keep going up in the coming years, as the number of mobile unit shipments and memory demand per unit keeps going up. The new ultrabooks powered by Haswell should also use an increasing amount of flash memory. I would look to load up on Micron, SanDisk and Seagate to play this secular growth theme.
Disclosure: I have no positions in any stocks mentioned, and no plans to initiate any positions within the next 72 hours. I wrote this article myself, and it expresses my own opinions. I am not receiving compensation for it (other than from Seeking Alpha). I have no business relationship with any company whose stock is mentioned in this article.