Oracle Corporation (Nasdaq: ORCL) announced its 4Q09 and FY09 results yesterday (see conference call transcript). While revenues declined ~5% and net income declined ~7% on a YOY basis last quarter, the lesser-than-expected declines in topline provided a pleasant surprise.
Exhibit I: May '09 Quarter - Better Than Expected

Source: Gridstone Research
Oracle has followed the big-ticket acquisition strategy since 2004 and it has spent nearly ~$30B in cash to acquire companies such as Peoplesoft (2005), Siebel and iFlex (2006), Hyperion (2007) and BEA Systems (2008).
Exhibit II: Acquisition Spend and Intangible Assets Acquired

(The figures in red indicate net cash spent on acquisitions)
Source: Gridstone Research
Sales have increased from $9.5B in FY03 to $23.2B in FY09 representing a CAGR of ~16%. As the chart below shows, the main driver of this revenue growth was revenue from customer updates and support (annual subscription revenue) while new license revenue has taken a beating in FY09 despite the BEA Systems acquisition ($8.6B purchase price) contributing revenue in 2009 while it didn't (for the most part) in 2008.
Exhibit III: Larger Customer Base Yields More Recurring Revenue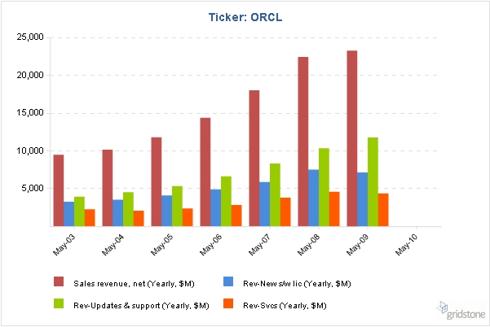 Exhibit IV: Recurring Support Revenue Has Contributed the Most to Topline Growth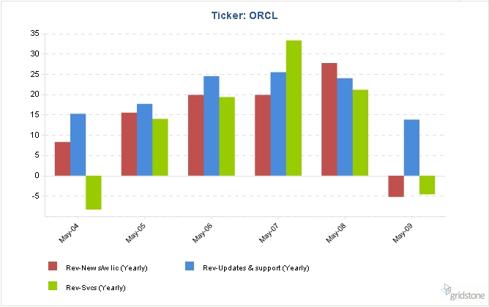 (Chart above, Ex IV,shows YOY growth for various revenue components)
Source: Gridstone Research
But what really differentiates Oracle's performance from many other companies which have depended on the inorganic growth path is the unwavering focus on margins.
Using data from the Gridstone platform, I was able to extract some limited data on the actual operating margins of some of Oracle's acquisitions in the pre-acquisition period. The table below compares Oracle's margins over the years with the margins of its acquisition targetsin the period prior to their acquisition by Oracle.
None of the acquired companies had operating margins anywhere close to what Oracle had and yet these margins have not made any significant dent on Oracle's consolidated margins post-acquisition.
As you should notice, margins have actually improved in FY09 despite Oracle digesting a large acquisition (BEA Systems) in one of the toughest economic conditions in its history.
Exhibit IV: Operating Margins Continue To Be Robust

(SEBL- Siebel, HYSL- Hyperion and BEAS-BEA Systems. The margins for these companies above are company reported figures when they existed as independent listed entities)
Source: Gridstone Research
But the sternest test to Oracle's execution capabilites comes now. Its recently announced acquisition of Sun Microsystems (Nasdaq: JAVA) poses many challenges, the toughest being the huge difference in profitability between Oracle and Sun.
Exhibit IV: Sun's Margins Need a Real Boost

Source: Gridstone Research
Earnings per share has more than doubled from $0.43 per share to $1.09 per share since Oracle's acquisition-led growth strategy started in 2003-04. Oracle has also indicated that Sun will be accretive to earnings in FY10 itself. While consolidated margins might take a dip in the short-term, Oracle's impressive integration of all its major acquisitions gives confidence that the Sun acquisition will be beneficial to Oracle's shareholders in the long-run.

Source: Gridstone Research
While initial concerns were raised about Sun's strategic fit into Oracle's porftolio, the most immediate benefit that Sun brings to Oracle in a popular internet platform (Java) and also ownership of a popular operating system, Solaris.
With this acquisition, Oracle has a presence across the software solutions stack : OS, database and middleware and applications. But it will be interesting to see what Oracle does with Sun's hardware piece. Surely, the days of the Solaris OS (and some Java components) being bundled free with Sun's hardware are over. After all, Oracle has built its acquisition strategy on getting more recurring revenue on a larger base and will surely expect Sun's software stack to contribute its part to that.
If Oracle wants to protect its margins in the long-run, clearly this piece of the puzzle needs to be solved...and solved fast!
Disclosure: No Positions