Chesapeake Energy (NYSE:CHK) is outperforming significantly in 2013, up about 26% as of Monday morning vs. about 17.5% for the S&P 500. Since bottoming last year in the midst of ex-CEO Aubrey McClendon's personal loans scandal and a major funding gap in the order of $10 billion, the company has shaken up its board, sold off several billion in "non-core" assets, and made progress in its transition to becoming an oil major.
Lou Simpson Exits: Cause for Concern?
Lou Simpson was the former CIO of GEICO, a wholly owned subsidiary of Warren Buffett's Berkshire Hathaway. Mr. Simpson was regularly touted by Buffett as a phenomenal investor with great business sense, so his presence on Chesapeake's board made me confident that the company was at least trying to do the right things. After all, why would a guy like Simpson risk his reputation by attaching himself to an inevitable failure? Three weeks ago Simpson quietly made his exit "to pursue business interests." Granted, his term on the board was up this coming June and he's in his mid-70s, but the lack of any comment of substance begged me to reevaluate.
In reality, the timing makes sense. Simpson likely accomplished what he wanted to at Chesapeake: the funding gap is well on its way to being closed, excessive capex has declined precipitously, management is more focused on higher margin liquids production, and the bottom line is in the green. Furthermore, no recent sales of CHK stock have been made by Simpson. Simpson's departure isn't out of the ordinary, but an investment in Chesapeake requires a watchful eye on the boardroom, given years of mismanagement and shareholder destruction led by McClendon and permitted by the previous board.
Today's board is almost exclusively filled by new faces appointed by Carl Icahn and Southeastern Management, CHK's largest single shareholder. Robert Lawler is the new CEO at Chesapeake; he was formerly the senior VP of international and deep-water operations at Anadarko Petroleum (NYSE:APC). This is an entirely new management team handpicked by investors who have a ton of skin in the game - a time-tested catalyst for value creation and strong corporate governance. People may not like Carl Icahn or activist managers in general, but he's in it for the long haul this time and has already been successful in revitalizing the shares.
Asset Sales: How Disappointing Are They?
Another factor weighing on shares to some extent is a string of recent asset sales that have closed at significant discounts to stated fair value. Before getting into specifics, let's put these asset sales in perspective. The truth is, the company made a mistake by announcing to the public exactly how much they need to sell this year, and pledging that they'll essentially do everything they can to avoid drawing on the corporate revolver. Everyone they deal with is coming to the bargaining table saying, "well you guys need another $x billion in sales, we'll pay you 50%."
Chesapeake is unquestionably a motivated seller -- everyone knows it. This is a company paying the price for years of mismanagement and arrogance. CHK will not get FV (fair value) for anything they sell right now, and they'll have to continue making deals with less-than-favorable terms.
In regard to the Mississippi Lime, where CHK entered into a JV with Sinopec to sell half their acreage in exchange for $1.02 billion, I think the investment community has been justified in its criticism of the deal. Seeking Alpha contributor Devon Shire raises some legitimate questions about the deal, noting the major discrepancy between the stated $7-8 thousand/acre value of the ML and the $2,400 acre they received. To make matters worse, there's no drill carry structured into the deal, meaning CHK will pay all operational and marketing costs for the entire project in exchange for the $1.02 billion payment.
Based on the information we know, it looks like CHK sold out their stake at a significant discount. However, I maintain the position that it's possible the assets CHK sold are out of the "sweet spot" of the ML, and that CHK doesn't see as much potential as Sinopec does. Furthermore, it's another $1 billion they can check off.
Ultimately, taking a hit on some non-core assets to avoid drawing on the corporate revolver is probably a conservative, prudent decision. With $2.3 billion in sales so far, CHK has closed in on the bottom of its $4-$7 billion goal without divesting any of its core properties.
Valuation
Chesapeake expects to do $5,250 million in operating cash flow for 2013, up from $4.05 billion in 2012. Non-core asset sales and operational changes have dropped the 2013E well costs to $6 billion, a near 30% decline from 2012. Capex related to leaseholds and drilling and completion is expected to decline 39% to $6.4 billion. This is also a function of ongoing asset sales and a focus on developing the assets they already have as opposed to acquiring new properties.
2013 estimates call for a liquids production increase of 27%, and a 5% decline in natural gas production. The nat gas production decline is particularly intelligent -- as the second largest producer of nat gas, CHK's production has a prominent impact on market prices. As nat gas finds support at $4, CHK (along with other major producers) are continuing to be conservative with how much they bring to market, while they reap the benefits from selling roughly the same amount of gas at economic prices.
According to the May investor update, with oil at $90 on the NYMEX and natural gas at $4, CHK expects to earn $1.43. This is right in-line with analyst estimates for $1.47 in EPS. However with strip prices for crude showing oil at $95 for the remainder of the year, and the forward strip for nat gas at $4.50 by December, I think there's some upside in 2013 EPS. My target for FY2013 EPS is $1.45-$1.65. At a midrange of $1.55, and a market multiple of 16, CHK should be trading at $24.80 by year end, implying 20% upside.
Looking further out, I expect natural gas prices to continue to trend higher as a result of continued declines in industry rig counts and increased utilities demand. On an expanded investment horizon, the story gets significantly more exciting given the potential for natural gas powered autos. In terms of oil prices, I think $90 is an appropriate longer-term input for a CHK valuation model. Developed world demand for oil has declined as autos have become more efficient, and the developing world boom appears to have peaked. Revolutionary seismic technologies have resulted in new oil finds and the technology is there to develop them. $100 crude doesn't seem so likely given these dynamics.
Here's a look at the technical picture for natural gas: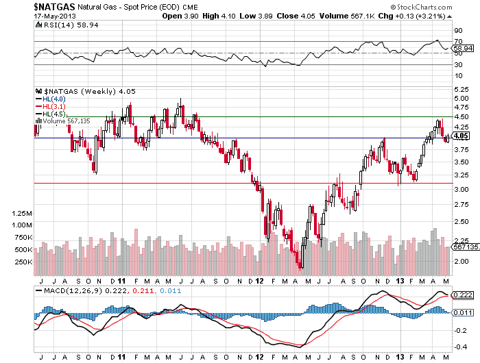 Given the fundamentals, nat gas should find support at $4 for 2013, though taking out $4.50 is going to require significantly higher demand. Longer-term support is seen at $3.10.
Conclusions
Chesapeake is a bit of a complicated story, but there is likely some value left in the shares. The company's corporate image has been marred over the past few years, though Southeastern Management and Icahn Enterprises have done a solid job in restoring corporate governance and refocusing its strategy. If CHK can continue its successful transition to the higher-margin liquids business while maintaining current levels of nat gas production, then meeting estimates for $2.00 in EPS for FY14 seems plausible. With year-over-year liquids increases of 27% and additional capex allocated to future liquids production, CHK's rich assets should provide the company with a steady stream of growing revenues for quite some time.
That said, the investment thesis is built on several assumptions that require a heavy discount to be applied to forward estimates. The first assumption is that CHK's assets are at least close to being as productive and valuable as they say they are. Given the string of recent deals, I'm not so sure anymore. The second is that they can close the funding gap without having to take on more debt. Today's ultra low interest rate environment has provided them with the ability to issue $2.3 billion in relatively cheap debt and buy back $594 million of high interest securities, but $13 billion in debt is a large burden to carry. The leverage that CHK carries is a time bomb and leaves little room for managerial error.
Lastly, the aforementioned 20% upside requires continued improvement in investor confidence regarding the company's operations. A market multiple of 16 might not be so cheap given these assumptions and the volatile nature of the underlying commodity prices. I'm still long some call options, but the intermediate term upside isn't as exciting as I thought in the beginning of the year and a wide margin of safety simply isn't there.
Disclosure: I am long CHK via call options. I wrote this article myself, and it expresses my own opinions. I am not receiving compensation for it (other than from Seeking Alpha). I have no business relationship with any company whose stock is mentioned in this article.