With a single digit p/e (cash adjusted) and a small dividend yield, Westjet offers tremendous value in a seemingly over-valued market. We believe that due to its Canadian listing and Mid Capitalization size, Westjet is an overlooked undervalued growth stock.
WestJet Airlines (OTC:WJAVF) is a Canadian low-cost carrier that provides scheduled and chartered air services to 86 destinations in Canada, the USA, Mexico, Central America and the Caribbean. It was founded in 1996 and has grown to become the second-largest Canadian air carrier, and the ninth-largest airline in North America in terms of passengers carried. The airline operates an average of 425 flights per day and has 9,000 non-unionized employees.
The stock plunged almost 20% earlier this month as the company said it expected revenue per available seat mile (RASM) to decline in the second quarter. The company blamed the weakness on the timing of the Easter and Passover holidays, the cancellation of some business by travel agency Thomas Cook and the loss of a one-time benefit from Air Canada's labour uncertainty. We believe that these factors are short term in nature and expect the growth trajectory to recover towards the end of the year.
The market is anxious about capacity growth and believes it is starting to weigh on the significant pricing strength that Canadian airlines have enjoyed over the last couple of years.
Whilst this may indeed be partially correct, it does not support the relative valuation discount we have uncovered for Westjet and is indeed symptomatic of the entire industry.
In addition WestJet is working toward the start of its Encore regional unit, which will compete with Air Canada and seek part of the C$2 billion market for short-haul Canadian and trans-border flights
The company has a market capitalisation of just over C$3 Billion and a cash adjusted P/E ratio of 8.9x trailing 12 month EPS. We have listed below the market capitalisation of the other significant airlines in North America.
| | |
| --- | --- |
| Alaska Air (NYSE:ALK) | 4585 |
| American Airlines (AAMRQ.PK) | 2196 |
| Delta Airlines (NYSE:DAL) | 15878 |
| Jet Blue (NASDAQ:JBLU) | 1817 |
| Southwest (NYSE:LUV) | 10470 |
| Spirit (NASDAQ:SAVE) | 2070 |
| United Continental (NYSE:UAL) | 11604 |
| US Airways (LCC) | 3113 |
Westjet is extremely well managed with an average Return On Invested Capital of 7% and a Return On Equity of 15% over the last five years. Its load factor is pretty much in-line with its peers however impressively, its Yield Per Passenger Mile is significantly higher than its peer group. The business is debt free with net cash of C$669m. By almost every measure the business compares favorably to its peer group.
Below we have analyzed the relative valuation of Westjet on various measures. We have taken Enterprise Value and made sensible adjustments for lease obligations and underfunded pension and post retirement benefit liabilities in order to perform fair comparisons.

At first glance our conclusions would be follows:
On a P/E basis, Westjet is 35% relatively undervalued
On a Price To Book basis, Westjet is 40% relatively undervalued
On an Adjusted EV/Sales basis, the stock is 11% relatively undervalued (however Westjet has much higher margins than its peers so this is not the best valuation measure to use).

We like to look at price book valuations adjusted for Return On Equity and Return On Invested Capital:
Median Price To Book Ratio of Westjet's peer group: 3.3
Median 5 Year ROIC of Westjet's peer group: 4.6%
Westjet Median 5 Year ROIC: 7.0%
Implied Price To Book Ratio for Westjet: 4.9 (7/4.6*3.3)
Current Price To Book Ratio for Westjet: 2.0
Implied Undervaluation: 60%
Median Price To Book Ratio of Westjet's peer group: 3.3
Median 5 Year ROE of Westjet's peer group: 7.0%
Westjet 5 Year ROE: 15.0%
Implied Price To Book Ratio for Westjet: 6.8 (15.1/7*3.3)
Current Price To Book Ratio for Westjet: 2.0
Implied Undervaluation: 71%
We are not suggesting that Westjet should be trading on 6.8x book value, but we prefer to assume that the peer group shouldn't be trading at a price to book premium to Westjet.
In the chart below we can observe the relative performance of other North American airlines in 2013. Westjet is the second worst performing airline stock having returned 14.8% Year To Date. This compares to 60% for Spirit, 50% for Delta and 42% for United.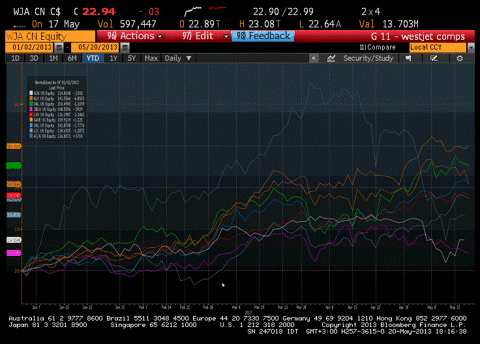 For Long/Short Investors, we expect a market pullback over the summer months and expect the airline stocks which have seen significant gains this year to correct, whilst Westjet should stay relatively stable. This would narrow the valuation gap. For long only investors, we believe Westjet can continue to grow earnings at between 10-12% a year. With a single digit p/e (cash adjusted) and a small dividend yield, the stock offers tremendous value in a market short of double digit returns.
Disclosure: I am long OTC:WJAFF. I wrote this article myself, and it expresses my own opinions. I am not receiving compensation for it (other than from Seeking Alpha). I have no business relationship with any company whose stock is mentioned in this article.