Cisco (NASDAQ:CSCO) delivered an investor "quadfecta" when it reported its fiscal third quarter earnings last Thursday. Its earnings of 51 cents per share beat estimates by 2 cents, while its revenues of $12.2 billion were higher than the consensus estimate of $12.18 billion.
Meanwhile, the networking giant also guided full-year revenues higher, saying the company could attain 4% to 7% growth even accounting for the sale of Linksys. The higher end of that range exceeds Wall Street's consensus of 6.8%. What's more, Cisco expects fiscal fourth quarter earnings of as much as 52 cents per share - a penny better than the current consensus estimate. Finally, Cisco announced that it was raising its dividends by 20% - a sign that the company is confident enough in its own future prospects that it is willing to return more cash to investors.
Consequently, Cisco's stock, which had been one of the Dow Jones Industrial Average's laggards in 2013 having risen by only 8.8% on the year compared with over 16% for the Dow, surged by over 12%. Its year-to-date return has now surpassed that of all three major indices as illustrated by the chart below.
Cisco vs. Major Indices In 2013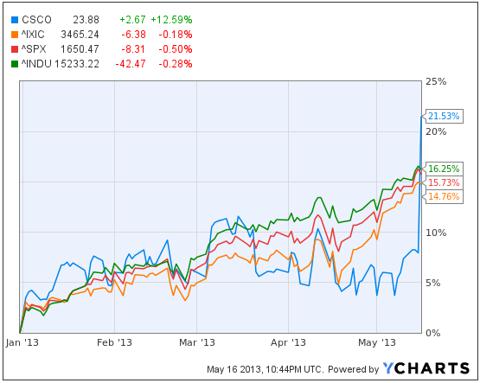 Source: YCharts
One-day swings of this sort are uncommon for blue chip stocks - they're usually on the wrong end of them since investors buy blue chips for their stability rather than hot growth prospects, so if they surprise on the downside, it's usually not pretty. In this case, investors were clearly caught flat-footed and Cisco is now among the upper third of the Dow 30 in terms of returns after having been in the lower fifth just a day earlier.
The question is, can Cisco rise further? We think so.
Earnings
We won't be rehashing the various earnings summaries in this space. Instead, we would like to highlight two major points: Cisco is growing in the right areas and it is gaining share in the market.
To wit, Cisco reported a 77% rise in its cloud data center revenue while its wireless revenues were up 27%. Similarly impressive was growth in its SP Wi-Fi, which rose by 100% and SP Video, which rose 30%. That Cisco is growing in these areas is to be expected: some estimates peg the growth of cloud services at over 21% a year through 2020. As we've written in our past articles on HP (NYSE:HPQ) and Micron (NASDAQ:MU), cloud services have been growing as the mobile market has evolved to use more and more data.
The fact that Cisco is growing so swiftly in this area means that it is not simply using its industry leader status to attract customers but actively making the most of the opportunity. This is where our second point comes in: Cisco isn't satisfied with establishing a respectable position in the market - it may actually be carving out market share at the expense of incumbents. To wit, some analysts have opined that the 77% gain in Cisco's cloud services came at the expense of EMC and NetApp. What's more, Cisco isn't content on simply catering to one side of the equation: it is also selling server hardware with which businesses can power their own cloud services and is doing so at the expense of companies such as Dell (DELL), HP and IBM (NYSE:IBM).
Perhaps sensing the intensity of the competition in what is a lucrative opportunity and the need to move quickly to capitalize on it, Cisco won't be taking an exclusively "organic" (and slow) approach. As reported by CFO Frank Calderoni during its earnings call, Cisco completed two acquisitions - one in software and another in cloud that are meant to help it achieve strategic objectives in these areas.
Given this, it's easy to see Cisco beating estimates going forward as it has done over its past five reporting quarters. What's more, this could carry over into its earnings growth rate. At present, Cisco is estimated to boost earnings by just 8.3% a year over the next five years - that's 44% slower than the pace its peer group's earnings are expected to grow by.
This is the reason that the company's stock trailed the market for much of 2013: it simply wasn't expected to grow fast enough to warrant a multiple superior to that of its peers. Its third quarter earnings demonstrate that investors had underestimated the potential of cloud services to add another gear to Cisco's earnings.
Fundamentals And Valuation
Despite its elevator surge, Cisco is still trading at a value-friendly 13.7x earnings - less than both the 15x earnings of its peers and its five-year peak P/E ratio of 26. Still, its price-to-sales and price-to-book ratios are in-line with its peers, suggesting that it hasn't been grossly undervalued so much as it's been ignored. A further increase in Cisco's dividend yield from 2.8% to 3.4% (these yields are post its earnings surge) should also catch investors' attention as it is superior to the yields of both its industry peer group and the S&P 500.
A true blue chip stock, Cisco is also attractive in terms of its financial strength metrics: its quick and current ratios, at 3 and 3.4, respectively, are high not just for its industry, but also for any company in general. Indeed, the S&P 500's aggregate quick and current ratios are far less at just 1.1 and 1.5, respectively. What's more, Cisco is far from highly leveraged, carrying just 29 cents of debt for every dollar of equity. Its payment of a higher dividend doesn't affect its ability to service its debt by much: with an 8.4x debt servicing ratio, Cisco has more of a margin for error than either its peers or the average S&P 500 company.
Cicso's gross margins will remain high, though price competition has eroded it somewhat. To wit, Cisco has indicated that its forward estimate for gross margins is at 61 to 62% - that's around 5 to 6 percentage points lower than the 67% average it recorded over the preceding five years. While this would merely bring Cisco in-line with the rest of its competitors, it is still vastly superior to the S&P 500's 48%. More importantly, even with this lower gross margin, Cisco's expected fourth quarter EBITDA margin is around 28% - in line with its five-year average, which implies good cost control on Cisco's part.
Conclusion
We believe that Cisco was an overlooked stock that finally got the attention it deserved. While its size will not allow it to deliver blistering growth rates of 20% or more than its smaller competitors are able to, it is nevertheless well positioned - and gaining - in a market segment (cloud services and the ancillary businesses of cloud servers, data centers and the like) that is changing the landscape of both the retail and enterprise computing markets.
Investors would therefore serve themselves in good stead by ignoring Cisco no further and should welcome any opportunity to buy the stock - a pullback from its elevator surge post earnings would be the ideal entry point - and hold onto it for further gains of 15% or more for the balance of 2013. Better late than never.
Disclosure: I have no positions in any stocks mentioned, but may initiate a long position in CSCO, MU over the next 72 hours.
Business relationship disclosure: Black Coral Research, Inc. is a team of writers who provide unique perspective to help inspire investors. This article was written by Jonathan Lara, one of our Senior Analysts. We did not receive compensation for this article (other than from Seeking Alpha), and we have no business relationship with any company whose stock is mentioned in this article. Black Coral Research, Inc. is not a registered investment advisor or broker/dealer. Readers are advised that the material contained herein should be used solely for informational purposes. Investing involves risk, including the loss of principal. Readers are solely responsible for their own investment decisions.