Backed by an optimistic production forecast for Europe and the Black Sea region by the USDA earlier this month, WEAT continued its slide Tuesday ending the day down more than 1% at 18.07. European wheat prices also fell Tuesday (Reuters).
The 2013/14 production forecast appears to be optimistic considering the latest weather trends for Europe, especially Eastern Europe, which should push wheat prices higher, especially after the mid June USDA World Agricultural Supply and Demand Estimates report (WASDE) is released.
While there is market optimism based on forecasts for rain across the Black Sea region, it appears to me that optimism will start to fade toward mid June during a period of drier weather. There will be some additional rain June 13, June 22 and then the next significant rain won't fall across Eastern Europe again until the second week of July.
| | |
| --- | --- |
| Date | Euopean Weather to Watch |
| May 25 to June 1 | Showers and thunderstorms central and eastern Europe. Showers return to Spain/France around June 1. No change in market sentiment; optimism will remain high. |
| June 2 to June 12 | Substantial rain Spain/France June 2 and again June 8-10. A few showers and thunderstorms central and eastern Europe June 6-10. No change in market sentiment; optimism will remain high. |
| June 13 to June 23 | A few showers across Spain/France June 13 with a better chance of rain June 19-22. Central Europe will have a good chance of rain June 18-21 and Eastern Europe will have a good chance of rain June 13-14 and 21-23. Markets will begin to react to drier weather conditions. |
| Trend into July | Rainfall will become increasingly sporadic as temperatures hover at about 10F above normal. The market will be concerned about drought, driving up prices. |
Precipitation in the Black Sea region has been running about 20% below normal this spring and the forecast of sporadic rain through early July will mean soil will continue to be dry. The latest rainfall has not been enough to fully recover from drought and a prolonged dry period this summer and fall will hurt the wheat crop.
Meanwhile, temperatures will increase across Eastern Europe, climbing to 5F to 12F above normal by June 1 and remaining at those levels for most of June. The impact of the warmer temperatures will be to stress wheat.
Western Europe will be in much better shape this summer even though meaningful rain will fall only every 6 or 7 days and temperatures will also be above normal. Winter precipitation will carry crops through mid-July and rainfall will pick up again in mid-July as the Atlantic tropical storm season kicks in and the remnants of hurricanes reach Spain and France.
There's no indication that significant rain will alleviate the drought across the western Great Plains, stressing wheat again this summer. Meanwhile, additional rain across North Dakota, Minnesota and South Dakota will slow planting there through June 5.
Weather conditions across the Canadian Prairie Provinces will be warmer than normal with moisture near normal, so there should not be a significant weather impact on wheat there.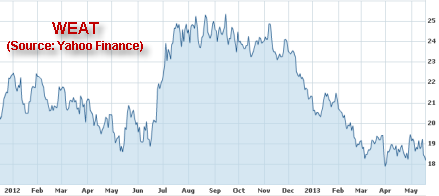 Overall, WEAT should rebound from its current lows in the next week or two as reports come out that there will be little hope for the U.S. wheat belt to break out of the drought. Concern over the European yields probably will not enter the market until about June 12.
WEAT should climb to near 20 after the mid June USDA report and continue to rise to the 22 to 23.50 range during August and September, a 25% jump from current levels. Winter moisture will force WEAT to decline again in December or January, so you'll definitely want to get out of positions before the seasonal downward cycle.
OTHER AG COMMODITIES
Corn (NYSEARCA:CORN) - I do not foresee a significant weather impact on corn until July and August when the eastern corn belt dries out and temperatures climb. Heavy planting this spring and an increase in planted acreage may offset any weather-related losses. As of May 19, 71% of the crop has been planted compared to the 5-year average of 79%. Emerging corn is at 41% of normal because of late planting, but that will rapidly catch up to normal by June 1. It is too early to determine which way CORN will move, but I am concerned about the possibility of hot, dry weather in July and August stressing crops
Cotton (NYSEARCA:BAL) - The cotton belt will be drying out after Memorial Day weekend, putting stress on the crop. The Australian cotton crop appears to be progressing very nicely. It is too early to determine movement on BAL.
Soybeans (NYSEARCA:SOYB) - The crop will likely be in good shape even though planting (24% complete) is well behind the 5-year average (42%). I don't foresee a strong upward movement despite anticipate increases in demand.
These ETFs may not perform as well as WEAT because of their weighting in other crops:
JJG (iPath DJ-UBS Grains Total Return ETN)
WEET (iPath Pure Beta Grains ETN)
UAG (UBS ETRACS CMCI Agriculture Total Return ETN)
Disclosure: I have no positions in any stocks mentioned, and no plans to initiate any positions within the next 72 hours. I wrote this article myself, and it expresses my own opinions. I am not receiving compensation for it (other than from Seeking Alpha). I have no business relationship with any company whose stock is mentioned in this article.