Shares of Saks (NYSE:SKS) had a monster day Tuesday, rising 11.3 percent during the regular session after posting strong fiscal first quarter results, then gaining another 19.4 percent in after-hours trading (as of this writing) when the New York Post reported the company had hired Goldman Sachs (NYSE:GS) to "explore strategic alternatives," including a potential sale. The short Post article added that "likely bidders" included KKR & Co. (NYSE:KKR) and Leonard Green & Partners.
All told, the stock gained some 33 percent to reach $16.32 per share in after-hours trading, blowing through its 52-week high en route to its highest levels in some five years. But a look at both the company's earnings and the Post report raise serious questions about how sensible, and how sustainable, Tuesday's rally was.
To be sure, there was some good news in the report. Same-store sales rose nearly 6 percent in the first quarter. The company guided for full-year comparable sales growth of 4-6 percent, with "modestly higher" growth in the second half of the year. This compares to 3.1 percent same-store sales growth in fiscal 2012 (ending January 2013). The company also accelerated the launch of off5th.com, a new website for its outlet franchise Saks Off Fifth, moving its debut to this fall from a previously announced target of 2014. Given that the company actually operates more outlet stores than traditional Saks Fifth Avenue locations, the boost from an e-commerce presence at the outlet level could be significant. The new site is part of the company's Project Evolution, a multi-level investment in technology and infrastructure that attempts to improve the company's "omni-channel capabilities," according to the release.
But overall, it's hard to see where exactly the optimism that developed during the regular session came from. It seems likely that the rally was, like many of late, caused by short covering (short interest was nearly 25% of the float, according to finviz.com). Certainly, the fundamentals of the report did not appear to justify a double-digit percentage gain. Excluding the "distortion" from last fiscal year's 53rd week, Q1 comp sales were actually 4.2 percent, according to CEO Stephen Sadove on the post-earnings conference call. Guidance for full-year gross margins was revised modestly lower. And based on the company's guidance, FY13 earnings per share are expected to be flat: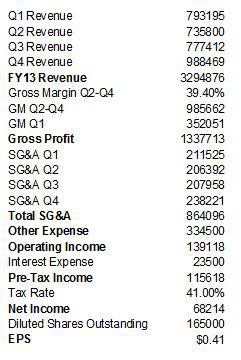 revenue figures include 4.5 percent growth in Q2 from comp increases; 5.5 percent growth from comps and 3.5 growth from capacity addition in Q3/Q4 (figures estimated based on company guidance); all other figures calculated from company guidance
Earnings per share, based on guidance, look set to come in at 41 cents per share. It's worth pointing out that the revenue calculations above come in above current analyst expectations (which have not been updated to account for Q1 results) but projected earnings came in below consensus. For the most part, this appears due to the company's increased SG&A guidance and decreased gross margin guidance (the company had projected gross margins to rise 20-40 basis points in FY13), offset by higher revenue and gross profit.
On the conference call, Sadove defended the increased spending:
As we've discussed, we're making a strategic long-term investment in infrastructure and technology, what we're calling Project Evolution, that will enable us to further enhance our omni-channel capabilities. These investments will continue to take place in the near term and put pressure on our near-term profitability. However, we're taking the right actions and a long-term approach to the business. We're positioning our company for future revenue and earnings growth.
Sadove had better be right. Because based on that guidance, Saks is trading at roughly forty times fiscal 2013 earnings. And the above-expected increase in SG&A alone ($5-6 million each for Project Evolution expenses and the early e-commerce rollout) is only about a 7 cent per share headwind on EPS. Even without the higher SG&A, SKS would still sport a 2013 P/E of about 34.
And even if those investments bear fruit, SKS no longer looks cheap. Assuming the company's gross margin for the last three quarters -- guided at flat year-over-year at 39.4% -- improved 500 basis points, Saks's EPS in 2013 would still be 86 cents per share. On the Q1 call, CEO Sadove noted the company had targeted operating margin of 8 percent -- substantially higher than the company's 4.4 percent in FY12 and estimated 4.2 percent in FY13. At that level, the company would again earn 86 cents per share.
In other words, if Saks were already where the company plans to go; if it had implemented supply chain efficiency and technology improvements to streamline operations and cut costs; if it already had seen success with its Project Evolution; and if it had nearly doubled its operating margin; it would still be trading at 19x 2013 earnings. And this, of course, assumes that Project Evolution will work. That plan includes a new loyalty program, using stores as mini-distribution centers to fulfill online orders, cross-selling merchandise across different channels, and, according to the conference call, likely another new distribution center in addition to one built in Tennessee. Like many corporate initiatives, Project Evolution is ambitious, complex, and long-term. And like many corporate initiatives, its success is hardly guaranteed.
And, again, even assuming that Project Evolution is a rousing success, and the company hits its targets, Saks's earnings multiple still requires a good deal of top-line growth. But the company's recent history doesn't seem to support even a high-teen multiple:

data compiled by author from SEC filings and FY13 estimates above
Operating income growth has been solid, but that gain came almost solely from 2010-2011; OI will likely come in below 2011 levels this year. Top-line growth has been stagnant, while net income has been boosted by a reduction in interest expense (and hurt by a reversal of tax benefits; Saks's tax rate has risen from a benefit in 2010 to 26.6 percent in 2011 to a projected 41 percent in 2013.) Margins have been flat, the company has not created any SG&A leverage from the increased revenue (although much of that is due to the current investments) and net income has grown by 12% annually. That's a nice growth rate, but it's hardly impressive, and given 2013's estimated single-digit rise in net income (and flat EPS), it again does not seem to justify the current multiple -- or even one that accounts for the company's current initiatives.
With a now-55 percent gain year-to-date, Saks stock may have outrun its fundamentals. But those fundamentals also call into question the attractiveness of Saks to a private equity buyer such as KKR and Leonard Green. To begin with, a leveraged buyout is dependent on free cash flow; and Saks has not created much in the way of FCF over the past four years. Average free cash flow over the past four years has been $105 million; 2012 free cash flow came in at just $45 million. 2013 figures don't look to improve much; inventory will rise year-over-year, capital expenditures are guided for a $20 million increase at the midpoint of guidance, and net income is projected to grow only modestly. Relative to a $2.7 billion market capitalization, those free cash flow figures are, in and of themselves, a roadblock to any kind of leveraged buyout.
Readers who are familiar with SKS may question the $2.7 billion figure quoted for the market capitalization; public data shows the shares outstanding for the company in the 150 million range, putting its market capitalization closer to $2.4-$2.5 billion. But the company still has over $90 million worth of remaining convertible debt issued in 2009, with a conversion price of just $5.44 per share. Basic share count is 145.1 million, according to Tuesday's release; according to the most recent 10-K, the convertible debt represents another 21.1 million shares that will be issued when the debt is redeemed on December 1. In the Q1 report, the diluted share count was calculated at 172.7 million shares (which would include another 5.5 million shares beyond the convertible debt), putting the true market cap over $2.8 billion. At $20 per share -- a 22.5 percent premium to the current price -- an acquirer would be paying $3.5 billion for the equity in a company that is averaging, as noted above, barely $100 million in free cash flow over the last four years.
An LBO would also reverse the company's recent success in lowering its interest expense, which has been reduced from nearly $57 million in fiscal 2010 to an estimated $23-24 million in fiscal 2013. This reduction has boosted the company's bottom line growth; 20 cents, or nearly half of the estimated 2013 EPS comes from interest savings. As noted above, an increased tax rate has proven to be a significant headwind for Saks; the combination of a higher tax rate and an increased annual interest expense would essentially wipe out any marginal gains from Project Evolution or other cost-cutting measures.
And given the recent run-up, the sheer size of a Saks offer -- which would appear to be $3.5 billion, minimum, including the assumption of $300 million in current debt -- shows just how unwieldy a takeout offer would be. Even at 40% equity, debt of $2.1 billion would be required; at 6% interest, annual interest expense would total roughly $120 million. FY13 EBITDA looks set to come in at about $260 million, putting the near-term coverage ratio just over 2. That is a very tight first-year ratio for an LBO -- and that scenario assumes substantial equity, an excellent interest rate for a company whose debt is still rated two notches below investment grade, and only a modest 14% premium to the current share price.
Furthermore, such a modest premium seems unlikely to result in a Saks takeout. One look at the company's most recent proxy statement shows why:

Diego Della Valle is the billionaire head of Italian leather company Tod's -- a Saks supplier. Southeastern Asset Management is a fund manager with nearly $35 billion in assets under management as of March 31st, and a company well-known for its recent involvement in battles for control of companies such as Dell (NASDAQ:DELL) and Chesapeake Energy (NYSE:CHK). And Inmobiliaria Carso is a vehicle owned by Carlos Slim, until last week the world's richest man. The three combined own 49.8 percent of the company, and they hardly represent the kind of negotiators private equity firms want on the other side of the table. This, of course, may be a long-term positive for SKS shareholders, but it would seem to diminish the likelihood of a takeover.
Finally, the timing of the supposed takeover is curious. Why would a P-E firm look at Saks now, when it is using needed cash to build inventory and distribution capabilities, not to mention overhauling its management structure and sales patterns? Similarly, why would Saks explore a sale before those initiatives have had any time to bear fruit? And what kind of premium could a buyer really offer given the massive run-up in shares and the high multiple to earnings and cash flow? Bear in mind that Saks's enterprise value-to-EBITDA ratio sits at about 12 based on FY13 estimates; any reasonable premium would drive that level up to 14 or 15.
The argument in response would be that a private equity firm would look at Saks's potential earnings -- perhaps modeling the 8% operating margin target cited by CEO Sadove on the conference call -- and see real potential. After all, at an 8 percent operating margin the EV/EBITDA ratio would fall by nearly half, to the 6x-7x level, with the coverage ratio moving up toward 4, making a buyout more palatable and more profitable. The Post report claimed the Saks flagship store on Fifth Avenue in New York "is believed to be worth more than $1 billion;" perhaps that asset could be used in a leaseback transaction to help finance a takeover. (It's worth pointing out, however, that Saks on its balance sheet listed only $875 million, net, in property and equipment as of February 2, despite the fact that according to the 10-K the company owns "a significant percentage of our SFA [Saks Fifth Avenue] stores." Carrying value and market value are not always one and the same, but Saks's own valuations of its properties do call into question the Post's estimate, as does the paper's reputation for sensationalism, even on the business pages.)
But, even in a bull market where LBO targets are getting more difficult to find, such a scenario seems unlikely. The risk/reward in a leveraged buyout of Saks -- a high-end retailer amidst a slow economic recovery, whose customers have faced one recent tax hike and no doubt fear more on the way -- simply doesn't add up for a private acquirer. The company's multiples are too high; its near-term cash generation too weak; and its top-line growth too modest to make it a sensible target.
Right now, the same goes for SKS stock. The market is already pricing in success in Project Evolution and continued comp growth amidst a competitive and challenged segment. Shorting SKS in the term, would seem to be a dangerous play, given the rally in the stock, the sector, and the market at large; indeed, many shorts were likely burned in today's action. But, at current levels, Saks is hardly a buy, either. Once the enthusiasm of Tuesday's gains dissipates, and the rumors sparked by the New York Post article fade away, what's left is a stock that trades at a multiple that requires near-perfect execution and top-line growth that exceeds recent performance. It may happen; but it's not likely. And at current levels, Saks shares are simply too expensive to take that risk.
Disclosure: I have no positions in any stocks mentioned, and no plans to initiate any positions within the next 72 hours. I wrote this article myself, and it expresses my own opinions. I am not receiving compensation for it (other than from Seeking Alpha). I have no business relationship with any company whose stock is mentioned in this article.