Stocks look poised to correct further in coming days and weeks. Since the high of 956 was printed 2 weeks ago, the S & P has steadily trended lower. Volume has declined, and insiders are selling at the fastest clip in 2 years. The rising trendline has been broken, and MACD is turning negative, confirming a trend change.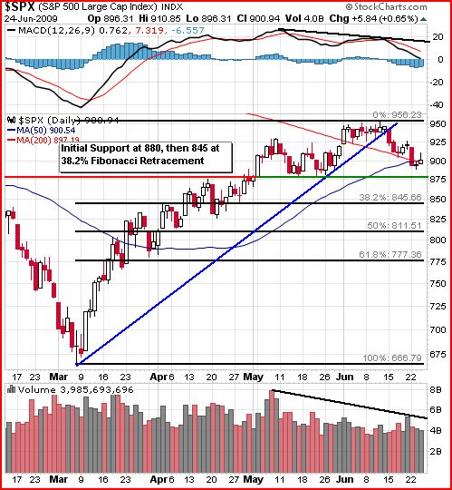 Stocks have come quite a way since the March 6th low with no meaningful correction. After a brief stint above the 200 day MA, the S & P is back to testing both the 200 day and 50 day MA. It's critical that the S & P recapture the 200 day MA in coming days, otherwise there's a lot of downside potential. I expect a test of 850, and then 810.
Meanwhile, the dollar hasn't been able to muster much of a rally. Sooner rather than later, 72 on the dollar index will be tested. After that we're in freefall mode.
We could be in for some fireworks as 'green shoots' disappear, and the bear market in stocks and the dollar reasserts itself.