Chinese Internet stocks rallied on Monday after Qihoo 360 Technology (NYSE:QIHU) posted strong first quarter 2013 numbers. Investors in the China online gaming sector, in particular, were heartened by Qihoo's 103% year-over-year growth of its paying users on the company's web game platform in March 2013. The news sparked a 2%-8% rise in the shares of pure-play Chinese online gaming companies such as Giant Interactive (NYSE:GA), Changyou (NASDAQ:CYOU), Perfect World (NASDAQ:PWRD), and Shanda Games (NASDAQ:GAME).
Qihoo's positive news on online gaming reinforces the recent positive revenue trend reported from NetEase (NASDAQ:NTES), Giant Interactive, and Chiangyou in recent weeks. NetEase, Giant Interactive, and Changyou each posted respectable year-over-year double digit growth of 11%, 12.6%, and 29.9%, respectively. Shanda Games is scheduled to release first quarter 2013 results on May 23, 2013 and Perfect World will announce earnings in the same period on May 28, 2013.
As the chart below shows, Giant Interactive and Changyou's solid revenue growth in first quarter 2013 are a continuation of a much longer secular growth in revenue. Perfect World and Shanda Game, on the other hand, have been experiencing more volatile or flat revenue growth since 2011.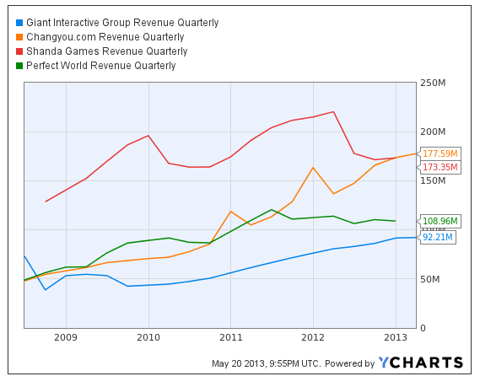 The steady revenue growth also accord Giant Interactive and Changyou very high gross margins in the mid-80% range. Perfect World's gross margins have slid from low 90% to mid-70% in the past five years. Shanda Games has the worst gross margins among the four but is slowly improving to mid-60%.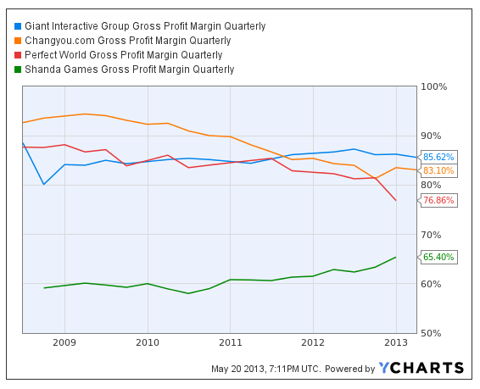 In terms of share price performance, investors were more enthusiastic about prospects of Giant Interactive and Changyou while punishing Perfect World and Shanda Games.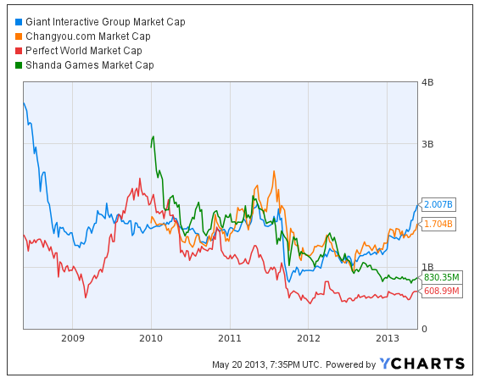 Looking forward to full year 2013 and 2014, analysts estimate that Giant Interactive and Changyou would see continued double digit growth, while Perfect World and Shanda Games will stay stagnant in 2013 and then growth will ramp up more rapidly in 2014.
| | | | | | |
| --- | --- | --- | --- | --- | --- |
| | 2012 EPS | 2013 Rev. Growth Est. | 2013 EPS Est. | 2014 Rev Growth Est. | 2014 EPS Est. |
| GA | $0.82 | 14.5% | $0.92 | 13.2% | $0.99 |
| CYOU | $5.52 | 20.8% | $5.84 | 11.9% | $6.38 |
| PWRD | $1.78 | -1.5% | $1.81 | 12.6% | $2.03 |
| GAME | $0.64 | 0.8% | $0.66 | 8.9% | $0.71 |
In terms of valuation, all of these four stocks are trading at low PE multiples. I believe this largely reflects the market's apprehension of 1) the Variable Interest Entity (VIE) structure that many of the Chinese ADRs employ to bypass Chinese laws regarding foreign investments into certain censored industries such as internet, in order to gain de-facto control of the operating companies located in domestic China where all of the revenue is derived, and 2) the growing perception that the Chinese online gaming market may have mostly matured and any outsize gain of market share will have to come from losses at their competitors.
These valuation discounts are most apparent at Shanda Games, Perfect World, and Changyou. Changyou's valuation discount may also be explained by the fact that it's majority owned by Sohu.com (NASDAQ:SOHU) and therefore investors may also factored in an additional minority discount on top of the VIE and matured market discounts mentioned above.
| | | | | | |
| --- | --- | --- | --- | --- | --- |
| | 5/20/13 Price | Dividend Yield | 2012 PE | 2013 PE | 2014 PE |
| GA | $8.43 | 5.1% | 10.3x | 9.2x | 8.5x |
| CYOU | $32.49 | - | 5.9x | 5.6x | 5.1x |
| PWRD | $12.59 | 3.6% | 7.1x | 7.0x | 6.2x |
| GAME | $3.10 | - | 4.8x | 4.7x | 4.4x |
Currently, a significant number of the online games at these four online gaming companies tend to be Massively Multiplayer Online Games (MMOGs). Gamers either play at home or at thousands of Internet cafes on desktop computers or laptops. These games are either developed internally or licensed from third-party developers. Game titles have only a few years of life span and have to be refreshed constantly to attract returning players. Web games have become increasingly popular in recent years and have been a secondary driver of organic growth for these companies.
With the advent of smartphones and as popularity of tablets grows in China, these online gaming companies have been slow to adapt to the new mobile gaming platform. They are facing big challenges in 1) developing or modifying MMOG games currently played on PCs to a much more mobile audience on a much smaller screen, and 2) changing their business and distribution models to adapt to Google (NASDAQ:GOOG) Play Store, Apple (NASDAQ:AAPL) iTunes Store, or similar mobile game distribution platforms. So far, these gaming developers are still in the initial stage of actively exploring the mobile game space and do not have active mobile game. Giant Interactive is targeting to launch at least one mobile game in 2013 while Changyou has two mobile games in the pipeline. Because none of these four Chinese online gaming companies currently have a meaningful mobile gaming presence, current valuation does not appear to factor in any future contribution from mobile gaming.
I see a more or less inevitable major shift to mobile gaming for these four companies in the next few years. Once the Chinese game developers are able to fine tune their mobile gaming operating models satisfactorily, we may see a significant spike in mobile gaming revenue which will result in greatly accelerated growth from the current level. And as investors react positively, we will also likely see higher earnings multiple expansion from the current level. So, long-term investors adding the undervalued Giant Interactive and Changyou to their portfolio now stand to benefit from the expected stable growth in the MMOG and Web games and also any potential upside in the mobile games in the next few years.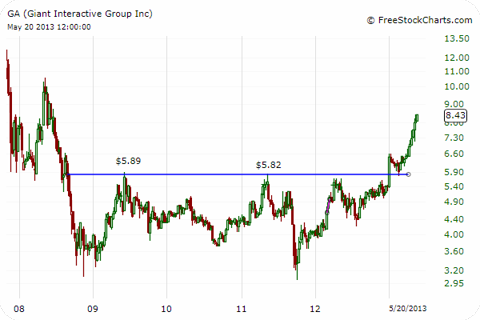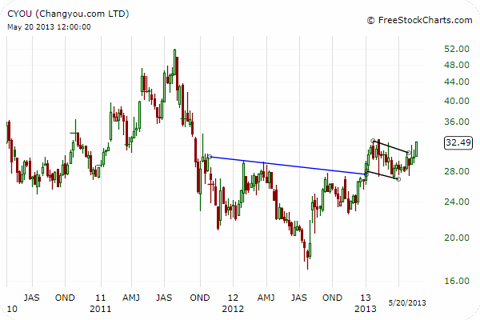 Disclosure: I am long CYOU. I wrote this article myself, and it expresses my own opinions. I am not receiving compensation for it (other than from Seeking Alpha). I have no business relationship with any company whose stock is mentioned in this article.