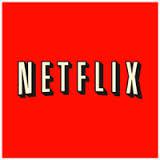 I'm a big believer in the ecosystem play as I have written about a few times. I'm already long 2 of the names (Apple (NASDAQ:AAPL) and Facebook (NASDAQ:FB)) and as I've explained, I'm waiting for the right timing to take bigger stakes in Google (NASDAQ:GOOG) and Amazon (NASDAQ:AMZN). My whole theory is that these ecosystems are able to take their dominant platforms and reproduce them in almost any other sector, which used to be defined as digital goods, but is now expanding to offline goods as well. Even Google (through same day delivery and its own Nexus devices) and Facebook (through its expanding gifts for example).
Are Non-Ecosystem Plays Doomed?
Following the theory, you could argue that non-ecosystem plays or stocks would be doomed. That's not exactly the case though. It's a challenge but its not impossible. For some players such as Yahoo (YHOO) and AOL, it is proving to be very difficult but I'd argue that other players are able to either make their business:
1-difficult/impossible to compete with
2-build on top of existing ecosystems In Comes Netflix (NFLX)
Netflix is certainly not a newcomer and while it started off as a traditional DVD rental company, it has quickly evolved into what is now a major player in the video world. How? It was able to build on top all the major platforms: -can be viewed through gaming consoles such as Playstation, xBox, etc -can be viewed through mobile devices no matter if they are Apple or Android devices -can be viewed in many other ways (online, through most dvd/blue-ray players, etc)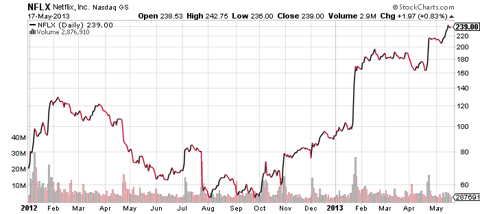 In a way, Netflix was able to achieve one of the two critical elements. The other part (becoming difficult to compete with) was going to be a major challenge. After all, Google has Youtube, Amazon has its streaming service, Apple has iTunes. There are also smaller players such as Hulu, HBO, and also traditional cable. How could it compete? The only way really was through getting unique content that competing services could not offer.
Netflix is in the process of doing just that through 2 different strategies:
-Buying unique content through deals such as the one it secured with Disney (NYSE:DIS). The downside of course is that with so much competition, it is becoming quite expensive to score such deals
-By developing its own content. Although it's just one of many, House of Cards starring Kevin Spacey has turned out to be everything Netflix had hoped for. I personally think it is exceptional, and if Netflix can produce more of these, it will become impossible to compete with in a similar but even more powerful way to HBO. So I personally think that Netflix is well on its way to achieving dominance.
If you think about the fact that Netflix already accounts for a third of internet traffic (more than Youtube, Amazon.com, HBO Go, iTunes and BitTorrent combined), it's scary if the best is yet to come.
It's All About Pricing
Now that I firmly believe Netflix has a tremendous future, it's all about pricing. The challenge of pricing Netflix is that such a company will continue to trade at a high P/E for years to come. Here are the main numbers for Netflix:

The main reason is that most of Netflix's costs are content acquisition and production, which are fairly fixed. So the big key for increasing profitability is how many customers Netflix will have 3-5 years down the road. From that perspective, the P/E for next year of 55 does not look nearly as expensive. Revenues are once again growing: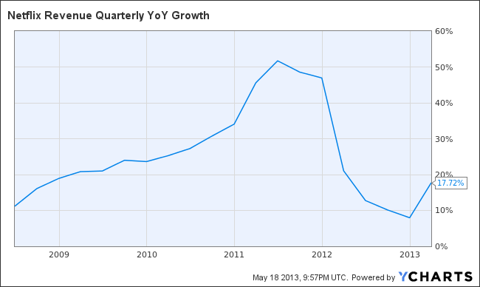 High Risk, High Reward?
There will continue to be a lot of competition for Netflix and, given the fiasco the last time it tried to raise prices, it's unlikely to try that tactic in the near future. That means getting new members (and keeping current ones) is the only way to grow for now.
That being said, I do still think that the potential is very strong for Netflix, and will consider going long in the coming weeks.
Disclosure: I am long FB, AAPL, GOOG. I wrote this article myself, and it expresses my own opinions. I am not receiving compensation for it (other than from Seeking Alpha). I have no business relationship with any company whose stock is mentioned in this article.