This article brings out one of the biggest natural gas players in the U.S, with assets in major shale gas deposits in the country. After introducing this gas and oil producer, we will look at the 2013 EIA Energy Outlook assessment regarding the future of natural gas as well as the opportunities created by the shale gas trends for companies like Chesapeake. To conclude, a brief commentary regarding the core assets by region will be provided with the focus on the operations for each asset.
Over the last decade, U.S. shale gas production has increased 12-fold and now comprises about 25% of total U.S. production. As a matter of fact, this source of energy is now more accessible and cheaper than 30 years ago with the profusion of shale gas that has been discovered throughout North America. A relatively new technology, hydraulic fracturing and horizontal drilling, greatly improved the performance and efficiency of recovered gas, allowing natural gas companies to produce the commodity at more affordable costs. For more on the shale gas revolution, please read my article here.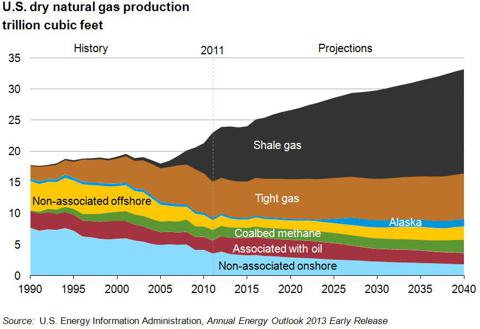 Chesapeake Energy (NYSE:CHK)
Headquartered in Oklahoma City, the company's operations are focused on discovering and developing unconventional natural gas and oil fields onshore in the U.S. Formed in 1989, the company focused its strategy in early 2000, on finding and developing shale gas plays. In 2008, this strategy shifted to focus its main operation in finding and developing plays with oil and NGL (natural gas liquids) since these commodities are more highly valued in the U.S. Technology and knowledge advances have enabled the company to pursue these new plays more economically.
NGL Fractionation Process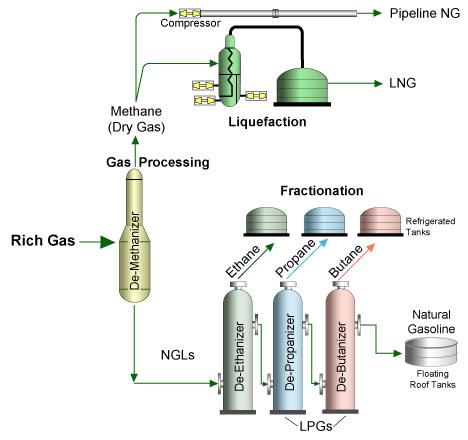 Source: Galvanic Applied Sciences
NGLs are components of natural gas that are separated from its gas state in the form of liquids. Valuable as separate products, it is therefore profitable to remove them from the natural gas. The liquids are first extracted from the natural gas and later separated into different components such as propane, butane and ethane among others.
Chesapeake has grown into the second-largest producer of natural gas, the 11th largest U.S. liquid producer (oil and NGL) and the most active driller of new wells in the U.S. Furthermore, they are the leader in horizontal drilling of shale wells in the world. The company owns an interest in about 46,700 producing natural gas and oil wells, currently producing about 4Bcf/d (billion cubic feet per day), of which 79% are natural gas.
Chesapeake owns leading positions in several shale gas plays such as the Eagle Ford, Utica, Granite Wash, Cleveland, Tonkawa, Mississippi Lime and Niobrara. These deposits are unconventional liquid plays. The company also owns unconventional natural gas shale plays as well with the Marcellus, Haynesville/Bossier and Barnett deposits.
On May 8, MarkWest Energy Partners, L.P. (NYSE:MWE) announced the execution of definitive agreements to acquire 100% of the ownership interests of certain midstream assets in the Anadarko Basin for consideration of $245 million in cash. The acquired assets consist of a 200Mmcf/d (million cubic feet per day) of cryogenic gas processing plant at the Buffalo Creek Plant and 22 miles of gas gathering pipeline in Hemphill County, Texas, and approximately 30 miles of rights-of-way associated with the future construction of a high-pressure trunk line. Additional assets consist of an amine treating facility and a 5 mile gas gathering pipeline in Washita County, Oklahoma.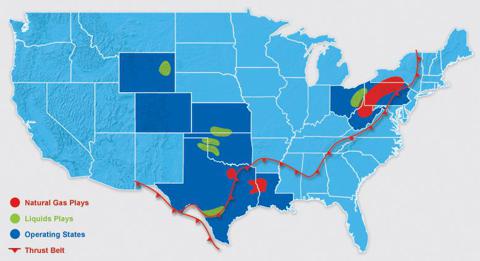 Source: Chesapeake Energy
From Natural Gas-only To Oil & NGL
Chesapeake's goal consists of building one of the largest onshore natural gas resource bases in the U.S. by focusing its technical and land acquisition skills on developing unconventional resource plays. By doing so, management has the objective of increasing the value of its shares, thereby ensuring the company's growth.
Chesapeake has integrated an aggressive and technological advanced drilling program with an active property consolidation program. The chart below illustrates the shift of 2010 from production of natural gas-only to production of liquid rich plays.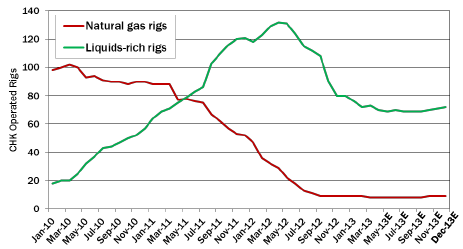 Source: Investor Presentation, May 2013
Thus, Chesapeake's strategy within the last three years has been to emphasize its industry-leading drilling program and convert its substantial backlog of drilling opportunities into proved and developed reserves. As a result, the company became the 11th largest U.S. producer of liquids, with an industry-leading position of 15.1 million net acres of U.S. onshore leasehold and 33.2 million acres of 3D seismic data.
A Shift Driven By Strong Economics For Liquids
With the variations of natural gas prices, better results were achieved by the company with its liquid rich plays. Chesapeake's strategy has reached a balanced mix of natural gas and liquids revenue through organic drilling rather than through acquisitions, which allowed the company to achieve great strides.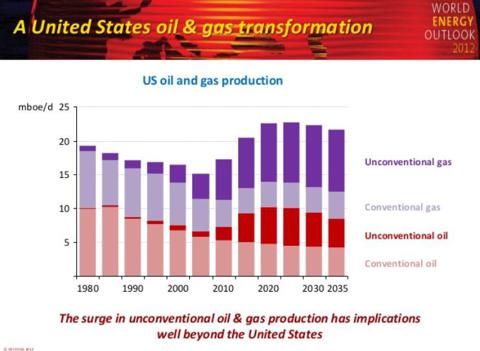 Source: EIA 2012
I believe the move paid off and this is only the beginning. As seen on the chart above, conventional oil production is projected to continue its decline while unconventional oil production is expected to continue to increase. Together, it gives an estimated total oil production of over 10Mboe/d by 2020. Regarding natural gas, we can see that conventional gas production should remain steady but unconventional gas is expected to grow by 1Mb/d (million barrels per day) between now and 2020, reaching 3.2Mb/d, before a slow decrease to 2.3Mb/d in 2035.
As depicted in the chart below, approximately 46% of the D&C (drilling and completion) expenditures were allocated to liquid rich plays in 2011 compared to 30% in 2010. Last year, these expenditures reached about 84%, thus showing the difference achieved with the shift initiated in 2010.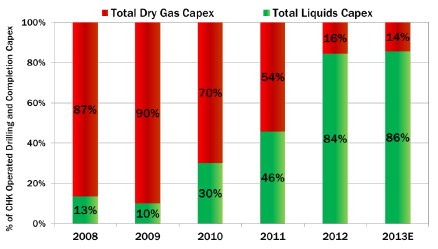 Source: Investor Presentation, May 2013
The production of oil and NGL has been increasing since 2010 as Chesapeake developed its new unconventional liquid plays, particularly in the Eagle Ford shale, the Utica shale, the Granite Wash, Tonkawa, Cleveland, Mississippi Lime and the Niobrara shale.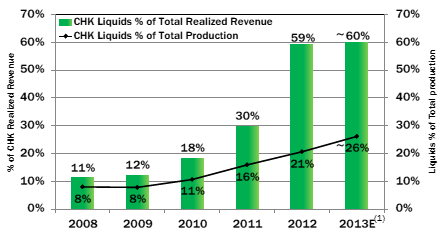 Source: Investor Presentation, May 2013
The 2013 EIA Energy Outlook
A decade ago, the world was estimated to have only 50 to 60 years' worth of gas remaining. However, with the new unconventional supplies, the estimated resource life has risen to more than 200 years. Shale gas accounts for an estimated 63% of the world's technically recoverable unconventional gas resources and the EIA estimates that unconventional gas, which is currently growing at about 8% of the world's gas supply, will increase to about 25% by 2035.
According to the 2013 Annual Energy Outlook issued by the EIA, a study reference case has explained the correlation between the increasing natural gas production with the commodity spot price. With natural gas spot prices remaining below $4 per million Btu through 2018, the study concluded that the resilience of drilling activity, despite low natural gas prices, is partially a result of high crude oil prices which will significantly improve the economics of natural gas plays that have relatively high liquid content (crude oil, lease condensates and NGLs). After 2018, natural gas prices would increase steadily with the expansion of tight gas and shale gas drilling activities to meet growing domestic demand for natural gas and offset declines in natural gas production from other sources.
Furthermore, the reference case assessed that the ongoing drilling in shale and other plays with high concentrations of NGLs and crude oil have a higher value than dry natural gas in energy-equivalent terms. These conclusions from the EIA regarding higher economics for the natural gas plays within the next few years are great news for Chesapeake, as the results show that the producer's strategy is in-line with the Energy Outlook of the EIA released earlier this year. Let's see the core assets of Chesapeake in the natural gas plays.
Chesapeake Energy's Producing Assets
Natural Gas Shale Plays
Barnett Shale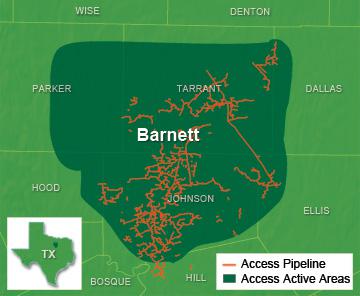 Source: Access Midstream Partners L.P.
The Barnett shale spans across 20 counties in North-central Texas, covering approximately 5,000 square miles. Experts suggest that it may be one of the largest onshore natural gas fields in North America. The Barnett shale has already produced more than 4.8Tcf (trillion cubic feet) of natural gas, enough energy to heat every home in Texas for years to come and is expected to produce an additional 40Tcf of natural gas resources.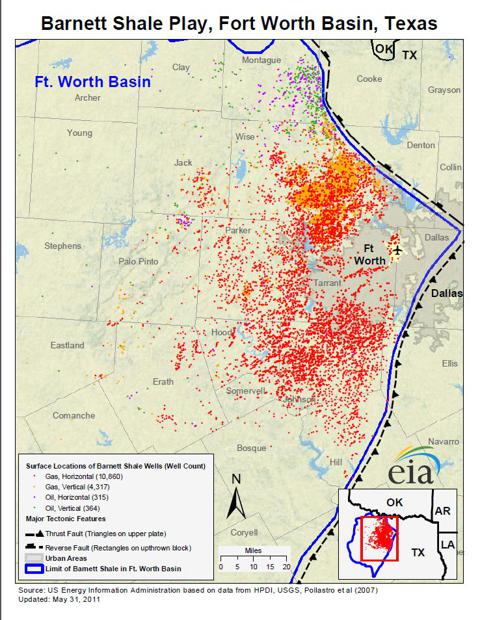 Source: EIA
Through its operations in the Barnett shale, Chesapeake became the first operator to drill on an international airport at the Dallas/Fort Worth International Airport. Royalties paid in 2012 were estimated at $182 million.
Marcellus Shale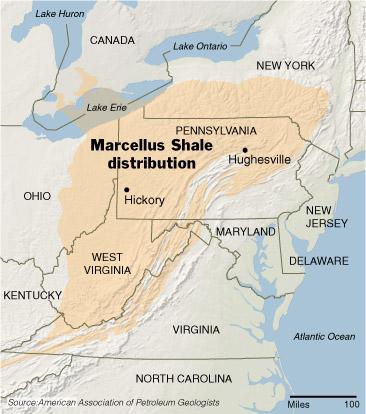 Source: American Association of Petroleum Geologists
With approximately 1.8 million net acres, Chesapeake is the industry's largest leasehold owner in the Marcellus shale, which spans from northern West Virginia across much of Pennsylvania into southern New York.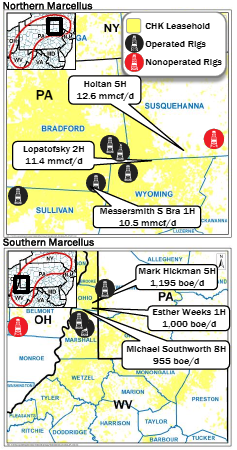 Source: Investor Presentation, April 2013
Q4 2012 daily net production in northern dry gas portion was 645Mmcf/d, up 135% from 2011. Majorsville processing plant has a capacity of 1,070Mmcf/d while Fort Beeler has a capacity of 520Mmcf/d. Southern Marcellus wet production averaged 155Mmcf/d. Operated rig count was reduced to five in northern and three in southern Marcellus to cut down Chesapeake's capex in the region. The company is in the process of selling various non-core Marcellus acreage.
Haynesville/Bossier Shale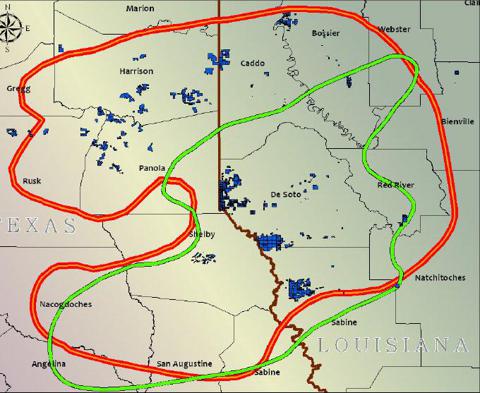 Source: Haynesville play
As seen in the picture above, the Haynesville boundary appears in red and the mid-Bossier boundary, in green.
The Haynesville shale is a geologic formation of sedimentary rock that contains natural gas in the North Louisiana Salt Basin in northern Louisiana and eastern Texas. It is located between 10,500 and 13,500 feet below the surface and covers an area of approximately 9,000 square miles with an average thickness of 200 to 300 feet.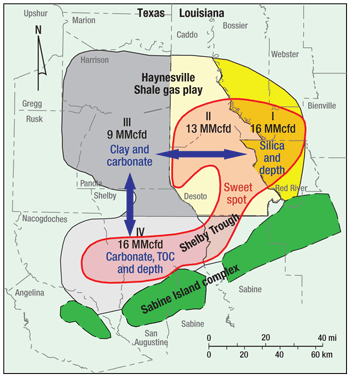 Source: World Oil
In 2008, Chesapeake announced the discovery of the Haynesville shale, which has the potential to become the largest natural gas play in the U.S, with technically recoverable resources estimated at 251Tcf. The Bossier shale formation lays just above one-third of the Haynesville shale. With a rich deposit of natural gas, development of the Bossier shale is simultaneously occurring with the Haynesville shale.​​​​​​​​​​
This article concludes the first part on Chesapeake Energy. My forthcoming article will discuss its unconventional liquid plays as well as its most important subsidiaries to better understand the structure of the company. After examining the newest financial highlights of the company, we will take a look into its future outlook. Will the NGL player benefit from the shale gas bonanza? We'll find out in the last part of my article on Chesapeake Energy.
Disclosure: I have no positions in any stocks mentioned, and no plans to initiate any positions within the next 72 hours. I wrote this article myself, and it expresses my own opinions. I am not receiving compensation for it (other than from Seeking Alpha). I have no business relationship with any company whose stock is mentioned in this article.