It is becoming evident that one wants to be out of the metals right now and long energy if playing momentum. For long-term investors however accumulating the metals at these prices is the play but our advice would be to seek out the names with solid yields and dividends which are safe from being cut. We would prefer to see long-term investors buy those names yielding 4%+ but would not get involved in names where the yield is below 2%. That is an easy valuation method, but one which in this market tends to hold true so long as one does their due diligence on the 'safeness' of the overall dividend stream.
Chart of the Day:
Corn is still stuck around the $650/contract level. We saw more weakness yesterday as it was announced that corn acreage plantings were at records. Weather will be important if one is bullish.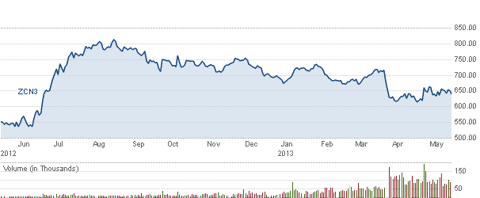 Chart courtesy of CNBC.com
Commodity prices this morning are as follows:
Gold: $1385.20/ounce, up by $7.60/ounce
Silver: $22.575/ounce, up by $0.12/ounce
Oil: $95.61/barrel, down by $0.57/barrel
RBOB Gas: $2.8171/gallon, down by $0.0287/gallon
Natural Gas: $4.212/MMbtu, up by $0.02/MMbtu
Oil & Natural Gas
Yesterday we saw Laredo Petroleum (NYSE:LPI) entered into a deal to sell their Anadarko Basin assets to entities of Enervest for $438 million in an effort to focus on their Permian Basin assets and lighten their capital expenditures. The asset sale gets rid of a liquid play and readers know how we feel about asset divestitures which take prime assets off of the balance sheet, even if they improve various ratios. Although it is a long shot, we are curious as to whether these assets will be dropped down into EV Energy Partners, LP (NASDAQ:EVEP-OLD) due to a sale of a portion of their Utica Shale acreage. In the past EVEP has made their own announcement, so this does not fit the bill, but one can hope as the asset does sound like what they were looking for in regards to the production mix.
FX Energy (NASDAQ:FXEN) reported a successful well test (see press release here) yesterday which sent shares skyrocketing higher. Investors saw the stock rise above $6/share before retreating and finishing the day up $1.35 (38.03%) to close at $4.90/share on volume of 10.6 million. The test showed no water and was so encouraging that management intends to drill at least one or two more wells during the year on the concession after doing some 3-D seismic work. It looks like FX Energy has finally turned the corner and is onto the resources they have long told shareholders existed in Europe. To those who have stayed long over all these years we tip our hats to you. Bravo.
As of late FX Energy shares have been coming back strong.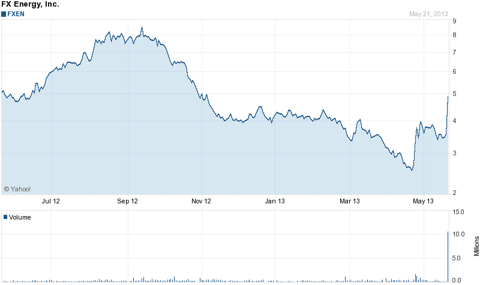 Chart courtesy of Yahoo Finance.
Uranium
Cameco (NYSE:CCJ) shares have continued their winning streak and yesterday rose $0.72 (3.34%) to close above $22.29/share on higher than normal volume of 2.6 million shares. The story that those in the industry are telling is that Russian uranium supplies will be coming off of the market this year and that the current spot and long-term contract prices are no where near the levels needed to support new production. This means we need to see prices rise, and rise dramatically and that will benefit names with production such as Cameco. Even though Cameco will lose access to the Russian HEU resell program, they do open up a new high grade mine in the Athabasca Basin so this should be a wash in the mid-term. We are still believers (most certainly not to be confused with beliebers!) in the uranium story and think that the latest price action in Cameco and the juniors reinforces our thesis.
Nearing 52-week highs at Cameco.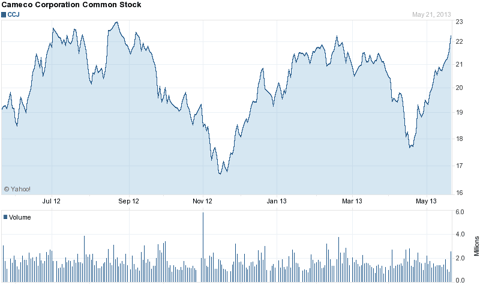 Chart courtesy of Yahoo Finance.
Silver
We have taken some heat from readers and investors in Silver Wheaton (SLW) about our unwillingness to buy shares at these levels. Their thinking is that one should buy at these levels if you think we are near a low, as a few years down the road if the stock is much higher, 10% will not matter much. Well it does, but that itself is not the point. First, here is the transcript from the latest conference call the company held (located here). Second, our point is that the economy is recovering but inflation is most certainly tame and not in any way at risk of running away. Worse still for silver is that it is not seeing rising demand from manufacturing and thus is stuck in no man's land...a perfect storm for bears whereby they can use the volatility in gold to punish silver even more since it does not have the backstop of industrial demand to stop the bleeding at this point. Eventually it will, but right now it does not. Until we see a true bottoming, we are on the sidelines.
Disclosure: I am long EVEP-OLD. I wrote this article myself, and it expresses my own opinions. I am not receiving compensation for it (other than from Seeking Alpha). I have no business relationship with any company whose stock is mentioned in this article.