Apple (NASDAQ:AAPL) announced that it has increased its share repurchase authorization to $60 billion from the $10 billion level announced last year. The buyback is to take place between now and the end of 2015. The question for the investor is "What does this mean for me?"
Apple shares have seen a serious reaction since last September, when shares peaked just over $700. Recently Apple has closed at just under $400. The last two earnings reports have been disappointing as a combination of slower rate of growth and a serious falling margin level have combined to give it its first year-over-year EPS decline in over 10 years.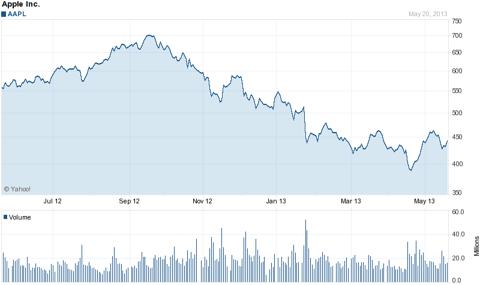 All this and other factors have created a state of uncertainty that has driven investors away from the stock, and forced prices down, even as the overall market has improved significantly. Whether Apple's decision to raise the buyback will help to lift the stock price remains to be seen.
In theory, the buyback is a wash. If today it buys back $1 billion in shares, the value of the company has not changed -$1B cash + 1B assets = $0 change. But the difference is more than this. When a company buys back shares, then any future profits are split among fewer shares, so the Earnings Per Share goes up. At this point, the value of each share should go up as well.
So what is the effect of the buyback in simple numbers? It all depends on the price at which Apple buys the shares.
Currently, 946.8 million shares are outstanding, and from this figure you would subtract any shares repurchased. (I will use the close on Friday, May 17, at $433.26 as the current price.)
Here is a chart of how many shares would remain outstanding if all $60 billion were to be used to buy at various average prices per share.

NOTE: These figures given do not account for any additional shares added such as for employee compensation, etc.
These figures are roughly equivalent to the combined holdings of the top four institutional holders of Apple stock!
Now what does this mean for the investor?
These new figures completely change all the per share valuation ratios. For example, in the most recent quarter (FQ2-2013), there was a net income of $9.55B. With the current 946.8M shares outstanding, the EPS for last quarter was $10.09. However, with shares repurchased at an average of $500/share, this would leave only 808.7M shares so the EPS would have been $11.81; or $1.74 higher.
Using figures for the trailing 12 months (data from Yahoo Finance) we have:
Net Income Available to Common (TTM): $ 39.67B
This gives us the following figures:

If the buyback had taken place with an average purchase price of $435, then the EPS for the year would have jumped to $7.15 and the PE ratio fallen to 8.83.
Dividends
It is possible that dividends will be affected as well. This quarter's dividend of $3.05 represents a total of approximately $2.9B. If this amount were divided by only 808.7M shares (buyback at $435/share), then the dividend per share would have been $3.59 - a significant increase.
Conclusion
In a follow-up article, I will be discussing these valuation tools in regards to some of Apple's competitors, and how the per share valuations might affect the stock price in the future.
For now, just let me note the current ttm P/E for some of these companies.
Most articles have discussed the share buyback in general terms; here we have examined actual numbers and seen the potential effects on per share earnings and valuation ratios. Obviously, we cannot predict the average price at which Apple will be able to buy back such a huge number of shares. But given the price level since it peaked last September, these figures are not out of the question.
If the price does not rise, then Apple will be buying back almost 15% total of its shares. Even an average price of $500 would give a buyback of 12.7%. The increased earnings would go on forever. For the investor, this is the gift that keeps giving.

[Note from author (5/23/13):

Dear readers,
It seems that I made some errors copying numbers into the first table - the number of shares remaining after buyback. This of course, affected all the following calculations. The errors were not large and do not affect the overall premise of the article - although they do make smaller the differences with all the current valuation figures (EPS etc.). That is to say, the buyback will have SLIGHTLY LESS of an impact than I stated originally.
The tables in the article now are all updated to reflect the corrected figures. My sincerest apologies to the readers for this error. I appreciate your patience.
Finally, a note to reader paho312 who astutely pointed out my error. I would much prefer the embarrassment of recognizing and correcting the mistake than to have had it continue the way it was. Thank you for bringing it to my attention.]
Disclosure: I am long AAPL. I wrote this article myself, and it expresses my own opinions. I am not receiving compensation for it (other than from Seeking Alpha). I have no business relationship with any company whose stock is mentioned in this article.