Wind power companies have been on a roller-coaster ride for a year, but they are attracting attention once again as gas prices march upward and consumers look toward renewable alternatives for investment opportunities and jobs. First Trust Global Wind Energy (NYSEARCA:FAN) and PowerShares Global Wind Energy (NASDAQ:PWND) have responded to the renewed interest, rising 39.73% and 41.92%, respectively, during the three-month period ended June 22. In a June 16 New York Times article, Katie Howell noted that scientists believe that wind power, strategically placed in jet streams, could power up the entire planet. While the push for alternative wind could make both FAN and PWND good holdings for long-haul investors, the funds are different in several key areas.
PWND tracks the NASDAQ OMX Clean Edge® Global Wind Energy Index, which is made up of companies that are primarily manufacturers, developers, distributors, installers and users of energy derived from wind sources. PWND's index is made up of 31 companies, with 33.40% considered large-cap growth, 25% considered mid-cap growth and 30.67% considered small-cap growth. The top three countries represented in PWND are Spain, France and Denmark, with 23.07%, 14.50% and 11.78% allocations, respectively. When it comes to sector allocations, PWND is made up of 43.59% industrials and 42.77% materials. The expense ratio for PWND is 0.75%.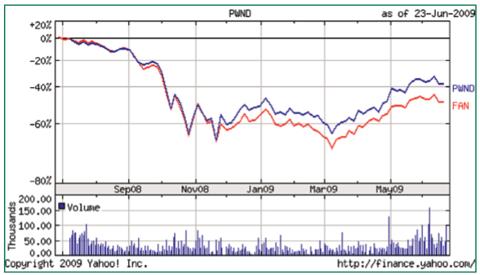 First Trust's FAN charges a slightly lower expense ratio of 0.60% and tracks the ISE Global Wind Energy Index. FAN's methodology acknowledges that many of the companies participating in the wind energy industry have broader businesses for which they may be better known. FAN uses a variation of the cap-weighted strategy and has 57 stocks in the underlying portfolio. According to the fund's website, companies that are strictly in the wind business make up 66.67% of the fund, while companies that count wind power among several large products represent the remaining 33.33% of FAN. While both PWND and FAN have relatively low trading volumes, FAN's three-month average trading volume is double that of PWND's, at 87,000 and 40,000 shares, respectively. Like PWND, FAN divides its assets between industrials and utilities, which have 46.33% and 44.45% allocations, respectively. Spain is the top-weighted country in FAN's portfolio, constituting 26.37% of the assets, while the United States and Germany claim 15.78% and 13.92% stakes, respectively.
FAN's and PWND's top components and the weightings of those components are markedly similar. The top three components in both funds are EDP Renováveis S.A., Vestas Wind Systems (OTCPK:VWDRY) and Iberdrola Renovables S.A. (OTCPK:IBDRY). EDP Renováveis recently made headlines stateside as its subsidiary Horizon Wind Energy sold wind-farm power to electric utility AmerenUE. This is a first for an electric utility company, and EDP Renováveis' Houston-based Horizon could power up to 26,000 households as a result of the contract. Europe-based Vestas has had a hand in building many wind fields across the globe as the world's largest producer of large wind turbines.
Iberdrola Renovables, based in Madrid, Spain, has tapped Citi (NYSE:C) to be the depositary bank for a new U.S. ADR program, allowing U.S. investors greater access to the wind giant. While non-sponsored ADRs already exist, these new sponsored receipts will help tie Iberdrola to an important U.S. marketplace. According to Reuters, Iberdrola Renovables has invested 2.2 billion euros in the U.S. since 2006.
High-altitude wind power and the transmission of that power may still be years away, but the potential of this kind of alternative energy will provide for a good long-term investment for individuals willing to sit tight in the meantime. Warren Buffett's Berkshire Hathaway (NYSE:BRK.A) recently joined the wind power fray with an investment in MidAmerican Energy (MDPWK). Both PWND and FAN have solid allocation strategies, but FAN may currently be the more solid of the two, based on volume and fees alone. As scientists develop the technology that will allow for a large-scale transmission system or wind power storage system, investors can bet on more resources, both public and private, being dedicated to this type of clean energy.