This is the beginning of a short series of articles that will compare the risk profiles for the 25 business development companies ("BDCs') recently covered in my "The Good, The Bad, And The Maybe" series. When evaluating BDCs I focus on five general criteria: profitability, risk, payout, analyst opinions and valuation. When assessing risk relative to other BCDs I take into account many factors including: portfolio credit quality, investment asset classes, diversification, non-accrual rates, portfolio yield, fixed/variable rate loans, leverage, volatility ratios, market capitalization, insider ownership and trends, institutional ownership and trends, and management/operational history. I will cover each of these areas as well as the other factors I use to rank the risk profiles for each BDC. Below are the current risk rankings for each BDC and for the most recent overall rankings see "Latest BDC Rankings For Q1 2013."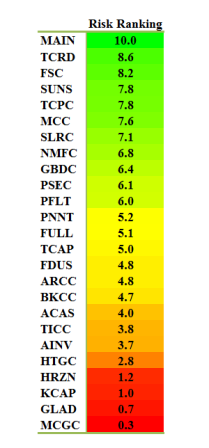 Asset Classes and Non-Accruals
BDCs invest in a variety of asset types to maximize return on investment while trying to minimize risk. Investments range from safer senior secured loans such term loans and revolvers to riskier subordinated unsecured loans or even riskier, preferred or common equity and warrants. Some BDCs invest in collateralized loan obligation ("CLO") securities, collateralized debt obligation ("CDO") securities and commercial mortgage backed securities ("CMBS"). In a previous article I discussed some potential issues with these types of investments including potentially riskier and less transparent than direct investments in portfolio companies, repayment priority of more senior debt holders, thinly traded, not listed on traditional exchanges, making them less liquid, difficult to value and more volatile. Some BDCs that invest in CLO type vehicles are KCAP Financial (NASDAQ:KCAP) with 22% of its portfolio, TICC Capital (TICC) at 29%, Prospect Capital (NASDAQ:PSEC) at 17%, and American Capital (NASDAQ:ACAS) with 4%. The following chart shows the different investing philosophies for PennantPark Floating Rate Capital (NASDAQ:PFLT) and PennantPark Investment Corporation (NASDAQ:PNNT).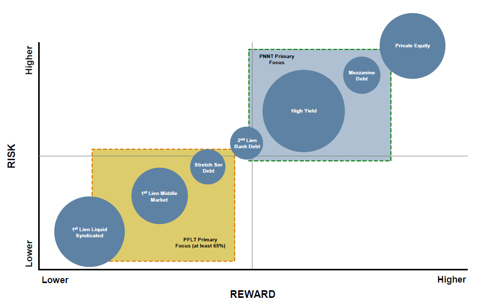 Standard language in BDC financial statements describe the non-accrual process as: "Loans are generally placed on non-accrual status when principal or interest payments are past due 30 days or more or when there is reasonable doubt that principal or interest will be collected in full. Accrued and unpaid interest is generally reversed when a loan is placed on non-accrual status. Interest payments received on non-accrual loans may be recognized as income or applied to principal depending upon management's judgment regarding collectability. Non-accrual loans are restored to accrual status when past due principal and interest is paid and, in management's judgment, are likely to remain current."
The chart below compares the asset class mix of each BDC and non-accrual rates as a percentage of portfolio fair value. Having a safer blend of assets does not always correlate to lower non-accrual rates. For example Solar Senior Capital (NASDAQ:SUNS) and Horizon Technology Finance (NASDAQ:HRZN) are mostly invested in senior debt but have non-accrual rates higher than most while BDCs such as Solar Capital (NASDAQ:SLRC), Triangle Capital (NYSE:TCAP), and Fidus Investment (NASDAQ:FDUS) have smaller amounts of senior debt but have maintained very low or no non-accruals. ACAS is clearly an outlier with a majority of investments in equity rather than income producing debt. The true test of risk for each portfolio would be valuations during down markets or the performance of portfolio companies during an economic slowdown.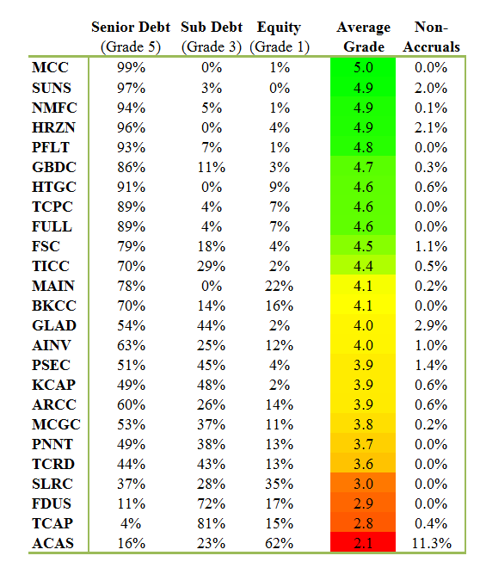 Portfolio asset class mix and non-accrual rates are just two of the many considerations when evaluating risk for BDCs and I will try to cover the basics in the remainder of this series.
For more information about BDCs and how I evaluate them, please see this article.
Disclosure: I am long PFLT. I wrote this article myself, and it expresses my own opinions. I am not receiving compensation for it (other than from Seeking Alpha). I have no business relationship with any company whose stock is mentioned in this article.