Apollo Residential Mortgage Inc. (NYSE:AMTG) is a REIT that invests in, finances, and manages RMBS, residential mortgage loans, and other residential mortgage assets throughout the U.S. The company is externally managed and advised by ARM Manager LLC, which is an indirect subsidiary of Apollo Global Management LLC (NYSE:APO) -- a leading global alternative investment manager. AMTG is a new public company with an IPO date of July 21, 2011. Hence, the best way of evaluating its performance may be to compare it to its peers.
For Q1 2013, AMTG reported operating earnings of $19.1 million ($0.74 per common share). This was down from the $0.78 per common share in operating earnings in Q1 2012. It reported net income allocable to common shares of $1.8 million ($0.07 per common share). This was down dramatically from its $20.0 million in net income ($1.95 per common share) earned in Q1 2012. Its RMBS and securitized mortgage loan portfolio had a 2.8% blended net interest spread and a 17.8% levered asset yield as of March 31, 2013. It declared a $0.70 per common share quarterly dividend. This amounted to an annualized dividend rate of 13.4% at AMTG's $20.85 per share stock price at the close on May 21, 2013.
In a few other highlights, AMTG completed a public offering of 7,820,000 shares of common stock at $22.00 per share in March 2013. It raised $171.5 million in net proceeds from the offering. AMTG realized net gains of $15.8 million (or $0.61 per common share) from the sale of $589.5 million of RMBS during Q1 2013. AMTG suffered a loss in book value from a book value of $22.49 per common share as of December 31, 2012 to $21.72 as of March 31, 2013 (a loss of -$0.77 per common share or -3.42%). This last one sounds terrible, until you compare it to book value losses by peer mortgage REIT companies. The table below gives some figures for comparable companies.
| | | |
| --- | --- | --- |
| Stock | Book Value Loss in Q1 2013 | Percentage BV Loss in Q1 2013 |
| AMTG | -$0.77 | -3.42% |
| Two Harbors Investment Corp. (NYSE:TWO) | | -3.03% |
| Western Asset Mortgage Capital Corp. (NYSE:WMC) | | -10.38% |
| American Capital Agency Corp. (NASDAQ:AGNC) | | -8.57% |
These companies all invest in relatively low CPR (constant prepayment rate) Agency RMBS. This means they all suffered from some of the "specialness" premium loss as mortgage rates rose (net interest spreads rose) in Q1 2013. They also suffered from premium losses on their Agency RMBS more straightforwardly due to the mortgage rate rise. Yet two of these companies had only minor book value losses, while the other two had book value losses several times as large. The main difference in the companies is that AMTG and TWO might be described most accurately as "hybrid" mortgage REITs, whereas WMC and AGNC might be described as Agency RMBS REITs (although WMC seems to be shifting quickly to the hybrid model).
AGNC, with a current dividend of 17.5%, and WMC with a current dividend of 19.1%, have currently higher dividends than TWO at 11.1% and AMTG at 13.4%. However, one wonders how long that can last if rising interest rates cause similar book value losses in the future. Perhaps Q1 2013 was a wakeup call for WMC and AGNC especially. In fact, WMC seems to be moving quickly to a hybrid model. If it does this successfully, it seems likely that its dividend yield will fall to a yield closer to the 13.4% yield of AMTG.
This makes AMTG a leader. It is already an experienced hybrid mortgage REIT, which seems to be the more stable model for the eventual rising interest rate market. We are, after all, at historically low interest levels and historically low mortgage rates. These will go up as the economy eventually improves. On top of this AMTG is branching out into new areas such as the loan securitization it completed in Q1 2013. This RMBS securitized mortgage loan portfolio had a 2.8% blended net interest spread and a 17.8% levered asset yield as of March 31, 2013. AMTG doesn't seem to be having much luck finding further opportunities of this kind with quite such a high yield. However, it can find opportunities of the same kind with a slightly lower yields. Plus, it is looking at other opportunities. AMTG is not only less risky in the improving US housing market with rising interest rates soon; it is a step ahead of companies following in its wake. It is moving into new markets now, where other companies have not even begun to consider such actions. Admittedly, TWO, another hybrid mortgage REIT, is pursuing new income avenues too. However, TWO's dividend yield of 11.1% is significantly below AMTG's yield of 13.4%.
The following pie chart describes AMTG's portfolio allocation as of March 31, 2013.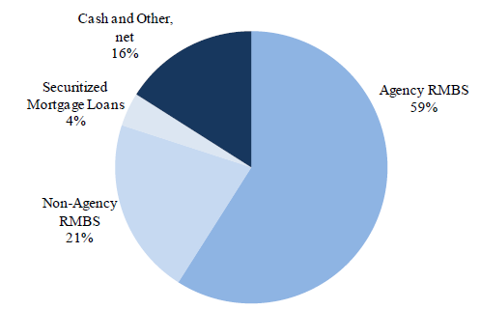 To fill in the information in this chart a bit, AMTG has $4.3B in Agency RMBS at an average cost basis of approximately 107%. These have good upside in the event an economic recovery is delayed. It has $595.8 million in Non-Agency RMBS at an average cost basis of approximately 69%. These have good upside in the event of an economic and housing recovery.
The table below shows AMTG's leverage and yields on its various assets.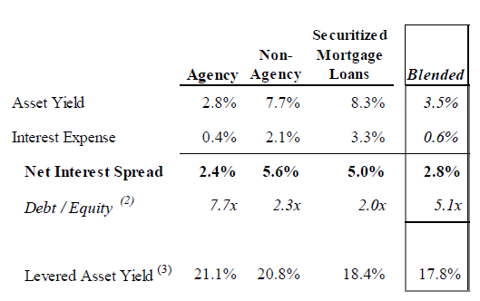 Investors should note that the Debt/Equity ratio for AMTG's Non-Agency RMBS is 2.3x. This is higher than the leverage many other mortgage REITs employ when investing in Non-Agency RMBS. It means there may be a higher than normal risk associated with these investments. One might easily argue that the improving housing market justifies this higher leverage. However, there are many who believe the US housing market is quickly forming another bubble. If they are close to being correct, this higher than normal leverage may be a high risk proposition; and investors should be aware of it.
On the other hand, the Fed is strongly backing the US housing market, and it gives every indication that it will continue to do so. It wants to keep the banks healthy by its QE policies too. The old adage, "don't fight the Fed", would be considered apt by most investors for this situation. This means that AMTG is a leader in its leverage use too. It means that AMTG is a buy.
The two year chart of AMTG provides some technical direction for this trade.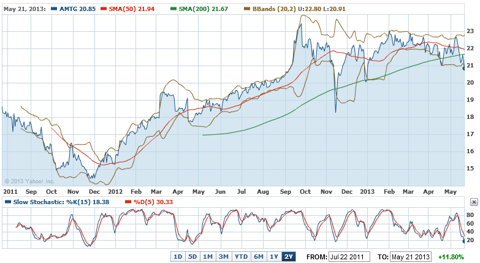 The slow stochastic sub chart shows that AMTG is very near oversold levels. The main chart shows that AMTG is near the level of its lower Bollinger Band (oversold). The 50-day SMA is above the 200-day SMA. This indicates that AMTG is still in a long term uptrend. AMTG's price line is below both its 50-day SMA and its 200-day SMA. These are both sell signals. However, AMTG has stated that it has already recovered two thirds to three quarters of its Q1 2013 book value losses in early Q2 2013. This means its book value is now approximately $22.25. In other words, AMTG at a closing price May 21, 2013 of $20.85 is trading at an approximate 6.7% discount to book value. Often mortgage REITs with their high dividend yields trade at a slight premium to book value. AMTG is both a leader and a bargain.
The only caveat is that the overall market is far overbought. Many people are expecting it to pull back by as much as 10% to 15% in the near term. Some are expecting it to pull back much further as the trouble in the EU worsens dramatically in the near future. If this happens, AMTG will likely fall with the market, even if it is already a bargain. Investors may choose to wait to buy it or they may wish to use an averaging in strategy (perhaps over the full year). This strategy should ensure an overall good entry price.
NOTE: Some of the fundamental financial data above is from Yahoo Finance.
Good Luck Trading.
Disclosure: I have no positions in any stocks mentioned, but may initiate a long position in AMTG over the next 72 hours. I wrote this article myself, and it expresses my own opinions. I am not receiving compensation for it (other than from Seeking Alpha). I have no business relationship with any company whose stock is mentioned in this article.