Investors who utilize closed-end funds (CEFs) regularly in their portfolio strategy can identify with the inefficient nature of the day-to-day price swings in the marketplace. In the past, opportunities that I thought would be short-lived have often dragged on for weeks or months as the market ultimately synced up with my thesis that the fund was undervalued. CEF investors need to understand the nonsensical nature of this style of investing before they can truly identify and benefit from price dislocations when they materialize. The purpose of this article is to share some of my experiences and observations running a CEF portfolio.
Better late than never?
Not exactly. When it comes to buying or selling positions in my firm's CEF strategy, I subscribe to the notion that I would rather be a few minutes early than a minute too late. Think about it this way - if I have a fund on my watchlist that has reached its entry target for new money, I'm going to stick to my plan and begin my purchases. Even if the price continues lower in the short run, I always fall back on my fundamental research, and take confidence in knowing that my thesis will eventually play out in the ensuing market environment.
Conversely, If I own a position trading at a historically stretched premium to its NAV, I simply begin my sales. Although the fund may not present any other evidence that the uptrend is going to change, I have all the reason I need to cast aside that position to reduce my risk. Investments can be held for many different reasons, but following a basic strategy like this can enhance your returns and keep you out of trouble when valuations get over extended. Changes happen abruptly in the CEF environment, so be prepared and stick to your plan.
A recent example of a position that I discussed in part 1 of my three part series, The Leveraged Income and Alpha Strategy, is the DoubleLine Opportunistic Credit Fund (NYSE:DBL). Over the last week the premium has extended to roughly 11.5%, near its 52-week high, which are levels that no longer look attractive to me based on the current mix of securities within its portfolio. In my opinion, the NAV performance will not close the gap on the price performance in a reasonable amount of time, in fact, the opposite will likely happen. In the back on my mind I know the fund could go to a 15% premium. However, at these levels the price can easily revert to its historical norm at 8% or lower. I like better odds in my risk-to-reward framework than DBL is offering right now, so it has been a position that I have been reducing exposure to. CEF investors should be diligent, since monitoring the funds you own is just as important as monitoring the funds you don't.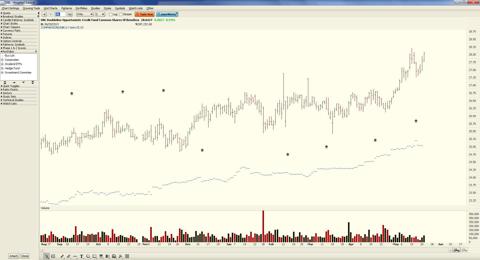 Have a steady hand
In the recent market environment, interest rate and equity volatility have been low for an extended period of time. This has made a CEF investor's job relatively easy as both NAV and price levels haven't been changing erratically. Savor this period of time, because it wont last forever, and the follow-on events is where the true alpha opportunities can be captured.
Once the proverbial stampede starts to run, I recommend you head in the other direction. I've seen single days when darlings of the CEF investment landscape are down 5, 10 or even 15%. It's not out of the ordinary for fixed-income CEFs to get beaten down badly when the equity markets are falling. I guess you could chalk that one up to the commonality of a three digit ticker?
Use these nonsensical days as opportunities to buy, not sell, and spread your risk by taking small nibbles as fund premiums collapse or discounts deepen. Strive to be the investor who holds positions with a steady hand, and not the one that is shook loose by volatility. Turn the table and use volatility to your advantage, no matter how psychologically taxing it can be.
In addition, a tenet that has served me well in CEF investing is always have some excess cash on hand, since funds can get bamboozled out of nowhere for many different reasons. An example of a fund I purchased late last year was the Guggenheim Strategic Opportunities Fund (NYSE:GOF). On November 14th the fund had a one day spike down of over 6% which brought its NAV and premium in line. I viewed this as a great place to add because I already had a position established, so I knew the details of the fund were sound. I used the dip to double my holding based on the fund's historical price vs. NAV, and the simple fact that it had exhibited similar behavior in the past. It was obvious to me that many individual investors were more than likely getting stopped out at an inopportune time.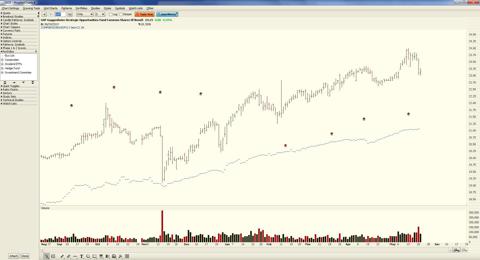 Which leads me to another tenet that has served me well - a sound risk management plan, but not identical to the approach I would apply to traditional stock and bond investments. In CEF investing I have found that hard stops can often get in the way of riding out a very temporary setback. In addition, due to liquidity constraints, selling when everyone else is allows a market maker to give you an awful price for your shares. A human being is the only thing that can trade CEFs at our firm, that way we are able to evaluate the situation in real time and not get caught up in a selling frenzy. If you can't commit the time necessary to monitor all your positions daily, it might be an indication you have too many, or that you need some help with your portfolio.
Too much of a good thing
Novice investors that are making their way into the intricacies of CEF investing are more often than not hypnotized by a fund's stated yield. I cannot stress enough how big a mistake this is. At the very least a comparison should be made to the underlying portfolio's yield to evaluate if the fund is relying on capital appreciation for compensation and just merely returning capital to its shareholders. Furthermore, I think that investors should dive into the semi-annual and annual shareholder reports to garner additional information on the investments they are allocating their hard earned dollars to. I even pointed out the methodology that I use to evaluate the attractiveness of a fund in part 1 and part 2 of my series.
There is no denying that with the right strategy, research and implementation, CEFs can be a great compliment to any portfolio. For new investors, the key to intermingling the three together into a cohesive workable plan is learning from the mistakes of others so that you don't replicate something so easily avoidable.
Disclosure: I am long DBL, GOF. I wrote this article myself, and it expresses my own opinions. I am not receiving compensation for it (other than from Seeking Alpha). I have no business relationship with any company whose stock is mentioned in this article.
Additional disclosure: Fabian Capital Management, and/or its clients may hold positions in the ETFs or mutual funds mentioned above. The commentary does not constitute individualized investment advice. The opinions offered herein are not personalized recommendations to buy, sell or hold securities.