Electronic prescriptions, or e-prescriptions, accounted for just 6% of all drug prescriptions written in 2008. By 2010, that number had grown to approximately 25%, equal to roughly 326 million prescriptions. E-prescriptions are expected to be at the top of the list in terms of growth of all electronic health applications (the broader healthcare IT market is forecast to grow at a CAGR of 11% through at least 2015), and according to some estimates could account for over 90% of all drug prescriptions in just the next few years.
Fueled by recent healthcare reform legislation, the rapid growth in healthcare information technology has created new markets, facilitated growth of others and sprouted a slew of novel technologies and new companies. Allscripts (NASDAQ:MDRX), the largest electronic prescribing provider with almost 100,000 U.S. physicians using their service, is expected to be a direct beneficiary, as are the handful of other major e-prescribers and complementary service providers. OptimizeRx Corporation (OTCQB:OPRX) is one such complementary service that hopes to capitalize on the swift trend towards e-prescriptions, largely through partnerships with these major e-prescribers and agreements with large drug manufacturers.
OptimizeRx's SampleMD software, which can be integrated into these major e-prescription systems, allows physicians to seamlessly provide drug manufacturer vouchers (i.e., coupons) simultaneously with an electronic prescription. In addition to the major e-prescription providers, OptimizeRx is also targeting large healthcare systems (i.e., multi-hospital/clinic systems) for integration of SampleMD into their respective electronic medical records systems. OptimizeRx generates revenue from drug manufacturers every time a physician prints a respective manufacturer's voucher.
SampleMD may be a win-win for all participating stakeholders. Drug companies' sales representatives are increasingly being shut out of face-time with physicians (especially in closed hospital networks), reducing the opportunity for conventional "sampling" (i.e., providing free drug samples, drug reps' ace in the hole) and, as a result, severely weakening Big Pharma's marketing muscle. SampleMD, essentially allows drug companies to continue to sample (i.e., a coupon in lieu of a physical sample) to physicians without the rep face-time -- the cost of SampleMD can also be significantly less than conventional sampling, an added bonus for drug companies. The patient benefits from prescription cost savings when they redeem the vouchers at their pharmacy. SampleMD gives e-prescribers (i.e., Allscripts, et al.) a high-margin source of revenue with the added kicker of an enhancement to their product. And finally, hospitals and physician practices benefit with SampleMD as a result of helping patients lower their out-of-pocket healthcare costs without the time, hassle and expense associated with their physicians heeding drug reps' sales calls.
OptimizeRx recently entered into agreements with Allscripts, NewCrop, Dr. First, and Physicians' Desk Reference as distribution platforms.
SampleMD
OptimizeRx's proprietary SampleMD software can be delivered either via the desktop or integrated directly into electronic medical records systems (including, but not limited to, ePrescription services such as Allscripts. SampleMD allows prescribers to access a universe of sample vouchers and prescription co-pay coupons. It can be seamlessly integrated into the physician's workflow, allowing doctors to search and print discount vouchers during the routine electronic prescription-writing process. For ePrescribers, when a prescription is entered, SampleMD automatically notifies the prescriber if a voucher or co-pay coupon is available for that particular prescription. The voucher/coupon is printed and given to the patient to redeem at the pharmacy. For ePrescriptions, SampleMD also electronically notifies the pharmacy so the pharmacist is aware that the patient will be redeeming a voucher
OptimizeRx Agreements With Drug Manufacturers
OptimizeRx most recently reported that it had agreements with twenty pharmaceutical companies and manufacturers to provide access to their drug vouchers/coupons through SampleMD. This includes, among others, Bristol-Myers (NYSE:BMY), Abbott (NYSE:ABT), Eli Lilly and Co (NYSE:LLY) Roche, Pfizer (NYSE:PFE). SampleMD provides drug companies a relatively low-cost two-way (i.e. - targeted marketing along with redemption metrics) marketing channel that is not affected by restrictions put in place by many healthcare systems prohibiting drug sales reps from sampling to their physicians.
SampleMD also allows for a much more targeted marketing approach. Drug companies have the ability to promote certain drugs in certain regions during specific periods and can get timely feedback on voucher/coupon print/redemption rates for each promoted drug. Similar to grocery store membership discount cards, this allows the manufacturer to gain potentially valuable metrics, which can then be used to tailor their marketing, distribution and manufacturing programs. This is in contrast to conventional sampling where free drug samples are left with the physician with no feedback relative to whether the samples were given to a patient, left to expire in the physicians' sample cabinet or if they actually facilitated a prescription purchase.
Agreements with these drug companies currently cover only a limited number (~50-75) of drugs, although OptimizeRx expects both the number of manufacturers as well as the number of covered drugs to continue to expand. When a physician prints a voucher/coupon for one of the drugs covered by these agreements, the respective manufacturer pays OptimizeRx $4-$5 (OPRX passes along a revenue-share cut to their distribution platform partners). The manufacturers also pay OptimizeRx a one-time set-up, installation and training fee (~ $25,000) when SampleMD is installed in a prescriber's office/clinic. Early revenue has mostly come from these set-up fees, while recently this has shifted towards distributions (prints). Distributions are expected to be the driver of sales over the long term.
OptimizeRx Agreements With ePrescribers
SampleMD is already installed in ePrescription systems of Allscripts, NewCrop and Dr. First, which provides a potential reach to over 200,000 prescribers. Allscripts alone serves about 100,000 prescribers and holds approximately 55% market share of the ePrescription market. OptimizeRx also recently expanded their distribution with an agreement with Physicians' Desk Reference, whereby SampleMD will be incorporated into a PDR-branded downloadable application in physicians' offices. PDR has a significant user base and expands OPRX potential distribution by an additional 100k physicians. OPRX also recently began integration of SampleMD with HealthTronics, the largest urology EMR in the U.S., which touches over 2,200 physicians. OPRX notes that this partnership could be key for certain of their current promoted drugs including Cialis and Vesicare and in acquiring other brands for promotion through their system, which have a large urology prescription base. OPRX beta-launched the HealthTronics platform in mid-May with a small group of doctors - we expect this to continue rolling out over the next few quarters. Management noted on the Q1 2013 call that they expect to be able to announce some major urology-related drugs which will be promoted through the HealthTronics network as well as their other distribution channels, which in total should touch about 8,000 urologists.
SampleMD Addresses Changes in Marketing and Prescribing
From 1999 to 2009 the number of prescriptions purchased in the U.S. rose by 39% -- while much of this growth has been driven by an influx of generic competition as a result of patent expirations of branded drugs, there's no sign that growth in the overall number of prescriptions written and filled will significantly decline. And despite recent slightly slower growth in spending on prescription drugs due to the weak economy and lower priced generics accounting for an ever larger portion of total prescriptions (~80% are now generics), branded pharmaceuticals will remain a humongous market for the foreseeable future. Annual domestic spending on brand name prescription drugs, which pharmaceutical companies spend billions of dollars to market/sell/advertise and OptimizeRx's target market area (as opposed to generic drugs), is in the multi-$100 billions.
And while branded drugs will continue to be a huge industry, according to healthcare analytics company, IMS Health, spending on branded drugs will remain flat from 2010 to 2015 (this, again due to generics). Big Pharma has been scrambling to implement strategies to try and offset the threat that generics pose to their profitability. Accused by some in the recent past as more marketing/advertising firms than drug development companies, major pharmaceutical companies have begun to scrutinize sales/marketing budgets and practices to help appease Wall Street and stave off falling earnings.
OptimizeRx hopes to capitalize Big Pharma's quest for more efficient and lower cost marketing methods along with the major transformation in healthcare delivery / management, which has just recently begun. OptimizeRx is looking to hitch a ride on the rapid growth in novel services such as ePrescriptions and electronic medical records, which is being fueled by efficiency initiatives, the quest for better / safer patient care and federal legislation aimed at improved record keeping and curbing skyrocketing healthcare costs.
e-Prescription Growth
ePrescribing growth has been rampant over the last decade. While demand for better and safer patient care is partially responsible, another major catalyst to this growth has to do with healthcare economics. Relative to patient care, ePrescribing can reduce medication errors (studies have shown ~40% of paper prescriptions contain errors versus only 7% of ePrescriptions) and reduce out-of-pocket costs by providing information to providers/pharmacies about formulary coverage, co-pay information and available medication discounts/coupons/vouchers. On the economics front, providers benefit from greater operational efficiencies afforded with ePrescribing as well as government incentives. Federal incentives provided under the Health Information Technology for Economic and Clinical Health (HITECH) Act and Centers for Medicare and Medicaid Services (CMS) Medicare Improvements for Patients and Providers Act (MIPPA) should help to continue to drive further adoption of ePrescribing. Under these acts, providers can receive incentive payouts for adopting and using ePrescribing for Medicaid / Medicare related prescriptions.
According to Surescripts, which was founded by the pharmacy industry and operates the largest U.S. health information network (including the largest ePrescription network, of which Allscripts is a member), ePrescribing was used by just 0.4% (~2,500) of all office-based prescribers in 2004 -- this grew to 34% (~234k) in 2010. 25% of prescriptions were transmitted electronically by the end of 2010. For the last several years Surescripts has published an annual report on the status of the adoption of electronic prescribing called The National Progress Report on E-Prescribing and Interoperable Healthcare.
Some highlights of Surescripts' 2010 edition of the report include the following:
The number of prescribers routing prescriptions electronically grew from 156k at the end of 2009 to 234k by the end of 2010, representing approximately 34% of all office-based prescribers
Prescriptions routed electronically grew 72% from 191 million in 2009 to 326 million in 2010
One in four prescriptions was delivered electronically at the end of 2010, up from just one in 18 prescriptions at the end of 2008
20% of eligible prescriptions were sent electronically in 2010 compared to just 12% in 2009. By December 2010, 25% of eligible prescriptions were being sent electronically
Electronic responses to requests for prescription benefit information grew 125% from 188 million in 2009 to 423 million in 2010
Federal legislation including programs incentivizing the adoption and use of EMR's and ePrescriptions has been a major force driving ePrescription growth
U.S. DEA had previously forbid prescriptions for controlled medications (such as opioids) to be routed electronically. In 2010 the DEA softened its stance and there is now a pathway in place where controlled substances can be prescribed electronically. This will also facilitate continued growth of ePrescribing
Healthcare reform including the Protection and Affordable Care (PPAC) Act will help fuel future growth. This includes an estimated 30 million additional lives that will be covered under insurance over time
Significant growth was seen between 2008 and 2010 in the adoption and use of three critical services that enable the ePrescribing process; prescription benefit (i.e., options to help lower patient prescription cost), medication history and prescription routing
Dr. Steve B. Miller, member of Surescripts' board of directors and Senior V.P. and Chief Medical Officer of Express Scripts, notes in the report that, "For what appears to be a compelling case (safer, more affordable and more convenient), the initial uptake (of ePrescriptions) was much slower than originally anticipated. However, the growth in the last two years has been astonishing. We have reached the proverbial tipping point."
ePrescriptions Have Experienced Rampant Recent Growth
Click to enlarge images.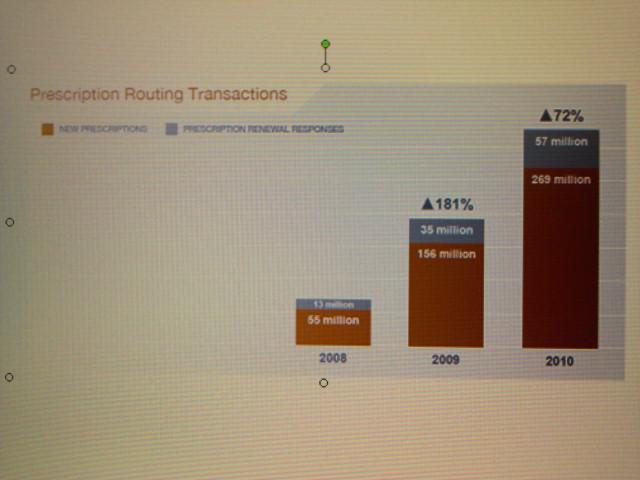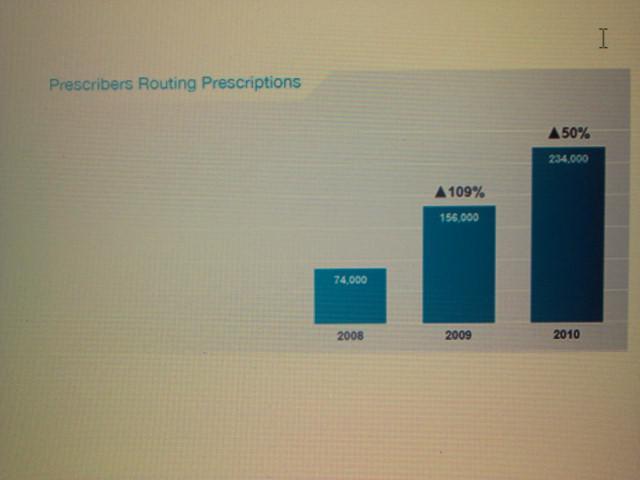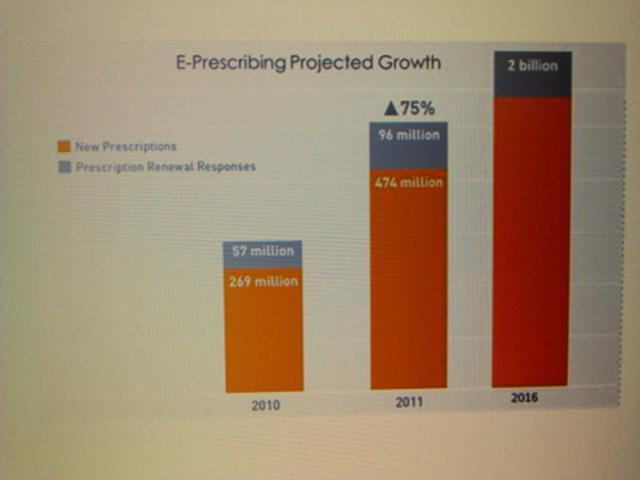 Source: Surescripts -- "The National Progress Report on E-Prescribing and Interoperable Healthcare, 2010."
Drug Marketing/Advertising
Pharmaceutical companies use two major forms of advertising: direct-to-consumer (DTC) and office promotion. DTC channels include television commercials and print ads in magazines, both of which are primarily aimed at the patient. Office promotion is handled by drug company sales representatives whose job it is to meet with physicians and promote the benefits of their company's particular drugs. Pharmaceutical reps' favored schwag (recent industry regulations have largely barred certain promotional items such as pens, mugs, etc) are free drug samples. Despite studies which have shown that investments in both DTC and office promotion suffer significantly from the laws of diminishing returns, especially when it comes to influencing patient or physician preference for one brand of drug over another, pharmaceutical companies have continued to spend exorbitantly on both.
The true cost to pharmaceutical companies related to drug promotion is a hotly debated subject. According IMS Health data, promotional spending in 2010 was $4.1B for DTC and $6.1B for professional (95% of which is related to office promotion). Other sources contend a more realistic total estimate is $40B-$60B. What is not debated, however, is that, no matter the actual figure, drug promotion is expensive for pharmaceutical companies -- and may not be overly efficient from an ROI perspective. In fact, according to IMS Health data, promotional spending has fallen every year since 2006 (see chart below) -- a signal that Big Pharma has been chasing lost revenue from generic competition with budget cuts to marketing / advertising.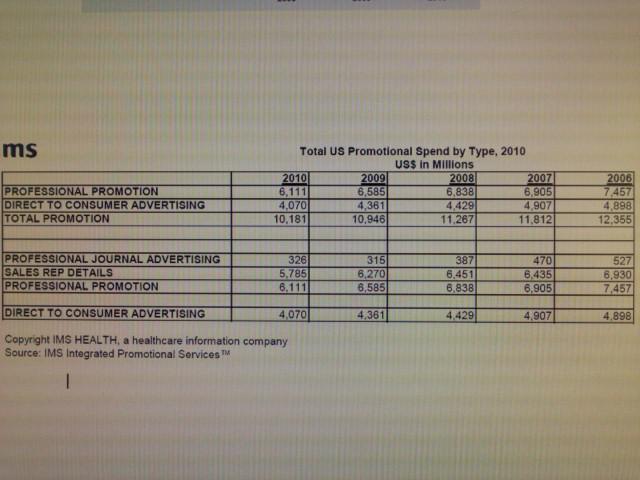 Source: IMS Integrated Promotional Services.
A study by Tufts University titled The Tufts Center for the Study of Drug Development found that only 13% of physicians considered information from pharmaceutical companies "very important" in influencing their prescribing decisions. Results of a survey by KRC Research titled Survey of Physicians' Opinions About Pharmaceutical and Biotech Research Company Activities and Information supported the Tufts findings and indicated just 11% of physicians are greatly influenced by drug reps' information when it comes to prescribing decisions. By contrast, the most important factors cited were the physicians' own knowledge and experience (92%) and the patients' unique situation (88%).
Although physicians apparently do not find the information provided by the drug reps to be overly useful, the KRC study did find that doctors welcomed the free samples as they allowed patients to try a medicine before filling a prescription and helped make medicine more affordable for financially strapped patients. An implication that can be drawn from this is that pharmaceutical companies may be better off just providing the samples (or coupons for samples) instead of paying for the additional cost of having their sales reps meet with physicians.
This may be especially true when considering the high costs pharmaceutical companies incur supporting a sales force, coupled with the fact that many reps even fail to get in front of doctors to pitch their drugs. Part of the reason is that many healthcare practices have recently shut out drug reps from visiting with their doctors. While other practices do not have a specific policy against drug rep visits, this still does not necessarily mean doctors are always willing to see them. A report from McKinsey & Company titled Making More of Pharma's Sales Force theorizes that drug reps' physician office promotion, while effective in the past, has become significantly less so. The authors cite several factors to support their conclusion including the increasing difficulty reps have in getting to see doctors. Their study found that "a rep gets an opportunity to speak with a physician in only one out of five office visits - and then for less than two minutes." Part of the reason, McKinsey reports, is that "physicians feel besieged" by drug reps, citing one doctor that said, the situation is "becoming unbearable" and reps "are less knowledgeable, more pushy." As of the date of the report (2002), McKinsey noted that 40% of doctors' offices were limiting the number of reps they admit each day. This figure is probably closer to 75% today (including about 55% that forbid reps altogether). McKinsey concludes that "For pharmaceutical companies, the bottom line is that they now see a diminishing marginal return on every additional sales rep."
Rising Consumer Healthcare Costs
The final piece of the puzzle that SampleMD addresses is rising consumer healthcare costs which, coupled with a tough economy, high unemployment, adverse changes to health insurance benefit plans, and a growing elderly population (which are by far the largest consumers of medicine and generally have modest incomes) has made prescriptions less affordable.
According to a February 2011 report by the U.S. Government Accountability Office (GAO), prescription drug prices increased at an annual rate of between 6% - 7% (depending on the criteria used) from 2006 through the first quarter of 2010, much faster than the rate of inflation or the 3.8% annual increase in the overall medical CPI. Approximately 90% of seniors and 58% of non-elderly adults take prescription medicine on a regular basis. According to a 2009 Kaiser Foundation survey, 12% of seniors forgo prescription medications due to high costs.
A large number of private insurers have already either cut benefits or required their insured to share a greater burden of the cost of healthcare. Private insurance companies and employers have been especially quick to shift more of the cost to the insured when it comes to brand-name drugs. Tiered benefit packages, with higher co-pays for higher priced medication (brand name), have now become commonplace.
Recent Financial Results
OptimizeRx filed their 10-Q for the first quarter ending March 31, 2013, on May 15. Results remain largely in-line with our numbers. Revenue dipped slightly on a sequential basis and was marginally lower than our estimate but, importantly, the theme from management is that coupon distributions are increasing -- even on a short-term comparable basis. OPRX disclosed recent coupon distribution metrics and the trend appears to be very encouraging. While there's still potential for some short-term variability, depending on timing/terms/length of couponing programs by OPRX's various pharma partners, the early numbers along with growth in OPRX's distribution platform suggest revenue could begin to ramp fairly substantially over the near- to mid-term.
Q1 revenue of $669k was up from $329k (+103% yoy) in Q1 2012, down from $751k (-11% sequentially) in Q4 2012 and about $149k (18%) lower than our $818k estimate. OPRX noted that there were 177k coupon distributions in Q1, including 85k in March. We were estimating just better than 200k distributions for Q1 so the actuals are coming in fairly close to our forecasts. Q2 is already off to a strong start as distributions significantly ticked up from March with almost 120k in April alone. Some of these distributions relate to legacy programs, which OPRX does not get paid on -- these legacy distributions accounted for ~25% - 30% of the total Q1 and April distributions. OPRX noted on the call that average revenue per paid distribution is ~$4.00+.
Operating expenses also remain generally in line with our estimates. Op expense should be highly leverageable as revenue increases. Q1 operating expenses were $774k compared to our $705k estimate. Net income and EPS were ($105)k and ($0.01) compared to our $114k and $0.01 estimates. OPRX exited the quarter with $261k in cash and equivalents, roughly flat from the end of Q4. Cash flow from operations was $7k, excluding changes in working capital this was ($57)k.
Our Outlook on OPRX
Revenue was $1.1 million in the full year 2011 and $2.1 million (+84% yoy) in 2012. Set-up fees (as opposed to voucher distributions) have been a meaningful portion of total revenue to-date. The expectation is that sales should significantly ramp with growth in revenue from voucher printing - which should pick as SampleMD's distribution is further expanded, especially as it relates to Allscripts, Dr. First and NewCrop. Initial distribution numbers and related growth that OPRX has provided are encouraging. The additional functionality and integration into new solutions (such as platforms and partnerships with Patient Advisor, HealthTronics, and PDR should also increase awareness, increase value to the end user, increase the physician base and utilization, help to increase the number of drugs promoted, and expand opportunities for further growth.
Sales are being handled by a small internal sales team, which has helped keep operating expenses and cash burn to a minimum. OptimizeRx's cost base is relatively low and largely fixed -- this, coupled with what we model to be quickly ramping revenue, means profitability could materialize in short order.
Revenue
OPRX charges for set-ups (we estimate $25k each) and every time a coupon is distributed (printed or sent electronically -- about $4-$5 each). We forecast significant revenue growth and currently model 2015 revenue of ~$15MM. Given the massive scalability of OPRX's business model, we think they can generate meaningful positive net income in the current year.
Our revenue model is based on certain assumptions including the rate of growth in the number of subscribers using SampleMD, the number of drugs promoted through SampleMD and their respective aggregate prescription volumes, and the number of voucher prints per physician. OPRX also expects to charge about $1k per month to drug manufacturers who want to see utilization data such as coupon prints and redemption metrics -- we currently do not factor this into our model as we do not expect this to be a significant source of revenue. As SampleMD is still very much on the front of its rollout, there is little to anchor on relative to any of these metrics, which presents significant challenges in forecasting revenue.
Relative to the drugs that are being promoted through SampleMD, as OptimizeRx has not disclosed the names of these drugs, it is impossible to comfortably gauge related prescription volumes (i.e., we do not know how if these are top-20 drugs or top-200 drugs). This makes it that much more difficult to forecast potential physician coupon print volumes -- revenue from which is expected to account for the majority of net sales over the longer-term (we model it to account for almost 100% of revenue by 2014). And even if we did know which particular drugs were being promoted, until there's some available historical information related to print and redemption rates, revenue forecasting will be tricky.
The major inputs to our model along with our assumptions are:
SampleMD Users (i.e. - prescribers): This stood at about 20k in late 2011. We look for this to grow to about 110k by year-end 2014.
Drugs Promoted: This stood at about 46 drugs in late 2011. We model 95 drugs at the end of 2014. Our model assumes the 100-drug mark is reached around mid-2015.
Voucher Prints Per Physician: This is not only the most difficult to estimate, it is also likely the most influential driver of revenue (given that they have a significant multiplier/leverage effect). This metric could also be highly influenced by the number of drugs promoted and, more importantly, the prescription volumes (i.e., popularity of the drug) of those particular drugs. Our model uses a potentially extremely conservative estimate relative to prints per physician. We assume initially this is only one coupon printed per day for every 50 physicians that have SampleMD. Said another way, if 50 physicians have SampleMD, our model assumes only one coupon is printed among them each day. Even in later years our assumptions remain arguably very conservative. In 2015 we assume 1 coupon is printed per day for every 5.5 physicians. To emphasize how much leverage this metric has in our model, if we assume 1 coupon is printed per day for every four physicians in 2015 (instead of our currently modeled 1 for every 5.5), our estimated 2015 net revenue figure moves from $15MM to $23MM.
Valuation
As the launch of SampleMD, OptimizeRx's flagship product, is still in its infancy, using P/E ratio based on a near-term EPS estimate would unfairly penalize valuation. Instead we think it is more appropriate to use our EPS estimate for 2015, at which time SampleMD should be fully commercialized and OptimizeRx's financials should more accurately reflect the earning power of the company.
As there are no publicly traded direct competitors to OptimizeRx to use for comparable P/E multiples, we think it is appropriate to use the average valuations of a handful of indirect competitors to price OPRX. Our comparable base is represented by MDRX, MDAS, QSII, ATHN and ESRX, all of which operate in the healthcare information technology space and most of which are involved to some extent in ePrescription services or EMR/EHR.
These five companies currently trade at an average of 18.7x analysts' estimated 2015 EPS. Applying this multiple to our 2015 EPS estimate of $0.17 values OptimizeRx at approximately $3.50 per share. We are maintaining our Outperform rating. Our price target is $3.50/share.
Disclosure: I have no positions in any stocks mentioned, and no plans to initiate any positions within the next 72 hours. I wrote this article myself, and it expresses my own opinions. I am not receiving compensation for it (other than from Seeking Alpha). I have no business relationship with any company whose stock is mentioned in this article.
Disclosure: I/we have no positions in any stocks mentioned, and no plans to initiate any positions within the next 72 hours.
Business relationship disclosure: I work as a Consultant Analyst for Zacks Investment Research. The article is written by me and is 100% my opinion. I receive compensation from Zacks for writing equity research reports and providing valuation analysis on this company's stock and expect to do so in the future. Zacks receives compensation from the company. Please see the Zacks Disclaimer for further information: http://scr.zacks.com/Disclaimer/default.aspx