The formerly nimble Apple (NASDAQ:AAPL) continues to generate the idea of lounging on the beach on a permanent vacation, as its dream to reinvent TV may have just received the first signs of a death blow, with Microsoft's (NASDAQ:MSFT) Xbox One taking direct aim at that market, shooting off an effective volley, one which awaits a response from Apple. One we're not likely to see. And if we do see it, it's quickly approaching the time of irrelevancy as the reinvention is already taking place.
Microsoft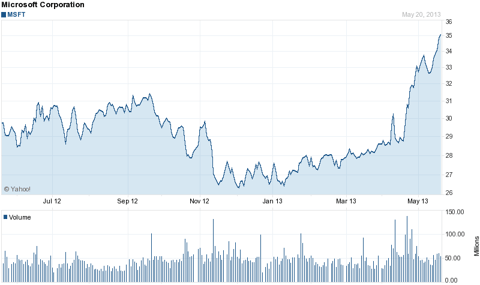 Apple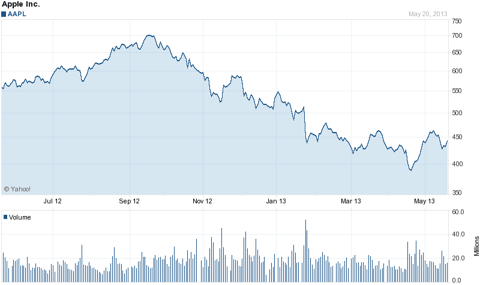 As for competitors in the console field, Nintendo (OTCPK:NTDOY) released its latest entry last November, which has only sold 3.45 million units as of the end of March. That's nowhere near what the company was hoping for.
Sony (NYSE:SNE) has also been actively pointing to the release of its PlayStation 4, although it has yet to reveal what its new console will look like. While including some social features and deeper graphics, so far the response has been mixed, opening the door wide for the Xbox One. If Microsoft is able to deliver big, it'll be a huge move which could put them in the solid lead in integrating gaming, the Internet and TV in a way that blends them into something new.
The lack of sales for Nintendo and somewhat weak response to the Sony suggests consumers have waited to the final entry in the field to be revealed, and so far most people like what they see.
I'm not calling a victory yet for Microsoft, but I think the company has definitely placed itself in the No. 1 position in consoles at this time, and will likely continue its dominance there.
Microsoft and its Reinvention of TV
As to why Microsoft's Xbox One may be a big game changer in TV, it is that it can do things a smart TV can't. Now the contrast for users will be whether or not they want to play the relatively simple smart TV games, which don't have a lot of functionality with the apps, or get the Xbox One and do things not even available with smart TV. I already know that answer to that question.
Is Xbox One a real threat to smart TVs? There is no doubt it is. At this time it's too early to have a funeral for smart TVs, but Microsoft looks like it has hit a home run here, and at this time it's hard to see why people wouldn't use the Xbox One in place of existing smart TV offerings.
Xbox One TV Features
A major feature of the Xbox One is the ability to switch seamlessly almost instantly between TV, the computer, and gaming experience. Microsoft offers that functionality via a totally conversational voice control. You can also run Skype while participating in various functions.
Beyond tech features, a serious contender to the smart TV experience must differentiate with content. To that end Microsoft entered into an exclusive partnership with the NFL, which will include a variety of interactive features which will enhance the TV viewing experience.
Part of the partnership includes the use of Microsoft technology on the sidelines of games, which hints at a possible long-term relationship between the NFL and Microsoft. That's a big advantage over its competitors in the console segment. It also could open up new doors into television for the software giant.
Part of the reinvention of TV will allow Xbox One users to be able to watch games, get highlights in real time, chat, access fantasy data, and view statistics all from one screen. Those wanting a multiple screen experience will be able to use their tablets or phones in a similar way.
As for your cable provider, with the Xbox One you will be able to get a feed of TV channels from it.
Users will also have access to a proprietary TV guide with Xbox One, which allows people to switch between channels using a voice command.
To add a little more interest to the mix, Microsoft announced it has made a deal with Steven Spielberg to create a Halo TV series.
Cloud-based Games and TV Features
So far Microsoft has been coy about the promise of extraordinary cloud-based multiplayer games in the future, which will respond to the specific behavior of gamers.
Microsoft said the game cloud will be powered by over 300,000 servers around the world. It promises interactive TV features with it.
How it All Flows Together
Of course the whole idea of reinventing TV is the interconnectivity between devices, and Xbox One offers that nicely.
For example, all the usual features of a console, such as video recording, playback, and chat will all perform at much smoother level.
Here's an example of how that would work:
"Users can chat on Skype on one side of the TV while watching sports on the other-or switch between videogame, fantasy and live-action football without a second's delay in between. Microsoft says the box accomplishes this by sandwiching three operating systems-one for the gaming console, another based on Windows and a third that ties the two together. That should make it easier for the Xbox to show files on PCs with the help of a new Advance Micro Devices Inc. chip based on the same architecture found in most of the world's computers."
Kinect
Finally, Microsoft has added an improved Kinect to the Xbox One, this one including a high-definition 1080p wide-angle camera and new microphone arrays.
The motion-sensor will now be able to use motions or gestures to control the size you want the screen to be, among other actions.
Also fascinating is the ability to use visual clues to sense the heartbeat of a gamer. It also is asserted the slightest movement of the body will be able to be detected.
Conclusion
There is a lot more offered with the Xbox One than is mentioned in this article, as the major thesis was to show Microsoft has provided a strong entry into the reinvention of TV, and it's one that appears to have the possibility of long-term success.
The rest of the players are going to come from behind in that part of the game, and that will be a real challenge in the near term.
Do people want their television experience reinvented? In many ways, yes. There have been a number of years of testing to confirm this is definitely a direction consumers want to go in. Now it's a matter of whether or not Microsoft has provided the type of console that will bring the desired experience to the masses.
I think they have, and it should be a boost to the company's bottom line.
Going forward, I see the need for Microsoft to land a variety of content deals which will appeal to a wider audience. The NFL deal was a blockbuster, and the right one to start with, as it appeals to the base male user. But there are a lot of content that out there that could be used in a way that makes Microsoft a provider of a truly new TV experience.
Competitors are going to go after similar deals when they see the success of Microsoft, so that's one thing I would watch as it relates to the television side of the Xbox One.
It already has its fan base, and it's unlikely that will diminish in any way. What this does is provide the possibility of a much larger user base which could catapult the company into a lucrative, new revenue stream.
Disclosure: I have no positions in any stocks mentioned, and no plans to initiate any positions within the next 72 hours. I wrote this article myself, and it expresses my own opinions. I am not receiving compensation for it (other than from Seeking Alpha). I have no business relationship with any company whose stock is mentioned in this article.