Securities that have served as yield alternatives to bonds for many investors will likely experience some negative price impact as interest rates rise. Those yield alternative securities with lower leverage may be less impacted than those with high leverage.
Infrastructure master limited partnerships are one of those asset categories that have attracted many yield seekers who might have otherwise purchased bonds.
It could be useful to take leverage into consideration as you select or rearrange your holdings of individual MLPs.
The constituents of the Alerian Infrastructure MLP Index are:
| | |
| --- | --- |
| TCP | TC Pipelines, LP |
| SEP | Spectra Energy Partners, LP |
| SXL | Sunoco Logistics Partners L.P. |
| RGP | Regency Energy Partners LP |
| ACMP | Access Midstream Partners LP |
| BWP | Boardwalk Pipeline Partners, L |
| WES | Western Gas Partners, LP |
| APL | Atlas Pipeline Partners, L.P. |
| NS | NuStar Energy L.P. |
| WPZ | Williams Partners L.P. |
| MWE | Markwest Energy Partners LP |
| PVR | PVR Partners LP |
| OKS | Oneok Partners LP |
| GEL | Genesis Energy, L.P. |
| BPL | Buckeye Partners, L.P. |
| EPD | Enterprise Products Partners L |
| DPM | DCP Midstream Partners, LP |
| NGLS | Targa Resources Partners LP |
| MMP | Magellan Midstream Partners, LP |
| EEP | Enbridge Energy Partners, L.P. |
| KMP | Kinder Morgan Energy Partners |
| PAA | Plains All American Pipeline, |
| EPB | El Paso Pipeline Partners, L.P |
| ETP | Energy Transfer Partners LP |
| TLLP | Tesoro Logistics LP |
This table (with May 22 data) ranks the 25 constituents of the Alerian Infrastructure MLP Index according to the ratio of total liabilities to total assets. It does not address the term structure of the debts, or whether the rates are fixed or variable, but it is a place to begin looking into the leverage and interest rate risk inherent in owning these securities.
The table also provides two (of the many) additional attributes you might also consider: the distribution yield and the enterprise value to EBITDA.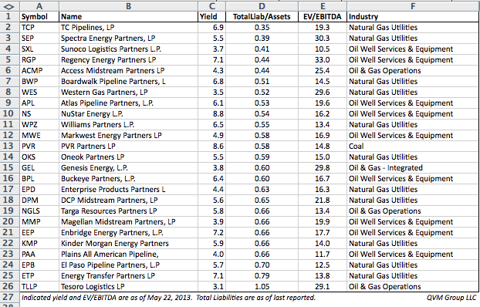 Even though PVR is in the index, we find its coal interests to be a major diversion from the character of the other MLPs.
These charts from YCharts.com show the 1-year percentage change in price for each MLP.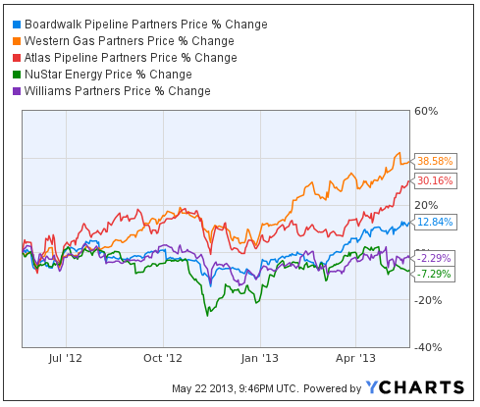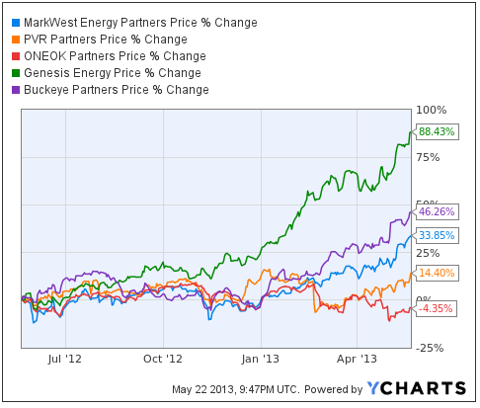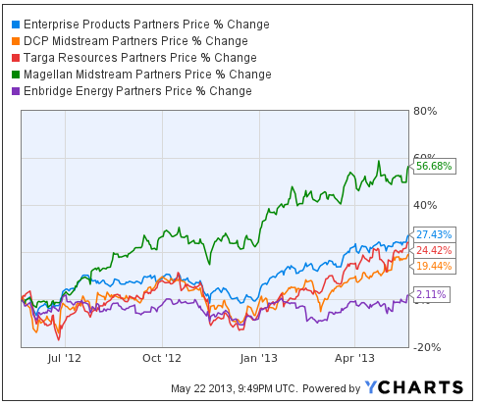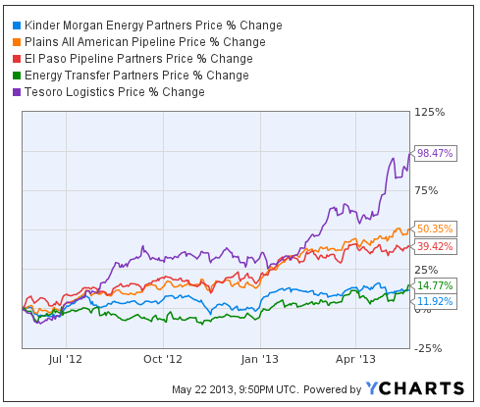 In our own case, we have chosen to invest in MLPs through ETNs and ETFs for a variety of reasons, ranging from tax reporting simplicity, to portfolio simplicity, to mandate restrictions on some tax exempt and tax deferred accounts.
Disclosure: QVM has no positions in any mentioned security as of the creation date of this article (May 22, 2013). We certify that except as cited herein, this is our work product. We received no compensation or other inducement from any party to produce this article, but are compensated retroactively by Seeking Alpha based on readership of this specific article.
General Disclaimer: This article provides opinions and information, but does not contain recommendations or personal investment advice to any specific person for any particular purpose. Do your own research or obtain suitable personal advice. You are responsible for your own investment decisions. This article is presented subject to our full disclaimer found on the QVM site available here.