Yesterday Agria Corp. (NYSE:GRO) announced that they would be unable to complete their 20-F annual report for the period ending December 31, 2009 by the required June 30, 2009 filing date.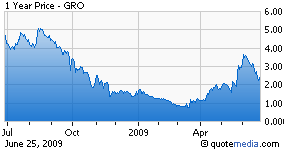 Agria attributed the delay to their inability to complete their financial statements due to two ongoing investigations being conducted by independent firms. The investigations surround the valuation of sheep and date tree assets, the authenticity of certain sales contracts, bank statements and tax invoices of P3A, and the verification of titles of farm land which were leased by P3A in 2008.

The company noted that allegations of a former employee of P3A were what prompted the investigation into the sheep and tree assets as well as the sales contracts, bank statements and tax invoices.

Agria mentioned that the land title investigation, which is being handled an independent law firm, has progressed slowly due to an extensive list of interviews that needed to be conducted and gathering of title documents from third parties.

The former P3A employee, which the company declined to identify, made allegations relating to the number of sheep purchased by P3A in August 2008 and the price that the company paid for these sheep. The employee also made allegations relating to the authenticity of certain sales contracts, bank statements and tax invoices. The company did not elaborate on the specifics of the former employee's allegations.

An independent international counsel, which is investigating these allegations, preliminarily concluded that the allegations related to the contracts, bank statements and tax invoices were unfounded, and verified through a document review the number of sheep purchased in August 2008. Agria noted that the investigation related to the allegation of the sheep purchase is still ongoing.

Yesterday's news adds to a growing list of delays in getting the company's financial statements filed due to financial irregularities.

In April 2007 the company announced that that their auditors were unable to complete an audit of their FY2007 financials due to various accounting irregularities. The audited financial statements for 2007 were not released until July 1, 2008. The audit "[F]ound a number of control deficiencies, including a material weakness, in our internal control over financial reporting. The material weakness observed was inadequate personnel, processes and documentation to address reporting requirements under U.S. GAAP." The 2006 audit found similar issues.

Then on November 11, 2008 Agria announced that they would not be reporting third quarter earnings on November 13th as expected, as they had yet to close their books. The company finally announced third quarter earnings on December 10, 2008.

Agria's investor relations could not elaborate on details of the investigations announced today, so it's too early to know how serious or minor this issue may be. We believe the question relating to the value of sheep and tree assets to be immaterial at this point. The majority of the company's assets are comprised of cash so a discrepancy in the value of property (i.e. sheep, trees) will have little effect on the book value of the company.

Also, the company is very conservatively capitalized with no material debt. As of December 31, 2007, the latest audited financial statements, Agria listed a cash balance of about $190 million, total assets of approximately $283 million and total liabilities of about $30.6 million. Through September 30, 2008 (unaudited) these figures were $175 million cash, $307 million total assets and $36 million total liabilities.

The other two potential issues -- authenticity of contracts/bank statements/tax invoices and verification of land titles -- could pose a problem, although -- again -- it's much to early to speculate what the outcome or potential ramifications could be. As we mentioned in our full report on Agria, the company's history of missing filing dates and the perceived lack of governance, controls and transparency remains the biggest underlying concern of ours.

Yesterday's press release also noted that the company is not able to estimate when the investigations would be completed or when the 2008 20-F would be filed. They did, however, mention that they expected to post a net loss for the period ending December 31, 2008 -- which includes an $18 million payment and transference of 27.8 million shares to Frank Xue (recorded as a non-cash charge of $118.9 million) earlier in 2008. This resulted in a net loss of $109.1 million through the nine months ending September 30, 2008.